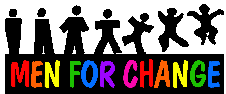 Women's Stories
"A feminist is any woman who tells the truth about her life." - Virginia Woolf

Men For Change is a pro-feminist organization. As men, we continue to grow by sharing our own stories and by listening to the stories of women. We have a great deal to learn from our partners, daughters, mothers and friends who challenge and support us as we review and reconstruct our relationships and notions of power.
Listening to women (as well as sharing our own stories) is a fundamental step towards ending the division and intolerance of sexism that isolates us all from forming authentic relationships and bringing about lasting social change.

We invite men to listen, even though it may be difficult to hear their anger and pain, to the voices of women...
Politics and Issues
Support and Advocacy
"I myself have never been able to find out precisely what a feminist is, I only know that people call me a feminist whenever I express sentiments that differentiate me from a doormat" - Rebecca West, 1913