BETWEEN TIPS
"BETWEEN TIPS" is the official bulletin of the
SQUARE & ROUND DANCE FEDERATION OF NOVA SCOTIA
Alex Ritchie, Editor, 58 Oakdale Crescent, Dartmouth, NS B3A 2L8
phone (902) 469-1492 email: alexandgaylan@email.msn.com
FEBRUARY 1999
(Back Issues) (Return to Home Index)
---
The Margaree Fall Classic
The Margaree Fall Classic was held at the Northeast Margaree School on Friday and Saturday,October the 16th and 17th with 100 couples filling the hall. It is our hope that next year we will actuallyhave twenty-five squares on the floor at one time. This dance is one of the major fund raisers for the JimAlguire Memorial Fund which is used to assist square dance callers in upgrading their calling skills.
Friday evening began with sets being called by two of the latest recipients from the fund, MaryDunlop and Chris Ayres. Their efforts were much appreciated by the dancers and we wish them well intheir calling careers.
Saturday morning a round dance workshop was conducted by Wendell Carroll, and in the afternoonsquare dance workshops were conducted by Pat Alguire and Dave Paulen. Workshops in clogging andCape Breton stepdance were also presented by Mary Dunlop.
Callers for the evening dances included Pat Alguire, John Essex, Jack MacArthur, HiltonMacIntosh and Dave Paulen with cueing by Wendell Carroll.
Dancers were in attendance from most areas in Nova Scotia and special mention must be made ofthe contingent from the Stardusters club of Halifax. Thanks guys and gals for your support. Dancers wereon hand from as far away as Australia and Spain and we enjoyed their company.
Vicky and Harold Elliott were announced as new directors of the Alguire Memorial Fund replacingJohn and Fran Essex who have retired but will remain available to the board in an advisory capacity.
Lunch including a wide variety of sandwiches topped off with cake and ice cream wound up theaffair Saturday evening and traditional oatcakes were a popular item, as ever, throughout the weekend.
Submitted by: Jack Tilsley, Margaree Country Swingers.
[Editor's note: The first Margaree Valley Fall Weekend was in October1987 with Jim and Pat Alguire,Dave and Blanche Paulen, Alex Ritchie and Bernice Thurber on staff. It is a pleasure is see its growth.]
---
CLUB CLOSES
After a courageous struggle by eight hard-working members to keep our Club open the TreetopTwirlers of Clementsport have, in our 10th year of dancing, had to close. On October 21st, with one squareand a "crying towel" in attendance, we had our last dance. We want to thank all the visiting dancers whosupported us over the years. Submitted by a Treetop Twirler
It is always a sad time when a dance club retires its banner, but it is sad only because we have somany fond memories of good times. Other clubs that retired their banner in 1998 were the Haley Dancersof Kentville, and the Waltzaway Rounds of Truro.
---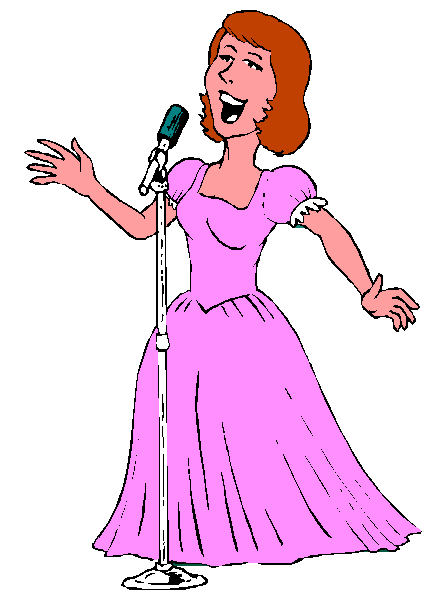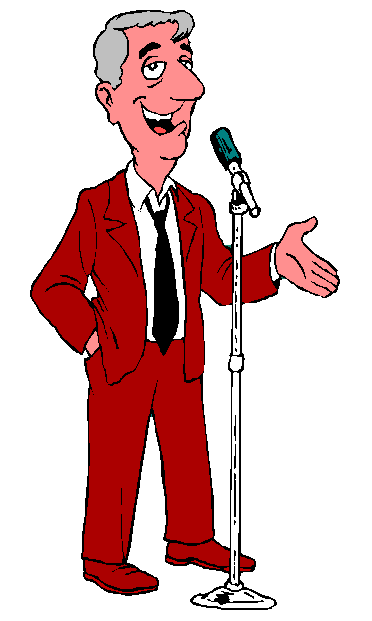 Registerer Now For
Festival '99
---
FESTIVAL 99
Step in Time in 99
Time marches on, we are less than 8 months away from Festival 99 on 6&7 August 1999 at Mount St.Vincent University in Halifax. Central Region dancers have been busy making preparations and promoting thisevent throughout the Maritimes. At the MCCA Convention, a good connection was made with the Convention2002 Chair couple to promote F99 across New Brunswick. Promos have gone out to all the Atlantic provinces.
The Quilt raffle sales have taken off at special dances and soon clubs will be invited to join in the effort. Everyone who has seen the Quilt is very impressed so tickets self-sell!
Registrations are coming in now so those who need accommodations should consider contacting thefacilities shown on the back of the Registration Form. Remember, the Festival saves money if the reservedaccommodation at Mount St. Vincent is occupied by dancers. Since that accommodation is directly adjacent tothe dance halls, it is most convenient.
Basic, Mainstream, Plus, and full Rounds are what will be available at Festival 99. We need to know yourpreference to plan the program, so Register NOW! Besides, you save money until 31 March. Team up with yourdance friends to attend together.
See the METRO web page for more or consult your Fed. Rep.
http://is.dal.ca/~nlee
This is YOUR Festival arranged by YOUR Federation.
Submitted By: Bob & Inge Ruohoniemi, Chair couple Festival 99
---
INFORMATION GATHERED AT THE AGM
of the SQUARE AND ROUND DANCE FEDERATION OF NS
by Bob & Inge Ruohoniemi Vice Presidents
The very successful Annual General Meeting of your Federation covered several items that should be ofinterest to all readers of this the "official" Federation Newsletter.
First:

The purpose of the Federation - "to suggest guidelines under which the square & round dance activitycan operate to the greatest enjoyment of all." It was evident at the meeting & during visits to clubs thatdancers are not familiar with the recent change to the Banner Stealing rules as published here inSeptember. Readers & particularly Club Reps are asked to inform their club members of the changebecause the whole purpose was to actively encourage visits between clubs. If you don't now hold yourSeptember Between Tips, the gist of the change is:
"only special (1O,2O,25 year) anniversary dances (of Caller or Club), Graduation dances, and the Club'smajor fund-raiser are exempt from Banner Stealing. All other dances are available for this activity.
Second:

Some Clubs and/or Club Reps are not familiar with their membership and duties within the Federation. Again, readers are asked to try to pass on the following info to their club members.Membership in the Federation is automatic to all square & round dance clubs in NS.It is expected that each member club will support the Federation by paying dues & by providingindividuals to work on Federation projects and activities.
Club Reps. are asked to:
- attend the single annual general meeting in October,
- act as the Fed. contact for this and other mailings, and
- cooperate with an elected Regional Rep. on Federation or Regional projects.
The Federation is OUR federation.
As participants in the fun of Square and Round dancing
we need to also contribute by taking part in
the dialogue and cooperation among members of the
Square and Round Dance Federation of Nova Scotia.
---
YOUR DUTY AS A DANCER IN NOVA SCOTIA
Reading Bob & Inge Ruohoniemi article "Information Gathered ..." [see above] reminded me of a list of dutieswhich I wrote and published in the December 1983 issue of 'Between Tips'. I hope you will read the followingreprint and take to heart that which applies to you. Sincerely, your editor Alex Ritchie.
DUTIES - Club Representatives to your Federation
To attend general meetings of the Federation (normally only one per year in October) and express theopinions, concerns, and requests of your club.
Together with representatives from other clubs at general meetings, to establish policy and give directionto the Executive of the Federation.
To be the communication link between your club and the Federation Executive throughout the year.
Together with representatives from other clubs in your region of the Province, elect a couple to representyour region on the Executive of the Federation.
DUTIES - Regional Representatives of the Federation
To represent all the clubs in your region at executive meetings of the Federation.
To maintain contact with each club in your region and discuss mutual concerns.
To ensure that each active club in your region has Federation representatives and to keep the Federationinformed about the formation of new clubs or the demise or inactivity of old clubs.
To encourage the development or continuance of a regional association or council to deal with regionalactivities or concerns.
To be prepared to accept additional Federation Executive duties as may be required.
Together with other regional representatives and executive members carry out the purpose of theFederation as stated in the By-Laws.
DUTIES - All dancers and especially representatives
To enjoy your dancing and fellowship and communicate that enjoyment to others.
---


---
BLAST FROM THE PAST:


SQUARE DANCING IN 1969 IN NOVA SCOTIA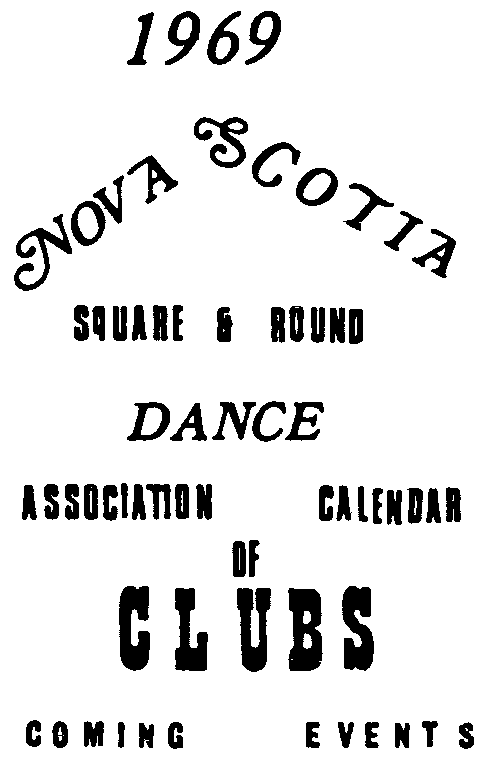 An interesting item for the square dance archives was found recently.It is a 32 page booklet from 1969 by the Nova Scotia Square and Round DanceAssociation "Calendar of Clubs Coming Events". This may be the first, or oneof the first, publications of this organization, which was first registered as asociety in February of 1968, and after a few name changes came to be known asthe Square and Round Dance Federation of Nova Scotia.
The purpose and intentions of the Association are listed as follows: (a) tobring all clubs closer together in harmony; (b) to help a club out of a difficulty;(c) to help in advertising round and modern square dancing; (d) to keep clubsfrom conflicting on special dance dates; (e) to set up a dance standard to beestablished for enter-club dancing when clubs are invited to other clubs.
The officers are: President Paul & Dot Loeb, Bridgewater; VicePresident Frank & Ann Polkinhorn, Kingston; Secretary Treasurer Buddy &Marion Boudreau, Kentville; Publicity Chairman Ron & Vye Walker, Wilmot.
This booklet includes club dance and class schedules for January toDecember of 1969. Mention is made that a new square and round dance paper isbeing edited by Ron & Vye Walker, Wilmot, Annapolis County, and it will bepublished in March.
Margaret Nixon of Nictaux Falls was selling Square Dance Supplies. Advertisers were Loeb's Home & Auto,Bridgewater; F V Polkinhorn representing Manufacturers Life Insurance; Jack Pinnell with life, fire and auto insuranceassociated with Ritchie Real Estate, Kingston; and Middleton Stationers and Printers.
Some clubs listed are Bluenose Twirlers, Yarmouth, caller Garnet Banks; Gay Gateway, Yarmouth, caller ShirleyNickerson; caller Reagh Nixon for Fundy Frolikers in Digby, Champlain Steppers at Habitation Hall, and NixonPromenaders in Paradise; Heart of the Valley Twirlers, Nictaux, caller Gordie Skanes; Sues & Ques, Greenwood, callerArch Erickson; Valley Rounders, West Kings High School, and Rhythm Rounds, Kentville had cuers Ken & DonnaGibson; Vali Dancers, Cambridge, caller Pat Hearn; New Ross Country Dancers, New Ross, caller Channing Beach;Diamond Dancers, New Germany, caller Wilfred Burns; Evangeline Spinners, Avonport, caller Don Walker; Jolly RogersSquares, Milton, caller Roger Whynot; Tartan Twirlers, Halifax, caller Lorne Tyler; Hal-Dar Swing "N" Stars,Dartmouth, caller Ed LeBlanc; Metro Gnomes, Halifax, and Dancing Shadows with caller John Essex; Sunrise Swingers,North Colchester, caller Art & Roberta Lindsay; Haley Dancers in Aldershot, Belles & Beaus in Berwick, and RainbowDancers in Welsford, all had caller Don Haley.
In that year classes were being offered by Wagon Wheel Squares, North Kingston with Lloyd Eisner. Otherclasses were being offered in Dempsey Corner by Stan Steppings; in Tiverton Hall, Long Island by Donald Walker; inSouth Farmington by Arch Erickson; in Waverly by Bill Walsh, and in Paradise by Ron & Vye Walker.
Also in that year the Tartan Twirlers had dancing on the ice at Birch Cove February 14th; The Metro SquareDance Council Atlantic Jamboree was held on May 10th with well known American Caller "Dick Jones" from LongIsland, New York; the Vali Dancers sponsored the Apple Blossom Jamboree, May 30 & 31 at Cambridge & DistrictElementary School with Gloria & Johnnie Roth at the mike; the Bluenose Twirlers hosted the International ExchangeDance in Yarmouth May 31st and the return visit to Bar Harbor, Maine was Sept. 26, 27, & 28; Rainbow Dancers heldtheir third "Pot of Gold Shindig" on May 3rd; The Sunrise Swingers held the first Lobster Jamboree on June 7th; and theHaley Dancers held the Jack-O-Lantern Jamboree on two nights Oct 2.4 & 25 at Horton High School in Greenwich; andin Clementsport Gloria and Johnnie Roth were holding regular Saturday night dances all year round. Also the House ofRoth was advertising a callers school, and the fact that a new hall for dancing had been added - "Nova Scotia's first hallbuilt for Modern Western Square Dancing!"
Some of these club names and callers will be recognized although they are not still active. However, some of theseclubs and some callers are still active even after almost 30 years.
Submitted by Clara Redden
---