BETWEEN TIPS
"BETWEEN TIPS" is the official bulletin of the
SQUARE & ROUND DANCE FEDERATION OF NOVA SCOTIA
Alex Ritchie, Editor, 58 Oakdale Crescent, Dartmouth, NS B3A 2L8
phone (902) 469-1492 email: alexandgaylan@email.msn.com
NOVEMBER 1999
(Back Issues) (Return to Home Index)
---
F E S T I V A L 9 9
Every two years the SRDFNS (Square & Round Dance Federation of Nova Scotia)puts on a Special Dance called a FESTIVAL. One of the SIX SRDFNS REGIONS of NovaScotia is asked to host the two-day event of Square & Round Dancing.
SOME OF THE CALLERS, CUERS, AND SPOUSES AT FESTIVAL 99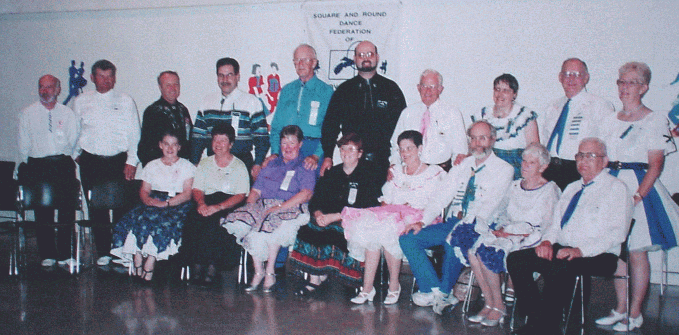 TRY TO IDENTIFY YOUR FAVOURITE CALLER AND/OR CUER!!
This year, the Central Region (Metro Halifax) hosted the ninth SRDFNS event -FESTIVAL 99 on the 6 & 7 of Aug 99 in the Mount St. Vincent University's Rosaria Building.
There was Basic, Mainstream, and Plus Square Dancing and Phase II to IV RoundDancing. The Guest Caller was Gerry 0' Hara from Fredericton, NB with Nova Scotia Callers,Jack MacArthur, Pat Alguire, Dave Paulen, Kerry Fletcher, Neil Dorcy, Dottic Welch, HarryLofgren, Barry Bendle, and Vicky Elliott. The Cuers were Beth &. John Dickinson, AlexRitchie & Bernice Thurber, John & Valerie Pinks, and Larry & Margie Clark.
The event was handled by the FESTIVAL 99 Organizing Committee, ably chaired byBob & Inge Ruohoniemi with Co-Chairs, Eldridge & Betty MacAulay and Gib & Dee Bradley. There were over 44 volunteers which formed the necessary sub-committees to make the event asuccess. They worked hard, overcoming many obstacles to ensure the event was as pleasurableas possible and keep the attending dancers busy and happy.
The Opening Ceremony was held in the Assembly Hall of the Seton Academic Centre. Featured were a Bagpiper, four Mounted Police Officers (three veterans and one serving memberresplendent in their scarlet blazers, berets and red serge tunics), and the dancing by Mary'sIslanders Dance Troupe. While the experience of the older dancers of the troupe wasimpressive, the show was stolen by the small fry who performed with spunk and vigour.
Final attendance figures were 254 Dancers, 27 Callers, Cuers and their Partners for atotal of 281. The Order of Good Times was presented to dancers "from away" in a grand formalceremony and was well received. The dancer couples "from away" were from Saudia Arabia,Spain, Germany, British Columbia, two from Florida, Connecticut, Maine, two from Ontario,three from Quebec, and five from New Brunswick. A total of 18 dancer couples who enjoyed ourNova Scotia Hospitality and helped us enjoy FESTIVAL 99.
The Prizes Committee wish to express their heartfelt thanks for all the ticket sellers andthe overwhelming support of all the dancers who bought tickets. The Stained Glass Picture waswon by Roy & Jean Sewell, while the Hand-made Quilt was won by Harold & Clara Redden.CONGRATULATIONS!
The Decorating Committee received several comments that the decorations were very tastefullydone - some of these decorations had been made by the Sail Sets and Motivators for FESTIVAL87. A very safe event was held, the St. John's Ambulance on site only had to handle oneband-aid emergency. It appeared that the dancers who attended FESTIVAL 99, definitelyenjoyed themselves as shown by their occasional whoops and broad smiles.
During the Closing Ceremonies, the DANS Award (Dance Nova Scotia's Highest Award)was presented to Alex Ritchie by DANS Executive Director, Dianne Milligan, and LaureneHanley, President. The DANS Award is presented to an individual who has made an"Outstanding Contribution to the Development of Dance in Nova Scotia". AGAIN,CONGRATULATIONS ALEX!!!
We are still looking for more FESTIVAL 99 PICTURES and we encourage any dancer toshare their spare pictures or negatives of FESTIVAL 99 with the archives. If you have any suchspare pictures or negatives, please contact Marion Lever at 434-5250.
CONGRATULATIONS TO ALL OF THE FESTIVAL 99 ORGANIZING COMMITTEE,
IT'S CHAIRPEOPLE AND THE MANY VOLUNTEERS FOR A JOB WELL DONE!!!
---
TO THE CAPITAL CITY ROUNDERS
Thank you for a great weekend!!
This is an open letter to that club thanking them for the wonderful hospitality theyshowered on us as outside dancers to their recent weekend dance. As usual they rolled out thewelcome mat and greeted us as old friends (which, indeed, we are) and they seemed so pleasedto see each and every one of us. Laurie and Ruth Bishop, host cuers were also very gracious andhad pleasant smiles and welcoming words for all. The program, itself was fun and relaxed withtime for socializing in between rounds. Glen and Audrey Elaisson were a popular choice asvisiting round dance cuers. He was very clear and concise and she had a smile for every one. We really enjoyed the rumba teach they did on Saturday morning! Although relatively newcuers, they have one of the largest dance clubs in Edmonton, Alberta, and it is not surprisingconsidering their friendly and competent way of teaching. Perhaps the one not-so-pleasant notewas that the number of dancers was down from other years. I realize that we are all getting olderand tend to dig in our heels, preferring to sit in our easy chairs at home in front of the T.V. but Iwonder if we are not missing the real point to our activity and that is, that it is a SOCIALACTIVITY as well as a physical activity. No one says we must dance every dance or take everteach but by attending these dances we help support the club and get the opportunity to dance todifferent leaders. I look at these weekends as a golden opportunity to visit with old friends andto also make new ones. I am pleased to say that there were at least four new couples that I hadnot seen on the dance floor before and although we didn't get to meet them all we will bewatching for them at the next big event. By all appearances, they were very enthusiastic andeager to learn. An interesting footnote was that Audrey mentioned to me about a couple in theirclub who are 94 and 96 years old, respectively, and they dance 3 nights a week. Now that is agoal to shoot for! It kind of makes the rest of us spring chickens by comparison! Anyway, I amwandering from the subject and that is a big thank you to the Capital City Rounders, we hopeyou will continue with this great tradition!
Sincerely, Beth & John Dickinson
[Editor note:] On behalf of myself, my dance partner, and the other two "Dancing Shadows"couples that attended this great Round Dance weekend in Fredericton, we agree wholeheartedlywith the above comments of Beth & John. This is what makes Round and/or Square Dancingthe great activity it is. Alex
---
SQUARE AND ROUND DANCE FEDERATION OF NOVA SCOTIA Some answers to your Questions by Don and Carol Scott, Central Region Representatives

1) Just who or what is the Square and Round Dance Federation of Nova Scotia?
Our Federation (SRDFNS) is made up of all modern western square and round danceclubs in Nova Scotia. Its main purposes are to facilitate provincial communication betweenclubs and dancers by publishing the "Calendar of Events", "Between Tips", and tourist brochureinformation; to organize provincial dances; to oversee the biennial Summer Festival; to attemptto assist clubs to find solutions to problems and thus better the activity for all; and liaison withother provincial dance organizations and the Canadian Square and Round Dance Society.
The Federation business is run by an executive made up of representative couples fromeach region plus couples with specific tasks such as the President or Publications Officer. Themain source of funds is the interest earned on the investment of the profits from the 3rd and the9th Canadian National Conventions held in Halifax in 1982 and 1994. The yearly club duesprovide an additional source of income covering the cost of printing and of mailing the monthlypublications.

2) How do we fit in to the organization?
First of all you are a member of a club, the club is then a member of a region, the regionis a member of the Federation. At all of these levels you have a representative at the Federation. Each club is asked to appoint a club representative to the Federation and submit the couplesname to the Federation so that Federation news can be forwarded to them for your club. Theclub couple also represents your club at the Federation Annual General Meeting held each year,to which all members are invited to attend. This club representative couple also elect a regionalrepresentative couple from their number of other club representatives from your region torepresent your region on the executive. If you have something to say to the Federation youshould talk to your club Federation Representative who will forward it on to the RegionalRepresentative to take to the Executive meetings (at least 4 are held each year in variouslocations throughout the province) or come to the annual meeting to find out just what is goingon.

3) Why should I get involved?
First of all, your club is a member of the Federation and you are involved, knowingly ornot. You as a member are important and your views as to what or what is not happening isimportant. The Federation is only as productive as the members make it and the more ideas thatcome from the members the better the Federation can serve its members. Ask you clubexecutive or caller/cuer who you club representative is and get involved for the betterment of alldances.

4) Just what is "THE CALENDAR OF EVENTS" and "BETWEEN TIPS"?
The "Calendar of Events" is a monthly bulletin sent to every club listing the dance eventsthat are sent to the Federation so that all dancers will know what is happening in the Province. Ifyour club's special dance events are not listed, your club did not inform the Calendar's editor ofyour special dances.
"Between Tips" is a newsletter published by the Federation to keep dancers informed asto what is happening by producing articles of interest to all dancers or printing items submittedfor publication about you, your club, or regional events. It is your newsletter and will only be asinformative and interesting as you make it. Have something to say about dancing in your club orarea this is your voice to the rest of the clubs and dancers throughout the Province, use it and seethe results.

If you have any other questions or comments please let your Federation Executive know,after all they exist to serve you. If you are not sure who to talk to, ask your Club Representativeor Regional Representative, or write directly to the Editor of "Between Tips".
---
Remembering Dick Leger
Many Nova Scotian Square Dancers will remember fondly of dancing to Dick Leger andhis music at numerous special dances in Nova Scotia where he was the Guest Caller, and also forthe training workshops for Callers. The following article is copied form the October issue of"American Square Dance" magazine.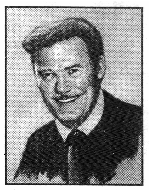 Richard M. "Dick" Leger, 74, the internationally known squaredance caller, teacher and recording artist for more than 47 years, diedAugust 17, 1999. He and his wife, Sue, had been married for 54 years. Known as, "The Man With the Guitar", his custom of playing the guitarwhile calling and singing was unique.
During World War II he served in the Naval Air Corps. For mostof the war, he was stationed in Bajia, Brazil, flying anti-submarine patrolsas a radioman on PBY and PBM subhunter planes off the South Americancoast. He was a draftsman for 26 years before retiring in 1971 to pursuehis square dance career full time.
Dick worked his way into the square dance world via, Sue, who played the piano in hermother's square dance orchestra. Because Sue did not drive, Dick did the chauffeuring andwhile attending the dances, he began learning some of the routines. Endowed with a goodmusical back ground, Dick was a self-taught caller. With the introduction of western squaredancing into New England, Dick set the course he believed necessary for the perpetuation ofpresent-day square dancing; a blending of the intricacies of the western figures with thetime-tested fun philosophy of the eastern dancing.
He recorded dozens of instructional and professional albums and records, many of whichare still in use in classrooms today. Two of his best-known releases were "Mary Ann" onFolkraft, and "Marina" on the Top label. He was inducted into the International Square DanceHall of Fame, Los Angeles, in 1978, and received the CALLERLAB Milestone Award, itshighest award, in 1985. In 1994, he was named to the Square Dance Foundation of NewEngland's Hall of Fame. And in 1996, he and Sue received the New England Square and RoundDance Cooperation Committee's Yankee Clipper Award for a lifetime of dedication andcommitment to square dancing.
During his 45 years as a member on the Narragansett Callers Association in RhodeIsland, he served the organization as president, vice president and treasurer. Dick was the RhodyMerrymakers Square Dance Club's first and only caller for 40 years, and conducted tours andsquare dance weekends from New England to the Caribbean, Hawaii, Australia and Europe. Hewas chairman of the CALLERLAB Timing Committee. Dick trained hundreds of callers andconducted more than 50 caller training schools. He also taught courses in square, round, andcontra dancing at Cortland College New York for 20 years.
It was entirely appropriate that, when searching for a theme for the 1985 CALLERLABConvention, the Executive Committee selected "Music - Our Greatest Ally," suggested by DickLeger. A favorite expression of Dick's is, "The common denominator between the caller and thedancer is the music. "Music, friendship, fun, and fellowship are, and have always been, anessential part of Dick's philosophy when calling for a club, teaching a class, or when workingwith callers. A specialist on timing Dick was frequently called upon to conduct clinics on thesubject at conventions, festivals and institutes. Dick has been featured on the Documentaries inSound for the American Square Dance Society. A man of multi talents, he called quadrilles,contras, traditional and modem square dances, and also cued rounds. The family requestsMemorial Gifts be sent to the Square Dance Foundation Of New England Gift Chairmen, DougRoss, 40 Third Street, Norwood, MA 02062.
---
SQUARE & ROUND DANCE ATTIRE
There are rumours around the Province that Dress Code for Square & Round Dancers has changed.
This is not true! Nothing has changed.
But it might change because there are proposals to make changes to the Dress Code.
Now is the time to think about what Square Dance Attire is and what you think it should be.
You may soon be asked to express your opinion on the subject.
Your Club as a whole may also be asked to formulate an opinion.
For now, please think about it!
---