BETWEEN TIPS
"BETWEEN TIPS" is the official bulletin of the
SQUARE & ROUND DANCE FEDERATION OF NOVA SCOTIA
Alex Ritchie, Editor, 58 Oakdale Crescent, Dartmouth, NS B3A 2L8
phone (902) 469-1492 email: alexandgaylan@email.msn.com
FEBRUARY 2001
(Back Issues) (Return to Home Index)
---
CENTRAL REGION REPORT


by Don and Carol Scott
The Federation's Annual General Meeting and P E D show was held in Bedford,and we think it went over well although there was not as much interaction with theCallers and Cuers as we would have liked. The Dance went well, as it always does,and every one had a good time with lots of information and the shows were excellent.
The Metro Association is looking for a Chair and a Vice-chair as both positionsare vacant with the resignation of the Ruohoniemis, who are now chair couple of theFederation, and the Georges who had to look after their business and felt they couldnot put in the time they needed as vice-chairs.
Most of the Clubs in our area held Christmas Dances with the proceeds going toa worthy cause. The Scotia Dancers got bumped from their usual school with little orno notice given; we found out about it when the week before we saw a sign on theschool board advertising a dinner and play on the night we were to use the cafeteriafor our dance, so much for better co-operation at this school.
While there was no New Years dance in our area the Metro Association tried toput on a just after the New Year dance on January 6. A full day was planned with aworkshop and pot luck before the main dance. We did get two squares for theworkshop but it started to snow and after discussions with the three callers and onecuer who showed up for it, we decided to cancel and not risk the results that mightcome out of a drive in the snow home. The two things that I think most of us thatshowed up for the workshop will remember are: (1) The $2,000.00 worth of empty beerand liquor bottles piled up outside of the school collected by the school band for theirsummer trip, most people said "Boy wasn t that a party"; (2) The second thing was therather husky lady that danced with Barry Bendle in one of the tips, now that was aproblem in getting her to twirl (in fact it was Alex Ritchie dancing the lady's part)Thanks for the tip Alex.
Dancing is now in full swing and we will continue to try to get to all of the clubsin our area; some are having problems in retaining their members with the Lake CitySwingers dropping down to about two plus squares and the Coordinators only havingsix couples. Possibly the switch in venues had something to do with it but only timewill tell. There was one club that was noticeably absent in numbers at the Lake CitySwingers annual fund raiser possibly because they were tied up in getting ready fortheir thirty year anniversary party, which went over well with lots of people inattendance and lots of fun. A wise man once said, "If you don t go to their funeral,then don t expect them to come to yours." at least that is what I am told that YogiBerra said. We all know what he meant. The Fun Squares are now dancing in the oldRCMP building with limited space, just across the street from the Cole HarborCommunity Centre where they danced for years. The Metro Merry Makers and OceanWaves are now dancing on Tuesday nights only and have dropped their Wednesdaynight dance as membership and funds were getting low on both accounts. We all haveour ups and downs and now it seems we are in a down swing in a lot of clubs, we arelooking forward to the up swing.
---
PLAN TO ATTEND
THE 2001 FESTIVAL OF FUN
JULY 20TH & 21ST
OLD ORCHARD INN
AIR CONDITIONED DANCE SPACE
---
HIGHLAND REGION REPORT


by Allister and Harriet Cameron
In October The Highland Region Clubs hosted aSquare Dance for Heart Fund-raiser at the Michelin SocialClub in Granton. Callers were Jack MacArthur andfriends. Proceeds from the dance went to the Heart andStroke Foundation of Nova Scotia.
The Highland Squares began the fall session onSeptember 14th, unfortunately without a class. PresidentsEd and Ann Mills and Vice Presidents Cam and DinnyGarrett attended the Annual General Meeting in Halifaxwhere their Club banner took second place in the BeautifulBanner contest. That evening several of the dancerswatched with pride when Jack and Dolores MacArthur werehonoured by Dance Nova Scotia for their many years ofdedication to the square dancing activity. They also gavetwo evenings of demos at the Pictou North ColchesterExhibition. With spirits high the Highland Region hosted asquare dance for Heart in October. The weather did not co-operate, however the dance was well supported by localdancers and some of the Strathmor Strutters. Early inNovember the Club, under the guidance of JackMacArthur, entertained at the Shiretown Nursing Home inPictou. The Cobequid Twirlers visited the club to reclaimtheir banner and joined the Highland Squares in helpingJack and Dolores celebrate their 47th Wedding Anniversary. In December the club attended their Annual Christmasdinner and dance at the Springville Hall. The CommunityLadies catered a delicious Turkey Dinner, and some of thegroup joined the club dancers in a tip or two at the dancefollowing the dinner. The Christmas Party on December14th was again the victim of poor travelling conditions. Jack held an amateur night and lots of fun was had by alland the visitors from the Maple Leaf Whirlaways. Severalof the Club members took part in amateur calling andskits. The Club resumed dancing January 11th, and will beled by Ralph MacDonald and Murray Workman while Jackand Dolores rest in the sunny South.
The Maple Leaf Whirlaways began our 2000-2001season on September 18th with less than two squares andwithout a class. Ralph MacDonald and Murray Workmanare our callers and share the calling duties. In Septemberwe attended along with several of our Highland Regiondancers the Annual General Meeting in Halifax and thedance at Bedford Junior High in the evening. We hosted aHalloween Party with Highland Squares as our guests andwere invited to the Highland Squares Christmas Party inDecember. After the Christmas break our dances were toresume again on January 18th, but due to sickness and badweather our dance was cancelled. Hopefully we will be allset to start again on the 25th.
---
FUNDY REGION REPORT


by Earle and Marjorie Murray
The Strathmor Strutters first quarter started with a"Swing Into Fall" dance. Mainstream dancing commencedon Monday, September 11, with a good turnout. A Plusclass started on Wednesday, September 20, with eightcouples attending. Plus dancing will start on the firstWednesday in January, 2001 and every Wednesdaythereafter until June. A Halloween Dance was held inOctober and brought a lot of laughs as the costumes weregreat. Approximately seventy-five percent of our clubattended the MCCA Convention in November. Our clubwas second for the number of attendees from a single club. Strathmor Strutters continues to dance atvarious seniors homes one or two nights per monththroughout the Truro area. Bob is always good with a soloor two with songs they do not hear very often anymore. Our club also danced at the elementary school at OldBarns as a part of their studies of the life and time of yearsgone by. In mid December we held our Christmas party forall dance levels. We finished the year with a gala NewYear s party. Our caller Bob and his wife Phyllis reallywent all out as usual and made the event something veryspecial. All members are looking forward to a busy andrewarding remainder of our dance season.
The Hub Trackers held their Christmas party onDecember 15, and many new Plus graduates of KerryFletcher attended the celebrations. Approximately fiftypeople attended a pre-dance New Year's dinner at theGlengarry Best Western and then proceeded to the HubTrackers' Annual New Years Eve Dance which was held atthe Brunswick Street United Church Hall. The dance wasa great success with ten squares celebrating with Jack andDolores MacArthur, Hilton and Vi MacIntosh, Alex Ritchieand Bernice Thurber. A bountiful meal was enjoyed by allin the early hours of the New Year. Guests were inattendance from PEI and various areas of Nova Scotia.
The Cumberland Twirlers Club and Class dance in thePavilion Hall in Nappan on Tuesday Nights. They dancedat Nursing and Retirement Homes throughout the year. Alldancers enjoyed a Halloween dance and a Christmas partyand dance. Dancing resumed on January 9. A valentinedance is scheduled for February 10, 2001, with Vicki Elliottas guest caller. All Square Dance Clubs are welcome toattend.
The Cobequid Twirlers danced at Nursing Homes,visited Highland Squares Square Dance Club, and enjoyeda Halloween dance party. Several members attended theMCCA in St. John in November and all dancers enjoyed aChristmas pot-luck supper. The Cobequid Twirlers class,under the direction of caller Ed Giles and his wife Kitty, puton a demonstration at Townsview Estates Nursing Home. The class members are to be commended as they did a finejob and are well on their way to graduating in the spring. Seven couples from the Cobequid Twirlers attended a NewYears Eve Dance sponsored by the Hub Trackers PlusSquare Dance Club held at the Brunswick Street UnitedChurch Hall. A large number of dancers and formerCobequid Twirlers attended an 80th birthday party forHilton MacIntosh in Tatamagouche. Cobequid TwirlersClub and class resumed dancing on January 9, 2001. Plans are underway for a box social to be held on January16. All monies raised will go to the Heart and StrokeFoundation. A Valentine Dance is scheduled for February13 and our major event of the year, the Tulip Festival andLobster Jamboree, is scheduled for May 12, 2001.
The Border Rounders celebrated their Christmas partywith a potluck supper (made by the ladies of the club), acarol sing, with music by Fred Phinney and Ernie Searsand a round dance. Special recognition was given to Frankand Lois O Blenis who had celebrated their 25th WeddingAnniversary that week. A corsage was given to Lois andafter the couple cut their anniversary cake, they werepresented with the silver plated knife and server they hadused to serve the cake. The round dance portion of the evening was pepperedwith spot prizes and games and was highlighted with a skitcalled the "The First Day of School." The skit was presentedby Stan & Ollie Williams, David & Brenda Van Zoost, Frank& Lois O Blenis, Ron & Lyn Estabrooks, John Dickinson,Peggy O Blenis and was greatly enjoyed by all the dancersincluding those who took part. Another highlight was thepresentation of children s gifts to the Amherst branch of"The Christmas For Kids" organization. This is an annualevent where club members are asked to bring a child s giftin lieu of the admission fee. An invitation to the party wasextended to the five new couples who are in the beginnerclass. Although limited in the number of dances theycould do, they enjoyed the mixers, singing, skits and funand, of course, the delicious meal. The party broke upwith hugs, good wishes for Christmas and the New Year,and the promise to return on January 11th, the club s startup date for 2001.
---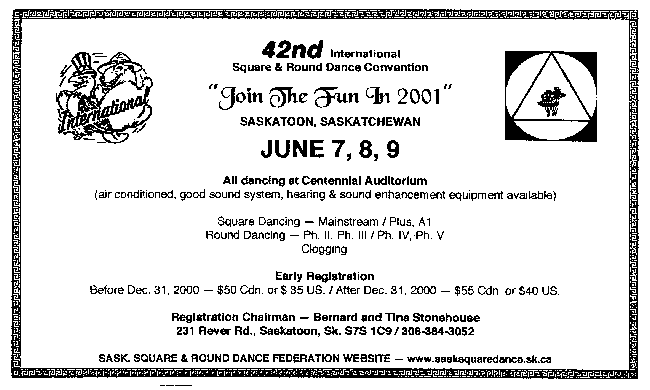 ---
NEWS FROM THE BOARD OF DIRECTORS' MEETING


Compiled by: Bob & Inge Ruohoniemi, Presidents, SRDFNS
Vice-President. The position of Vice-President remains vacant; sothe Past President with the nominating committee, continueefforts to find a volunteer to serve the Nova Scotia Round andSquare Dancers. Regional Reps were asked to canvas their clubsfor nominees for Vice-president.

Duties of the Federation Vice-president.


1. Assist the President & act in his/her place when thePresident is absent.
2. Chair special committees or projects.
3. Maintain custody & control of Federation badges,dangles, pins, etc.


Distribution of Publications. The Board members agreed that inan effort to reduce costs, the complimentry copies of the"Calendar of Events" and "Between Tips" normally distributed toassociated organizations and to Board members will now bedelivered only via the Internet to those who have provided an E-mail address. Member Clubs and paid Subscribers will continueto receive the publications in the mail. Board members not on theInternet will also continue to receive their copies via the mail. Allreaders who have Internet access and wish to be notified whennew material is posted on our Website are asked to forward theirE-mail address to the Federation Webmaster - Alex Ritchie.alexandgaylan@email.msn.com

Federation Archives. The Federation Archives are maintainedand stored by Glen & Betty Leck. This is the only repository forthe history of our activity in the province. Regional Reps andClubs are encouraged to forward any material (such as photos,newspaper clippings, club historical records) to the Archivists at:Glen & Betty Leck, 12 John Bell Rd., Brookfield, NS B0N 1G0Special Events for AGM 2001. Dancers are invited to submitideas and recommendations to make the day of AGM 2001 anattractive, interesting event for Nova Scotia dancers on Saturday20 October. These should be passed to your Regional Reps assoon as possible.

50+ EXPO. The Board decided to participate in the 50+ EXPO on 6and 7 July at the Halifax World Trade & Convention Centre. TheCentral Region Reps - Don & Carol Scott, volunteered to co-ordinate the Federation participation this year. Readers shouldwatch for more information in Between Tips.

FESTIVAL 2001. The Federation Festival organized by the Valleyclubs for 20 & 21 July is going to be a FUN FUN FUN affair.Registration forms are available at all NS clubs and dancers areencouraged to register early so that plans can be made for eachlevel & type of dancing. Accommodation need to be bookedquickly as the Valley fills with tourists at that time of year.

Federation Parade Float. The Federation has invested a largeamount of money and effort in building and maintaining theFederation Float (Trailer). It is an attractive addition to anycommunity parade in the province. It is fully insured and quitesafe for dancing while slowly moving along at walking speed.Clubs throughout the province are encouraged to considermaking a reservation to use the float in their community parades.Reservations or questions about the Float should be directed to:Harold & Clara Redden, (902) 538-9513 or buttons@fox.nstn.ca

Society Pins. The Canadian Square & Round Dance Society hasdeveloped a Society Pin to offer for sale to advertise and promoteour activity. These pins are also useful as gift mementos to guestsfrom out of the country. The Federation has purchased a supplyto sell to individuals and clubs at the bargain price of 3 CanadianDollars. Anyone wishing to acquire these pins should contact:Ralph & Barb MacDonald, (902) 783-2731 orralph.macdonald@ns.sympatico.ca

Club Registration & Insurance. It was noted that several Clubsdid not include the Club itself (besides the persons involved)when submitting their insurance requirements for the year. TheClub also needs to carry the Liability Insurance that is part of theFederation membership. Clubs that did not include the fifty centsfor the Club itself should forward that amount to:
Doug & Audrie Hill
SRDFNS Treasurer
RR 3, Lunenburg, NS B0J 2C0 E-mail: hilldj@ns.sympatico.ca

Next Board of Directors Meeting. The Board will be meeting at alocation and on a date to be advised later. Registration will be at1pm with the meeting to start at 1:30pm. Board members willreceive a Notice of Meeting with location and other information.

Federation Promotion. Readers are invited to pass along theabove information to other dancers and to also encourage them tosubscribe to the "Calendar of Events" & "Between Tips" this 'official bulletin' of our NovaScotia Federation. Subscription requests with $15 should be sentto:
Douglas & Audrie Hill
SRDFNS Treasurer
RR3, Lunenburg, NS B0J 2C0

Internet Users should note that all the latest changes to theCalendar of Events are posted on the Federation Web-page "whenreceived". For all the Federation information check it out at:


www.chebucto.ns.ca/Culture/SRDFNS/
---