BETWEEN TIPS
"BETWEEN TIPS" is the official bulletin of the
SQUARE & ROUND DANCE FEDERATION OF NOVA SCOTIA
Bob Ruohoniemi, Editor, 6939Hwy 1 Ardoise, RR 1 Ellershouse, NS B0N 1L0
phone (902) 757-3884 email: bobruoho@ns.sympatico.ca
MARCH 2005 -- NUMBER 121
(Back Issues) (Return to Home Index)
---
You may download this March 2005 as a PDF file.
---
NEW EDITOR for BT


By literally twisting his arm at the last meeting of the SRDFNS Executive, Alex Ritchie "persuaded"Bob Ruohoniemi to become the Between Tips Editor. The arrangement is that Bob will collect the submittedarticles and forward them to Alex who will be the BT Publisher. Please try to have them in by the 15th of the month sothey can be prepared for publication and mailing by the end each month. Remember, this is your newsletter, it is agreat way to keep the dance community informed about what your club and dancers have been doing, what plans theyhave, or what problems/successes you have experienced. Photos are always welcome and should be sent as Email -JPEG format, or by snail-mail.

************************************************************************

John Medicraft's 80th Birthday



During the summer, John Medicraft and his wife, Marcella told me that John would like to celebratehis 80th Birthday by calling a square dance. Although John hasn'tcalled in seven years, he did call regularly for several clubs on theSouth Shore for 29 years before retiring. He said he would hire ahall and call a dance, hoping to get two squares of dancers andthinking that five squares would be fantastic.
On his birthday, October 24th, John and Marcella set up thedance at Beach Meadows Recreational Hall and over 100 people(square dancers and friends) showed up for the party. The dancearea could handle six squares at a time, so there were only shortbreaks between tips so all the dancers could get involved. John wasthe main caller and he got the five visiting callers to each call a tip. The guest callers were Wilfred Burns, Ivan Doggett, ElizabethHutchcroft, Laurie Hutchcroft, Jim Webber, and Marcella led theFriendship Ring. Following the Friendship Ring, all were treated toBirthday Cake and Ice Cream.
John and his guest callers did a wonderful job of calling andit is hard to believe that most of the callers have been retired fromcalling for a number of years. It is great to see that they are stilldancing. When John wasn't calling, he and Marcella were squaredancing or waltzing between tips.
Square Dancers came from the Valley Area (Smith's Cove toNew Minas),and Halifax, Shelburne, Queens, and LunenburgCounties.


What a wonderful way to celebrate your 80th Birthday.
Congratulations John and thanks to you and Marcella for a wonderful party.




Submitted by: Leslie Smith, South Shore Region.
---
SUNRISE SQUARES CELEBRATES 20th ANNIVERSARY
OCTOBER 1st 2004
Chairperson Goldie Fancey welcomed dancers and guests at the Anglican Church Hall in Bridgewater.The Hall was tastefully decorated in our club colours by Delma Dorey Ralph & Valerie Brown, Neil Dorey, and HazelHebb.
Retired caller John & Marcella Medicraft were presented with corsages by Moyle & Marjorie Crouse. Jimmy& Carolyn Kaulback presented caller Neil & Kathy Dorey with corsages.
The Square & Round Dance Federation of Nova Scotia had their banner on display, and Francis Dalziel spokeon behalf of the Federation and brought congratulations to the club. Paul and Carol Conrad Chairpersons of Festival 05and Past Presidents of LaHave River Ramblers gave a report on the Festival and extended congratulations on SunriseSquares 20th anniversary. Hazel Hebb was recognized as club historian and the dancers were invited to view the clubalbums which were on display. Burpee Meisner read the History of the club.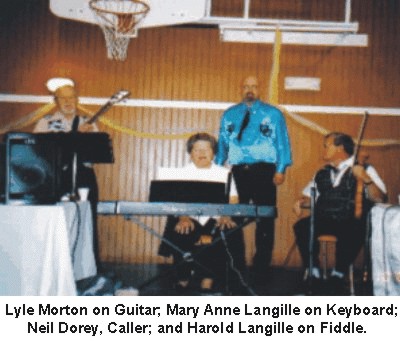 Caroll Randle from The Dept. of Recreation, whoin 1984 helped to establish Sunrise Squares offered hiscongratulations. The 10 plus squares danced to the livemusic of Harold & Mary Anne Langille, and Lyle Morton,with caller Neil Dorey. The lunch committee of ValerieBrown as Chairperson consisted of Ruth Keddy, DeltaWamboldt, Margaret Nauss, did a fine job, and the ladiesof the club all brought a lovely lunch which was enjoyedby all. The anniversary cake was cut by caller Neil &Kathy Dorey, and served by Carolyn & Jimmy Kaulback,and Delma Dorey.
Neil Dorey thanked the members of the club forhelping make our 20th anniversary a success and thefollowing was Neil's speech:
"Sunrise Squares is run by all the people who showup to support the caller in his plans. The club is run by allthe people who bring food to the weekly dances withoutbeing asked. The club is run by all the helping hands thatmade this event possible.
Finally the club is run by those people who continue to come to the weekly dances and allow the caller to feellike things are O.K. at the home of Sunrise Squares where-ever that may be in the future where-ever the dancerschoose it to be by their love of Square Dancing. Thank-You to all who brought this dance together in such a short time.
Thank-You to all who by your attendance show your desire to keep Square Dancing alive.Good Squares and "Happy Dancing."
Written by Hazel Hebb/Club Historian, Sunrise Squares
---
Remembering Roger Whynot
(Square Dance Caller)
In the 1950's Roger Whynot of Milton, Queens County, NS., decided to learn to call square dances. He wentthrough school at Milton, and by now was working for Mersey Paper Co. Ltd. making newsprint. As he had no teacher,he gathered music and material and some people for dancers. They met regularly and as he learned to call, he taughtthe dancers.
He contacted the Department of Education, and an instructor, Maurice Hennigar, came to Milton from Halifaxand put on a five day seminar of square dancing for youths and adults. Following this Roger and his wife, Phyllis,formed a caller run club, which was known as the Jolly Roger Dancers. They danced what was known as the NewEngland Style Square Dance using twenty-five calls.
A few years later Roger informed his dancers that the square dance style was changing to Modern WesternSquare Dancing with more calls for him to learn and teach, so they decided it was time for a change. In 1966 a meetingof sixty-six dancers was held and an executive run club was created with Roger as their caller.
It was decided to call the club the Jolly Roger Squares in honour of Roger. The club was registered with theNova Scotia Federation. So, Roger Whynot was responsible for bringing square dancing to the Queens County areaand creating the Jolly Roger Squares.
While at work at the Paper Mill Roger practised his patter calls constantly, even though you could not hear himover the sound of the paper machinery.
In 1969 Roger decided to change jobs and further his education in Music by attending the University of Maine.Since then the callers for the club have been Arch Erickson, Ivan Doggett and John Medicraft until 2000 when theclub closed due to declining membership and those still dancing went to another club.
Roger moved to the United States, and became the Director of Student Personnel at Landmark School in Pride'sCrossing until his retirement. He spent time in England teaching square dancing and learning as many types ofEuropean Dancing as he could. He took great pride in educating through the medium of music and dancing. Heenjoyed choreographing as well as teaching square dancing and specialized in contras. He always visited the club whenhome on vacation.
Roger had two operations for throat cancer. The second one involved the removal of his voice box, thus endinghis calling career. He could still communicate with people using a device on his throat which allowed him to talk.
Roger passed away January 11, 2005 at the Masconomet Healthcare. We dancers on the South Shore rememberRoger and give thanks for the fun and heritage he created.
Submitted by Leslie Smith
---
METRO MERRY MAKERS/OCEAN WAVES
2004 HARVEST MOON DANCE
Another year and another successful Harvest Moon Dance. The MMM./Ocean Waves would like to thank all thefaithful square dancers who braved the blowing snow and bad road conditions to support our annual fund raiser.
Although mother nature showed her white coat instead of her fall colours, the dancers inside Bloomfield Centre,enjoyed a warm, fun filled Harvest Dance with their many friends. The gymnasium was filled with fall decorations.The owl kept watch and the full moon shone over the crowd.
The square dance clubs came together for eleven squares. With a turnout in the face of a major storm and alsothe fourth weekend in a row of major dances and travel.
We thanked the callers, Kerry Fletcher, Mark Savage, Bruce Savage, and Wade Savage for masterfully directing oursquares.
Door prizes representing the fruits and veggies of the season were enjoyed, including homemade jams, pickles,beets, popping corn, corn on the cob, etc. Congratulations to Francis Dalziel of the LaHave River Ramblers. She wasthe grand winner of the beautiful MacAskill print.
The dance evening also made time to congratulate many of the MMM/Ocean Waves and Fun Squares dancers andtheir callers with long service awards. These awards were presented by the Square and Round Dance Federation ofNova Scotia with all the best wishes. The MMM/Ocean Waves as a club, too, extended congratulations to each of thesecouples. We are very proud of our members and the contributions given to their club over the years.
At the end of a vivacious, fun filled evening, the whole crowd were invited to dine on their choice of any type ofpie topped with ice cream. The host club then thanked everyone and encouraged everyone to travel with much care.Some dancers even stated in the city overnight rather than risk the weather.
Written by Reta Blades, Club Historian.
*********************************************************************
Dance Nova Scotia(DANS) offers new service for Email publicity
DANS e-news is a new service to members and we ask you to bear with us while we work out the bugs. They plan it to be send it out on Thursdays. To have your event included please note the following:
We never forward attached files. Send the information in plain text within your message.
Priority is always given to DANS members. We cannot guarantee that publicity messages by non-members will beincluded. *Ed.- (All SRDFNS members are also DANS members)
We reserve the right to exclude material that is, in our opinion, offensive or disrespectful.
To be included in e-news, please send your information in by Wednesday of week that you wish it to be sent. Allitems will be repeated from the week that they are sent until the date of the opening of the event.
We will run a full press release once only and that will be on the week that we receive it. After that information willbe limited to the basics: who, what , when, where, how much and contact info. We will also include a one linedescription of your event.
Please make sure that you include a contact phone or email for further information.
E-news information will also be posted on our web page.
We have three separate e-news lists which members sign up for: concert dance (performing arts dance),social/latin/dancesport and traditional. Please indicate which list is most appropriate for your activity. Although youmight think that your message is for everyone, those who subscribe to a specific list have done so because they onlywant to read that specific information. Targeted lists mean that it is more likely that your message will actually be read.Members who have broader interests have signed up for more than one list.
DANS Email address: dans@hfx.eastlink.ca
---
NEWS FROM THE FEDERATION AGM 04
The elections at AGM 04 resulted in the following volunteers becoming officers of the Federation:


President - Wayne & Diane Burns
Vice President - Vacant*
Secretary - Paul & Reta Blades
Treasurer - Lionel & Janet Crowe
* After the AGM, Ralph & Valerie Brown were persuaded to volunteer to be the Vice Presidents. The complete list of officers and Regional & other Representatives is provided elsewhere in this BT.

The AGM attendees approved a motion to permit the Executive to hold Email meetings whenever it was determined to be appropriate. AGM's will NOT be done by Email.

The increase in Society dues from $1 to $2 per club; caller/cuer/leader; and each member/person was noted. Sincethe 2004-05 Registration Forms were not amended to reflect this increase, a motion was approved to have the Federation subsidize the Society dues for this year only.

It was noted that the Federation Parade Trailer had been used only 3 times during the Summer of 2004. This very expensive equipment incurs annual expenses in the hundreds of dollars. It is an investment that can only be sustained if clubs or regions are prepared to utilize the Parade Trailer regularly as part of their promotions. The Federation has approved funds for transporting the trailer around the province. Requests to use the Parade Trailer are encouraged to the Parade Trailer Scheduler: Bill & Gertie Oldford 765- 6333 or bill.oldford@ns.sympatico.ca The Request form & complete information regarding the trailer is available in the SRDFNS Handbook (Blue Cover).

A number of longevity Awards were announced for presentation later in the year. The Awards Committee askedthat clubs/regions request their longevity awards at least six months before their planned presentation in order toprocess them in time. It was also confirmed that the nominations for the MAYFLOWER award must be submittedby 30 March 2005. Nominations must be submitted through the Regional Representative (when the position isfilled) or otherwise directly to the Awards Committee Chair: Laurence & Alice Harrison 667-2021landaharrison@eastlink.ca Details regarding the Federation Awards are contained in the SRDFNS Handbook (BlueCover).

An Alquire Memorial Callers School will be offered 21 to 26 August 2005. The Federation provides two bursaries for NS attendees. Applications must be received by the President, by 30 March using the instructions and form in the Handbook. Interested callers and dancers should register with Alex Ritchie alexr@eastlink.ca or for more information contact Dottie Welch 435-4544 dwelch@orion.stmarys.ca

Unfortunately, it was reported that the Shirley's Shipmates, Riverview Dancers and Berwick Belles and Beausclubs have closed.

It was decided to hold AGM 05 on Saturday, Oct 1, 2005 at 2 pm. at a location to be decided by the Executive. Since ANSSRDT will not be hosting a dance for the Federation AGM 05, it was agreed that the Executive would make arrangements for a dance on the evening of the AGM 05.
---
ALQUIRE MEMORIAL CALLERS SCHOOL 2005
Sunday Evening August 21st thru August 26th, 2005


Information: contact Dottie Welch, dwelch@orion.stmarys.ca 435-4544
Registration: through Alex Ritchie, alexr@eastlink.ca
---
LOST SQUARES PROCEDURE
In 1986 CALLERLAB introduced a procedure for LOST SQUARES. It was approved with some small changes in 1987 and has now beenrevised. CALLERLAB recommends that dancers use the following Patter and Singing Call Procedures to help lost squares quickly resumedancing. Callers should teach these procedures to their dancers and be alert for sets waiting to re-enter the action and for sets struggling withsinging calls.
PATTER PROCEDURE - Make Normal Lines. Wait for Entry, and Sort during Promenade
The following procedure is intended for use during Patter or Hoedown calling when longer sequences are likely and at least half the square isconfused. If only one or two dancers are lost then they should look for a helpful hand and attempt to fill the vacant spots within the stillfunctioning square.
DANCER'S RESPONSIBILITY

If dancers in a confused but partially functioning square hear Make Normal Lines, then lost dancers should quickly adjust to Normal Couples (Boy left, Girl right) ready to join the forming Normal (Boy -Girl-Boy-Girl) Facing Lines.
In the case of total breakdown each dancer should return to home position as soon as possible. Then the head ladies join hands with their corner and the head couples back out to form normal lines at the sides of the square.
On the caller's command, "Normal Lines, Go Forward and Back', all lost squares enter into the dance pattern. If a resolution is heard first, then dancers in lost squares should simply readjust to a squared set.
Dancers in a lost square must remember that re-entering from normal lines does not guarantee a correct resolution. Full recovery will probably require rapid sorting to home during the Promenade (move counterclockwise but step out at your home).
CALLER'S RESPONSIBILITY

Recognize that a number of sets have broken down and have formed lines.
Place the dancing squares into facing lines that are in a normal BGBG arrangement (#OL).
Give the command "NORMAL LINES, Go Forward and Back" in a bold voice, which is the command for the lost squares to enter into the dance pattern.
Allow enough time during the Promenade for squares that were lost to complete their Promenade and sort as necessary to get home. If an "at home" resolution is used, make sure all the sets are squared up.
SINGING CALL PROCEDURE - Swing, and Men Sort during Promenade
The following procedure is intended for use during a Singing Call where the sequences are short and closely timed to the music. The minimumneeded to avoid more confusion and resume dancing at the next sequence is each man at home with some lady for a partner.
DANCER'S RESPONSIBILITY
Since partners probably should be changing, dancers in a lost square should be ready for a quick Swing with their corner or nearest opposite sexand then expect to make adjustments during the Promenade so that the men end at home. If still lost during the Promenade, men should quicklyhead for home while ladies should join the closest un-partnered man.
CALLER'S RESPONSIBILITY
In the case of significant breakdown on the floor, adjust the choreography or provide more clues and cues to improve the success rate on thenext figure.
CALLERLAB PRESS RELEASE (January 2005)
---
NEWS FROM THE 29 JAN SRDFNS EXECUTIVE MEETING
The past President distributed amendments and changes to the SRDFNS Handbook (Blue Cover) held by all Executive members and each club. The Handbook is meant to be available to all dancers as a reference and guide for Square & Round dance activities in NS. Clubs which have lost/misplaced their Handbooks should inform the Past President, Ron & Dot Connell 434-3023 ronconne@supercity.ns.ca

The FESTIVAL 05 Committee Chair reported that their plans are progressing well. They stressed the need for good salesmanship on everyone's part to promote FESTIVAL 05 within regions and clubs. The Blue FESTIVAL 05 Registration forms should be available to every Nova Scotia dancer in their clubs. The form is also available on the web at www.squaredance.ns.ca
There is a possibility of a group of square dancers from New England coming to FESTIVAL 05.

It was exciting to receive a report on activities in the cape Breton region. The Town & Country Dancers have 24 couples registered and the Margaree Country Swingers continue dancing in the Margaree area.

The Parade Float (Trailer) has been booked for only one event this year. See the discussion in the AGM 05 news regarding more use of this expensive investment.

A proposal to hold a seminar on "Marketing Square & Round Dancing in NS" was presented for discussion. There were a lot of good ideas put forward and some offers to take part in the seminar. It is now planned to hold this event on Saturday, 5 March at a time and place determined to be most convenient for the attendees. If this activity is to survive over the next 3-5 years, new dancers have to be found. It is up to us dancers and callers and cuers to get out there and do the marketing! Some recent information has been received from the New Brunswick community who are pursuing similar goals. All ideas will be examined and the most effective will be offered to clubs, callers, cuers, Associations, and the Federation for implementation. As part of their work on this subject, Callerlab will be distributing a Demographic Survey, that the Federation Executive agreed to also distribute in NS.

Efforts to find a host for FESTIVAL 07 have not yet been successful. Further campaigning will be carried out by the Federation President!

The Executive adopted a change to the Federation Awards criteria for Longevity awards for clubs and dancers. It now reads:
"1. CLUBS
A member club will be issued a certificate of 20 years of dancing and for every additional 5 years thereafter.
2. DANCER
A dancer or dancing couple can be issued a certificate of 20 years or more of dancing since beginning their first class lesson."

The Past Past President presented an analysis of the Federation budget for 2003-2004. He then presented a proposed budget for 2004-2005 which was approved by the Executive. He also pointed out a potential severe shortfall in revenues for the year 2005-06 due to the current low interest rate on investments. Some effective action will have to be proposed at AGM 05 to deal with this issue.

Only 3 operating clubs have not paid their membership to the Federation and the Canadian Society. Members of these clubs are not eligible for NS Federation benefits nor are they covered by the very inexpensive liability insurance that accompanies Society membership.
---
CONTACTS FOR CLUBS IN NOVA SCOTIA

CLUBS IN CAPE BRETON REGION

CELTIC ROUND DANCERS
Ph II-IV Rounds - Mondays & Tuesdays (Class - Sunday 6:00-7:30) - 8:00-10:00 , 21 Minwell Ave., Sydney
Contact: Wendel & Bev Carroll, 21 Minwell Ave., Sydney, NS B1M 1A7 (902) 562-4262

TOWN & COUNTRY DANCERS
Basic & Mainstream - Wednesdays 8:00-10:00 (Class 7:00-8:30), Christ Church Hall, Trinity Ave., Sydney
Contact: Babe & Allyson Cormier, 40 Maple Creek Drive, Sydney, NS B1L 1C4 (902) 562-1374

MARGAREE COUNTRY SWINGERS
Mainstream & Ph II Rounds - Mondays 8:00-10:30 pm, Belle Cote Community Center, Belle Cote
Contact: Albert & Alice LeBlanc, Belle Cote, NS B0E 1C0 (902) 235-2600 am.leblanc@ns.sympatico.ca

CLUBS IN CENTRAL REGION

COORDINATORS PLUS
Plus - Mondays 8:00-10:00 pm, North Woodside Community Centre, 230 Pleasant St., Dartmouth
Contact: Mary Sargeant, 31 Esdaile Ave., Dartmouth, NS B2Y 3N5 (902) 463-3170 msargeant@ns.sympatico.ca

DANCING SHADOWS
Ph III-V Rounds - Wednesdays 8:00-10:00 pm, St. Andrews Presbyterian Church Hall, School St., Dartmouth
Ph III-IV Class - Sundays 8:30-10:30 pm, Dartmouth Senior Centre, Octerloney St., Dartmouth
Contact: Alex Ritchie, 58 Oakdale Cr., Dartmouth, NS B3A 2L8 (902) 469-1492 alexr@eastlink.ca
Website http://www.chebucto.ns.ca/Culture/SRDFNS/ragr.html

FUN TIME ROUNDS
Ph II-III Rounds - Mondays 8:00-10:00 pm (Class 7:00-8:00 pm), Bloomfield Centre, Argicola St., Halifax
Contact: Larry & Margie Clark, 24 Heritage Ct., Fall River, NS B2T 1E7 (902) 860-0886 clarks@accesscable.net

FUN SQUARES
Mainstream, Ph II Rounds, & 1 Plus Tip - Saturdays 8:00-10:00 pm, St. Lukes Anglican Church Hall, Veterans Ave.,Dartmouth
Contact: Mark Savage, 405 Astral Dr., Dartmouth, NS B2V 2J1 434-3867 msavage@accesswave.ca
Website http://www.angelfire.com/folk/fun_squares/

GOLDEN SQUARES & ROUNDS
Basic Squares - Wednesdays 10:00-11:30 am, Ph II Rounds - Fridays 10:00-10:30 am. Both at Dartmouth Senior Centre, Octerloney St., Dartmouth
Contact: Alex Ritchie, 58 Oakdale Cr., Dartmouth, NS B3A 2L8 (902) 469-1492 alexr@eastlink.ca
Website http://www.chebucto.ns.ca/Culture/SRDFNS/ragr.html

IN THE PINK DANCERS
Ph III-V Rounds - Fridays 7:00-8:00(Phase III class) 8:00-10:00(III-V) pm, Rockingham Community Centre, Rockingham, Bedford Hwy.
Contact: John & Valerie Pinks, 11 MacDonald Point Rd., Seabright, NS B3Z 2Y2 (902) 823-2230 jandvpinks@cs.com

LAKE CITY SWINGERS
Mainstream, Ph II Rounds, & Contras - Thursdays 7:30-9:30 pm, North Woodside Community Centre, 230 Pleasant St., Dartmouth.
Contact: Dottie & Gary Welch, 415 Conrad Road, Lawrencetown, NS B2Z 1S3 (902) 435-4544 dwelch@orion.stmarys.ca

METRO MERRY MAKERS / OCEAN WAVES / TIDAL WAVES
Plus - Tuesdays 8:00-10:00(Class 7:00-8:30) pm.; A-1 - Fridays 8:00-10:00(Class 7:00-9:00) pm.; Bloomfield School, 2786 Agricola St., Halifax,
Contact: Harold & Edie Young, 984 Herring Cove Road, Halifax, NS B3R 1Z6 (902) 477-1950 edithyoung@eastlink.ca

MOTIVATORS
Challenge - Day & varies, Welch's Home, 415 Conrad Rd., Lawrencetown, Hfx. Co.
Contact: Dottie Welch, 415 Conrad Road, Lawrencetown, NS B2Z 1S3 (902) 435-4544 dwelch@orion.stmarys.ca

RAG ROUNDS
Ph II-III Rounds - Mondays 8:00-10:00 pm, St Andrews Presbyterian Church Hall, School St., Dartmouth
Ph I-II Class - Sundays 7:00-8:30 pm, Dartmouth Senior Centre, Octerloney St., Dartmouth
Contact: Alex Ritchie, 58 Oakdale Cr., Dartmouth, NS B3A 2L8 (902) 469-1492 alexr@eastlink.ca
Website http://www.chebucto.ns.ca/Culture/SRDFNS/ragr.html

SAIL SETS
Mix of A1 Class, A1 & A2 tips - Tuesdays 7:30-10:00 pm, Grosvenor Wentworth Park School, Downing St., Rockingham
Contact: Dottie & Gary Welch, 415 Conrad Road, Lawrencetown, NS B2Z 1S3 (902) 435-4544 dwelch@orion.stmarys.ca

SCOTIA DANCERS
Mainstream - Wednesdays 8:00-10:00 pm, Sackville Heights Community Centre
Contact: Ken & Jean Murphy, 296 Patton Rd., Upper Sackville, NS B4E 3C1 (902) 865-8851

STARDUSTERS
Mainstream & Ph II Rounds - Thursdays 8:00-10:00 pm, South Woodside Community Centre, 5 Everett St., Dartmouth
Contact:Rod & Colleen Cameron, 23 Fredericks Lane, Eastern Passage NS B3G 1S7 (902) 465-8222 colrod@ns.sympatico.ca

TIMBERLEA TWIRLERS
Mainstream - Mondays 8:00-10:00 pm, Lakeside Fire Hall, Myra Rd., Timberlea
Contact: Barry & Dyanna Bendle, 76 Prestwick Close, suite 102, Halifax, NS B3S 1M4 (902) 876-2266 dyannaandbarry@eastlink.ca
Contact: Pat & Marilyn Matheson, 51 Connolly Road, Unit 4, Lower Sackville, NS B4E 1S6 (902) 864-4936 patmatheson@eastlink.ca


CLUBS IN FUNDY REGION

COBEQUID TWIRLERS
Mainstream - Tuesdays 8:00-10:00 pm, Bible Hill Village Hall, 69 Pictou Rd., Bible Hill
Contact: Ed & Kitty Giles, 74 Little Dyke Road, R.R. # 1, Great Village, NS B0M 1L0 (902) 662-3159 ekgiles@hotmail.com

CUMBERLAND TWIRLERS
Mainstream - Tuesdays 8:00-10:00 pm, Experimental Farm Pavilion, Nappan
Contact: Laurence & Alice Harrison, 41 Clifford Street, Amherst, NS B4H 2G3 (902) 667-2021 landaharrison@eastlink.ca

NB - NS BORDER ROUNDERS
Ph II-IV Rounds - Thursdays 7:00-10:00 pm, Experimental Farm Pavilion, Nappan
Contact: Ron & Lyn Estabrooks, 336 Fox Ranch Rd., Amherst, NS B4H 3Y4 667-8387

STRATHMOR STRUTTERS
Mainstream: Mondays 8:00-10:00 pm. Plus: Wednesdays 8:00-10:00, Class: Thursdays 8:00-10:00, Bob's Hall, 12281 Lower Onslow.
Contact: Tony & Diane Fleck, 13095 Onslow Rd RR 5, Truro, NS B2N 5B3 (902) 897-9921 tfleck@nsac.ns.ca

CLUBS IN HIGHLAND REGION

HIGHLAND SQUARES
Mainstream & Plus - Thursdays 8:00-10:30 pm, NS Community College, 39 Acadia Ave., Stellarton
Contact: Gerald & Lola Patterson, 438 Cameron Ave., New Glasgow, NS B2H 1T6 (902) 752-4727 gpatterson@eastlink.ca

MAPLELEAF WHIRLAWAYS
Beginner & Mainstream - Mondays 8:00-10:30 pm, St. James United Church Hall, Antigonish
Contact: Allister & Harriet Cameron, R.R. # 5, Antigonish, NS B2G 2L3 (902) 783-2533 ralph.macdonald@ns.sympatico.ca

CLUBS IN SOUTH SHORE REGION

BLUENOSE TWIRLERS
Basic, Mainstream, & Plus - Tuesdays 8:00-10:00 pm, Holy Trinity Parish Hall, 61 William St., Yarmouth
Contact: Dan & Jeanette Burke, R.R. # 3, Box 49, Tusket, NS B0W 3M0 (902) 648-2593 jeandan@ns.sympatico.ca

LAHAVE RIVER RAMBLERS
Basic & Mainstream - Thursdays 7:30-10:00 pm (Class 7:30-10:00 pm), Wileville Fire Hall, Wileville, Exit 13 off Hwy #103
Contact: Leslie Smith, PO Box 237, Milton, NS B0T 1P0 (902) 354-4794 / Frances Dalziel, 26 Nauss Ave., Bridgewater, NS B4V 1V7 (902) 543-5117
Email Martin Vissers mvissers@bwr.eastlink.ca
Website http://www.geocities.com/Heartland/5382/lrrclub.htm>

SUNRISE SQUARES
Class & Mainstream - Fridays 8:00-10:00 pm, MARC hall, Dayspring, (Take left off Lunenburg Hwy.)
Contact: Ralph & Valerie Brown, 652 Pine Grove, RR # 2, Bridgewater, NS B4V 2W1 (902) 543-5278 ralphvalerie@yahoo.com
Contact: Neil & Kathy Dorey, 736 - Hwy 208, RR # 4, New Germany, NS B0R 1E0 (902) 644-2757 nkdorey@ns.sympatico.ca

DOUBLE DORY DANCERS
Mainstream & Class - Saturdays 8:00-10:00 pm, Rosedale New Horizons Hall, Hwy 10, New Germany,
Contact: Neil & Kathy Dorey, 736 - Hwy 208, RR # 4, New Germany, NS B0R 1E0 (902) 644-2757 nkdorey@ns.sympatico.ca

CLUBS IN VALLEY REGION

DANSEURS ACADIENS
Basic & Mainstream - Thursdays 8:00-10:00 pm, Saulnierville School Gym, Saulnierville
Contact: Lester & Yvonne Comeau, P.O. Box 8, Meteghan, NS B0W 2J0 (902) 645-2808 lester.c@ns.sympatico.ca

DICE HILL SQUARES
Mainstream(1-53), Mainstream - Thursdays 7:30-10:00 pm, (Class 7:30-8:30) Ardoise Hall, Hwy 1 & School Rd., Ardoise, Hants Co.
Contact: Bob & Inge Ruohoniemi, 6939 Hwy 1 Ardoise RR1, Ellershouse, NS B0N 1L0 (902) 757-3884 bobruoho@ns.sympatico.ca

FOUR SEASON SQUARES
Mainstream - Fridays 8:00-10:00 pm.; Plus - Fridays 7:30 pm.; Class - Tuesdays 7:30 pm.; 77 White Cap Lane, Clementsport
Contact: Wayne & Linda Isles, P.O. Box 9, Clementsport, NS B0S 1E0 (902) 638-8081 wayne.linda@ns.sympatico.ca

APPLE VALLEY DANCERS
Plus & Easy Rounds - Tuesdays 8:00-10:00 pm, St. Mary's School, Aylesford
Contact: Nelson & Pat Labor, 36 Willow St., Kingston, NS B0P 1R0 (902) 765-2247 pnlabor@eastlink.ca

ADMIRAL DANCERS
Mainstream, Plus & Ph II Rounds, Saturdays 8:00-10:00 pm, (Class 7:00-8:30); Trinity Anglican Church Hall, 113 Queen St., Digby.
Contact: Terry & Marsha Lewis, R. R. # 1, Barton, NS B0W 1H0 (902) 837-4736 terry.lewis@ns.sympatico.ca

BERWICK BELLES "N" BEAUS
Operation suspended until further notice.

FUNDY SQUARES
Basic & Mainstream - Wednesdays 8:00-10:00 pm (Class 7:00-8:00 pm), Wilmot Community Centre, Wilmot,
Caller: Tommy Collins scole@ns.sympatico.ca
Contact: Jack & Irene Barlow, R.R. # 1, Wilmot, NS B0P 1W0 (902) 765-4962

RAINBOW DANCERS
Mainstream - Mondays(2nd &4th) 8:00-10:00 pm, Woodville Community Center
Contact: Don & Jean Killam, R.R. # 2, Waterville, NS B0P 1V0 (902) 538-3949 don.killam@ns.sympatico.ca

RIVERVIEW DANCERS
Operation suspended until further notice.

VALLEY ROUNDERS
Ph II Rounds - Thursdays 7:00-9:30 pm (Class 7:00-8:30), Wilmot Community Hall, Hwy #1, Wilmot
Contact: Pat & Nelson Labor, 36 Willow St., Kingston, NS B0P 1R0 (902) 765-2247 pnlabor@eastlink.ca

VALLEY SQUARES
Basic & Mainstream - Wednesdays 8:00-10:00 pm, Wilmot Community Hall, Hwy #1, Wilmot
Contact: James R. Webber, R.R. # 1, Bridgetown, NS B0S 1C0 (902) 584-3624

WEST KINGS TWIRLERS
Basic, Mainstream, & Plus - Fridays 8:00-10:00 pm (Class 7:00-8:00 pm), Melvern Square Community Center, Annapolis Co.
Contact: Jim & Shirley Robinson, P.O. Box 634, Greenwood, NS B0P 1N0 (902) 765-2295 jimshirl@ns.sympatico.ca

YOUNG COUNTRY DANCERS
Mainstream, Plus, & Ph II Rounds - Wednesdays (Class 7:00) 8:00-10:00 pm, Kentville Lions Hall, 78 River St. Kentville
Contact: Barry & Claire Walker, Box 178, Aylesford, NS B0P 1C0 (902) 847-3539 ycd@eastlink.ca

CLUBS OF NO FIXED REGION

BLUENOSE R V SQUARES (NSDCA Chapter C-182)
Mainstream - 3rd Weekend of Month - May to October inclusive - various NS campground - Friday 8-10 pm, Saturday 7:30-9:30 pm.
Contact: Lionel & Shannon Parsons, 6 Carroll St., Glace Bay, NS B1A 3B3 (902) 842-9066
---
SRDFNS Board of Directors 2004-2005
PRESIDENT
Wayne & Dianne Burns
Box 73, Mount Uniake NS B0N 1Z0
866-0649 waynedianne@eastlink.ca
VICE PRESIDENT
Ralph & Valerie Brown
652 Pinegrove, Lunenburg Co.,
RR 2, Bridgewater, NS B4V 2W1
543-5278 rwvjbrown@eastlink.ca
SECRETARY
Paul & Reta Blades
94 King Road, Wellington NS B2T 1A2
861-1972 paul.blades@pwgsc.gc.ca
TREASURER
Lionel & Janet Crowe
481 Ponderosa Dr., Lake Echo NS B3E 1E3
829-2643 lcrowe@istar.ca
PAST PRESIDENT
Ron & Dot Connell
7 Terrance Court, Dartmouth, NS B2W 3J3
434-3023 ronconne@supercity.ns.ca
FINANCE OFFICER
Don & Verna Ward
41 Guy St., Dartmouth, NS B3A 4N2
465-7648 thewards@accesswave.ca
PUBLICITY
John & Beth Dickinson 667-3080
RR6, Amherst NS B4H 3Y4
j_dickinson@ns.sympatico.ca
PUBLICATIONS & WEBMASTER
Alex Ritchie
58 Oakdale Cr Dartmouth NS B3A 2L8
469-1492 alexr@eastlink.ca
ARCHIVIST and
PARADE TRAILER OFFICER
Harold & Clara Redden
Cambridge NS B0P 1G0
538-9513 buttons@ca.inter.net
AWARDS COMMITTEE CHAIR
Laurence & Alice Harrison
41 Clifford St., Amherst, NS B4H 2G3
667-2021 landaharrison@eastlink.ca
CENTRAL REGION REPRESENTATIVE
Don & Carol Scott
52 Sami Drive, Lower Sackville NS B4C 3S7
865-5780 dwscott@accesscable.net
Alternates: Barry & Dyanna Bendle
39 Dixon Crt., Glengarry Estates, Timberlea NS B3J 1N8
876-2266 dyannaandbarry@eastlink.ca
VALLEY REGION REPRESENTATIVE
Bill & Gertie Oldford 765-6333
5 Maple Ave., Kingston, NS B0P 1R0
bill.oldford@ns.sympatico.ca
Alternates: Al & Corrine McNabb
215 Chase Rd., Berwick, NS B0P 1E0
538-9541 a_c_mcnabb@yahoo.com
SOUTH SHORE REGION REPRESENTATIVE
Francis Delziel 543-5117 & Leslie Smith 354-4794
26 Nauss Ave., Box 237 Milton NS B0T 1P0
Bridgewater NS B4V 1B7
alym@tallships.ca daveandsandy@eastlink.ca
Alternates: Dan & jeanette Burke, 648-2593
RR3 Box 49, Tusket, NS B0W 3M0
jeanandan@ns.sympatico.ca
FUNDY REGION REPRESENTATIVE (Vacant)
Alternates: John & Beth Dickinson
HIGHLAND REGION REPRESENTATIV (Vacant)
CAPE BRETON REGION REPRESENTATIVE (Vacant)
ANSSRDT REPRESENTATIVE
Dottie & Gary Welch
415 Conrad rd., Lawrencetown, NS B2Z 1S3
435-4544 dwelch@orion.stmarys.ca
NEWSLETTER EDITOR
Bob Ruohoniemi 757-3884
6939 Hwy 1 Ardoise, RR1 Ellershouse, NS B0N 1L0
bobruoho@ns.sympatico.ca
DANS REPRESENTATIVE
Inge Ruohoniemi 757-3884
6939 Hwy 1 Ardoise, RR1 Ellershouse, NS B0N 1L0
bobruoho@ns.sympatico.ca
NATIONAL SOCIETY REPRESENTATIVE
Ralph & Barb MacDonald
Box 16, Goshen NS B0H 1M0
783-2731 ralph.macdonald@ns.sympatico.ca
SRDFNS COMMITTEES 2004-2005
FINANCE COMMITTEE
Chair: Don & Verna Ward
Members: Roy & Jean Sewell
AWARDS COMMITTEEChair: Laurence & Alice Harrison
Members: Dan & Jeanette Burke
Harold & Clara Redden
PARADE TRAILER COMMITTEEChair: Harold & Clara Redden
Members: Al & Corrine McNabb & Bill & Gertie Oldford
FESTIVAL 2005 CHAIRSPaul & Carol Conrad 542-5256
156 Pleasant St., Bridgewater, NS B4V 2W6
paul.conrod@ns.sympatico.ca
---
NOTICE
Please send all information and material intended:
For "Between Tips" to the editor
Bob Ruohoniemi
6939 Hwy 1 Ardoise RR 1
Ellershouse NS B0N 1L0
(902) 757-3884 bobruoho@ns.sympatico.ca



For "Calendar of Events" and/or the "Website" to
Alex Ritchie
58 Oakdale Crescent
Dartmouth NS B3A 2L8
(902) 469-1492 alexr@eastlink.ca



For the "Summer Tourist Brochure" to
John & Beth Dickinson
RR 6
Amherst NS B4H 3Y4
(902) 667-3080 j_dickinson@ns.sympatico.ca
---
(Return to Home Index)