BETWEEN TIPS
"BETWEEN TIPS" is the official bulletin of the
SQUARE & ROUND DANCE FEDERATION OF NOVA SCOTIA
Bob Ruohoniemi, Editor, 6939Hwy 1 Ardoise, RR 1 Ellershouse, NS B0N 1L0
phone (902) 757-3884 email: bobruoho@ns.sympatico.ca
DECEMBER 2005 -- NUMBER 126
(Back Issues) (Return to Home Index)
---
You may download this DECEMBER 2005 as a PDF file.
---
Editor's Comments: This Christmas Edition of Between Tips, brings BIG news to our Nova Scotia dancecommunity! The Canadian Square & Round Dance society has accepted the NS Federation offer to host the CanadianNational Convention in Halifax, in 2010. The Federation President provides us with an overview. The next BT willbe issued February, 2006, so readers have plenty of time to send in notices, news, or complaints! The deadline foryour submissions is 15 January, 2006.
Best wishes from Inge and I, for a very enjoyable Holiday Season and a healthy & dance-filled New Year!
*************************************************************************
ATTENTION NOVA SCOTIA DANCERS
By this time, some of you have already heard that Nova Scotia will be hosting the 2010 Canadian NationalConvention, which is being called "Halifax National Festival 2010".
The idea for Nova Scotia to host the 2010 National was initiated around May of 2005. This idea resulted frominquiries by numerous dancers from other areas of Canada and the United States as to when Nova Scotia was going tohost another Convention. Many dancers remember the great times enjoyed in 1982 and 1994. Also, no other Provincewas planning to submit a bid. From May to the end of July, preliminary investigations were carried out to determine ifthis was a feasible venture.
At the August 7th, 2005 Federation Board Meeting in Yarmouth it was decided to produce a survey form to becompleted by all dancers and to have the resulting information ready to submit at the Federation AGM on October15th, 2005. Also, at the August 7th meeting, it was unanimously voted that Wayne & Dianne Burns be the ChairCouple.
At the AGM, a positive result from the surveys was submitted as well as a preliminary budget which resulted in amotion to submit a bid to the National Society. This motion was unanimously approved.
The bid was presented at the National Society's AGM that was held in Charlottetown on November 12th. The bidwas unanimously approved by the Society Directors.
To date, Dottie Welch, Kerry Fletcher, Dianne and I have accomplished the following:

- Dates of July 29th to 31st have been established for the Festival
- The World Trade & Convention Centre and the Metro Centre have been secured as the venue
- Dancing levels have been identified
- Dancing rooms have been assigned on a preliminary basis
- The committee structure has been completed with all but 2 of the Executive and Directors identified
In the very near future the first meeting of the Executives and the Directors will be held and that will mark theofficial start-up of the numerous committees and the work that will be involved in producing this Festival.


So dancers be prepared, the committee chairs will soon be contacting you for your help.
---
LOGO & SLOGAN CONTEST
A "logo" and a "slogan" is needed. We have decided to invite all Nova Scotia dancers to submit their ideas for"logo" and for a "slogan". This will be in the form of a contest. A $50.00 registration credit each, for the logo and theslogan, will be given to the winners. The slogan must be short ( 4 or 5 short words and should include 2010).Example:"Dance by the Shore in 94". The logo should be something Nova Scotian like a lighthouse, the Mayflower,Old Town Clock, the Bluenose, etc. whatever your imagination can come up with. The cut off for this contest will beMarch 1st, 2006. Please send entries to Bob Ruohoniemi via email at bobruoho@ns.sympatico.ca (Or via mail at:6939 Hwy 1, Ardoise RR1, Ellershouse, NS, B0N 1L0. The selection of a winner will be carried out at Board Meetingin May 2006.
NOTE: In the event that 2 or more logos or slogans are identical, the first one received will be the winner.
Periodic updates will be published in Between Tips as the planning process continues.
Submitted by: Wayne & Dianne Burns, Chair Couple, Halifax National Festival 2010
---
NS FEDERATION FESTIVAL 2005
Festival '05, held in Yarmouth 5th & 6th of August brought together 269 dancers (280 when Callers, Cuers & Tawsare included) from Nova Scotia, New Brunswick Quebec, Ontario and Florida. Supported by the Clubs in the SouthRegion, Executive members came from three of these clubs. Members from these Clubs greeted dancers at the doorupon their arrival at the Festival, as well, were there to say good night as they left at the end of the evening.
The Burridge Community College facility offered non carpeted floors, much to the delight of dancers. Four roomswere set up for Mainstream, Mainstream Singing, Plus & Round Dancing. Callers were Neil Dorey; Kerry Fletcher;Wayne Isles; Nelson Labor; & Dottie Welch. Cuers were Pat Labor & Alex Ritchie. Remarks from dancers indicatedthese Callers/Cuers made their time at the Festival lots of fun. We thank them for accepting the challenge ofperforming at the Festival.
Great weather allowed us to have outdoor dancing on Saturday morning on the Yarmouth waterfront. LocalCallers George & Wendy Michaels kept the ten squares on their feet with continuous Calling for the entire hour, evenwhen the wind had blown George's cue cards away! Great Calling George & Wendy.
The Festival was successful in terms of facility; Callers/Cuers; attendance & finances. The Festival ExecutiveCommittee was very happy to make a financial contribution of $1000.00 to the Alguire Memorial Callers School. It isfelt this money will benefit in the training of much needed Callers, which will help the Square & Round dancepopulation grow in Nova Scotia.
The Festival '05 Committee, who worked diligently to make the Festival a success were:

Chair Couple - Paul & Carol Conrad
Co-Chair Couple - Ralph & Valerie Brown
Treasure Couple - Joe & Helena Burke
Secretary Couple - Ruth Murray & Warren Sarty
Registration Couple - Leslie Smith & Frances Dalziel
Advertising/Publicity Couple - Dan & Jeanette Burke
Hospitality Couple - George & Wendy Michaels
Caller Chair Couple - Neil & Kathy Dorey
Prize Conveners - David & Marion Oickle
Decorating - Bernice & Arthur Hall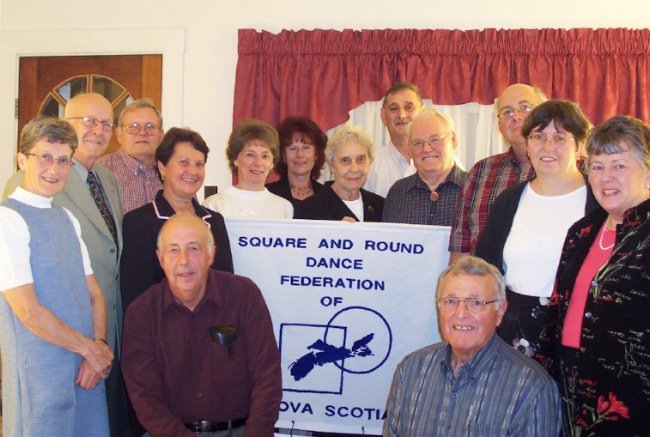 Executive Committee: Standing left to right: Helena Burke; Dan Burke;
Warren Sarty;Jeanette Burke; Ruth Murray; Valerie Brown; Frances Dalziel;
Ralph Brown; Leslie Smith; George Michaels; Wendy Michaels; Carol Conrad.
Kneeling: joe Burke; Paul conrad.
Missing were Neil & Kathy Dorey; David & Marion Oickle.
---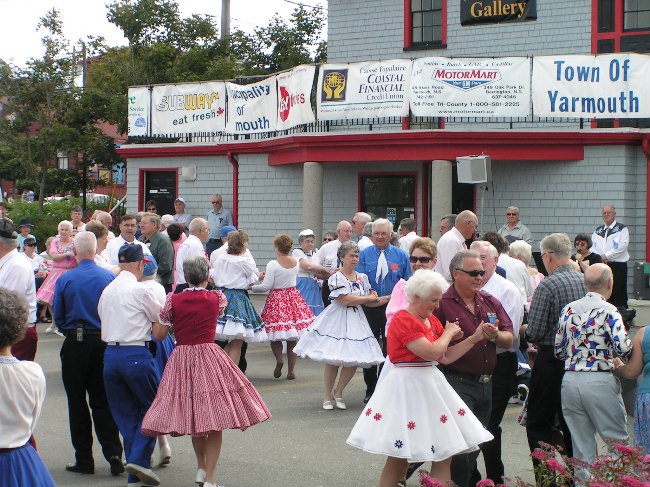 Festival '05 -- On the Yarmouth Waterfront
---
Festival '05 --Registration Desk
Seated: Linda Isles; Frances Dalziel; Marilyn Huskins; Carol Conrad
Standing: Jeanette Burke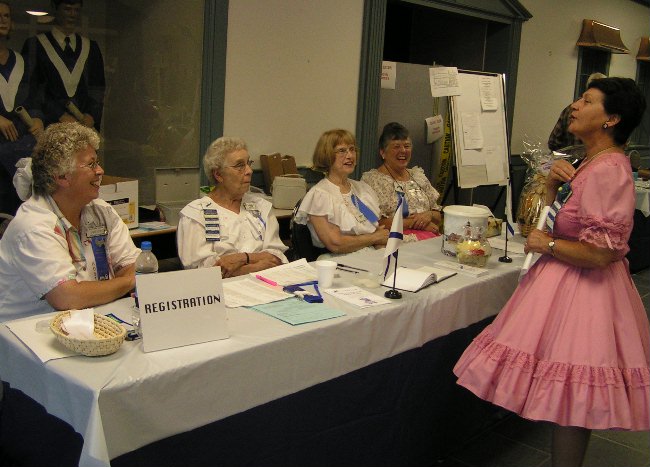 ---

Festival "05 Chair couple Paul & Carol Conrad
presenting $ 1000.00 cheque
to Dottie Welch, who received it on behalf of the
Alguire Callers Memorial Fund.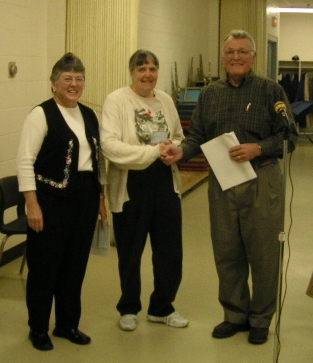 ---
We thank all those who attended Festival '05, and for making it a very successful event.
Submitted on behalf of the Festival '05 Executive Committee by Paul & Carol Conrad
---
**************************************
---
REGRETTABLE NEWS

The Rainbow Dancers club members have decided to close the club after it provided dancing for over 40 years.Their last dance will be held at the Windermere Hall, Windermere, on Monday, 5 December. The hall is off Hwy 101,Exit15, Hwy 360 thru Hwy 1 at the flashing light, to Windermere.*****************************************************************************************

WEBMASTER'S REQUEST

The Federation Webmaster, Alex Ritchie, asks clubs, regions, and associations to review their information on theFederation webpage www.squaredance.ns.ca and send him updates and corrections at: alexr@eastlink.ca An incorrect/outdated entry is worse than no entry at all! There are over 3,000 visits to the NS webpage everymonth!******************************************************************************************

PUBLICITY OFFICER'S REQUEST

The Federation Publicity Officer, Bob Ruohoniemi, asks clubs, callers, & cuers that have new dancers joining themto conduct a quick survey of them. Please ask: How did you find out about the activity? What prompted you to cometo your first square dance activity? Why do you continue to attend? Where should new dancer information be madeavailable? Send answers to: bobruoho@ns.sympatico.ca or 6939 Hwy1, Ardoise RR1, Ellershouse, NS B0N 1L0.******************************************************************************************

RECYCLED SQUARE DANCE CLOTHES

Recycled square dance clothes are being offered for sale by calling: 865-5300 or 463-6136*****************************************************************************************

UPCOMING MAJOR EVENTS

47th Australian National Square Dance Convention - 20/24 Apr. 06 - Gosford, NSW
www.47ansdc.org.au

48th New England Convention - 28/29 April 2006 - Springfield, MA
www.nesrdc.org

55th US National Convention - 21/24 June 2006 - San Antonio, Texas
www.55thnsdc.org

15th Canadian National Convention - 13/15 July, 06 - Montreal, QE
www.geocities.com/convention2006

37th Maritime Square & Round Dance Convention - 10/11 Nov. 06 - Fredericton, NB
- Hosted by MCCA *****************************************************************************************
---
(Return to Home Index)