BETWEEN TIPS
"BETWEEN TIPS" is the official bulletin of the
SQUARE & ROUND DANCE FEDERATION OF NOVA SCOTIA
Bob Ruohoniemi, Editor, 6939Hwy 1 Ardoise, RR 1 Ellershouse, NS B0N 1L0
phone (902) 757-3884 email: bobruoho@ns.sympatico.ca
NOVEMBER 2006 -- NUMBER 132
(Back Issues) (Return to Home Index)
---
You may download this NOVEMBER 2006 as a PDF file.
---
Editor's Comments:The dance season is well underway with open houses producing new dancers for the classes thatbring so much fun for everyone! This edition of Between Tips brings you the news from the most important NSFederation meeting - the AGM! A newsletter from the FESTIVAL 2010 committee is enclosed with this mailing.It emphasizes that the discount deadline is fast approaching on 31 December.

****************************************************************************

NEWS FROM THE FEDERATION ANNUAL GENERAL MEETING


The 2006 AGM held in Bible Hill, on 30 September, had a limited number of club representatives present.The Presidents, Wayne & Dianne Bums, thanked those dancers and leaders in attendance for their continued support of the Federation and interest in keeping our activity active in the province.

The Treasurer, Lionel & Janet Crowe, reported that the Federation had achieved a virtually balanced financial result in 2005-06. This is a marked improvement over the three previous years!
The Awards Chairs, Don & Carol Scott, reported that 2 clubs & two dancers had received longevity awards. They asked that clubs please submit names of dancers who have danced for over 20 years - dancing with any club, this will reward dancers with a Federation certificate. Don Scott The 2006 Mayflower Award was given to Laurence & Alice Harrison.
The DANS Representative, Inge Ruohoniemi, reported on the DANS AGM and their efforts to support all forms of dance in NS. She noted that DANS membership dues increased to $25/person and $50/organization. The current square dance DANS Board member, Lorna Webber, will be completing her final year in 2007. The Federation will need to find a volunteer to serve on the DANS Board.
The Publicity Officer, Bob & Inge Ruohomemi, reported on the interest of the public in square dancing, at the 50+ EXPO. They recommended that the Federation plan to take part in future 50+ EXPOs, utilizing both live dancing and videos. They also explained the Canadian Society project regarding a DVD titled "Dancing Keeps You Young". A copy of the DVD is being produced for each NS club. It is intended for recruiting new dancers and can also be used at shows, exhibitions, or for any group viewing.
The Chairman of the Parade Trailer Committee, Harold & Clara Redden, reported that the Federation trailer was used once this year. The Committee was asked to look at repairing the power & sound systems on the trailer.
The Canadian Society NS Directors, Ralph & Barb MacDonald, volunteered to process the Society membership lists & associated insurance cards this year. They encouraged all clubs & leaders to ensure that Federation Registration forms are fully completed and submitted by 30 October.
One of the revisions to the Federation Bylaws that were approved at the AGM referred to the Terms of Reference for the Calendar of Events. The new wording is:
"For mailing purposes, preference shall be given to posters describing Special Events. Ordinary Event posters will be included in months when postal weight allows without an extra charge.Calendar of Event information should be submitted to the Publications Officer using the Information Form or by e-mail. The standard information is: Date, Host Group, Name of Event, Location, Dance Hours, Admission Price, Type of Dance, Dress, Refreshments, Callers and Cuers, and Contact Information."
NOTE: the new Publications Officer is: John & Lynda Reid jsreid@eastlink.ca
An addition to the Trailer Committee Terms of Reference was also approved:
"Requests to use the trailer should be submitted using the Parade Trailer Request Form available in the handbook or on the SRDFNS website."
The AGM attendees approved the proposal that the next Federation Festival - Festival 07, should be a fund-raiser for FESTIVAL 2010. Festival 07 will be held on 20 & 21 July, 2007 at Cole Harbour Place, ColeHarbour. It is a fully air-conditioned facility with tiled floors. Full details will be posted shortly.
The Federation Board will hold their winter meeting on 27 January, 2007, in Melvern Square.
The Federation 2007 AGM will be held in October 2007 on a date & in a location to be decided by the Board.
****************************************************************************
SRDFNS BOARD OF DIRECTORS 2006-07
President
- Ralph & Valerie Brown
Vice-President
- Ralph & Barb MacDonald
Secretary
- Forbes & Marleen Keating
Treasurer
- Lionel & Janet Crowe
Past President
- Wayne & Dianne Burns
Finance Officer
- Don & Verna Ward
Parade Trailer Officer
- Harold & Clara Redden
Publicity Officer
- Vacant
NS Society Directors
- Bob & Inge Ruohoniemi
Awards Committee Chair
- Don & Carol Scott
Publications
- John & Lynda Reid
Webmaster
- Alex & Kathleen Ritchie
Newsletter Editor
- Bob Ruohomemi
Archivist
- Harold & Clara Redden
ANSSRDT Rep.
- Dottie & Gary Welch
DANS Rep.
- Vacant
Regional Representatives:
Central
- Don & Carol Scott Alternates:- Barry & Dyanna Bendle
Valley
- Bill & Gertie Oldford Alternates: - Al & Corrine McNabb
South Shore
- Gerry & Irleen McKeil Alternates: - Dan & Jeanette Burke
Fundy
- Gerry & Marion McLellan Alternates:- Vacant
Highland
- Vacant (E-mail contact: Ralph & Barb MacDonald)
Cape Breton
- Vacant (E-mail contact: Lionel & Shannon Parsons)
****************************************************************************
REQUEST FOR VOLUNTEERS
As you can see above, there are some Federation Board positions that do not have a volunteer's name assigned.In order to keep our activity alive and make sure we are able to enjoy it for years to come, these jobs need to be done by someone here in the province. Clubs and readers are asked to canvass their fellow dancers to see if one of themcould spare a little time to take on one of these jobs. A condensed description of the responsibilities for each is listed below. Full details are in the Federation Handbook held by each club. (Blue cover - Index page 24 January 2004)or see the Federation webpage at: www.sguaredance.ns.ca
Publicity Officer - Arranges for all advertising for Federation activities. Provides publicity for the activity and oversees development of media advertising materials.
DANS Rep. (an individual) - Represents the Federation at general meetings of Dance Nova Scotia (DANS). Acts as a liaison between the Federation & DANS, providing reports to each organization.
Regional Reps. - Two dancers attend Board meetings, acting as liaison between their region's clubs and the federation. They are the point of contact for information between the Federation and the clubs. An Alternate couple is also needed in case the Reps. cannot attend all meetings.
****************************************************************************
UPCOMING MAJOR EVENTS
37th Maritime Square & Round Dance Convention - 10/11 Nov. 06
Fredericton, NB - Hosted by MCCA
49th New England Square and Round Dance Convention - 27/28 April 07
Springfield, MA www.nesrdc.org
Nova Scotia Federation Festival 07-20/21 July 07
Cole Harbour, NS - www.squaredance.ns.ca


For complete information about Square and Round Dancing in Canada visit:

www.sguaredance.ca
****************************************************************************
NOTE TO ALL DANCERS:
Dancers should check with their Caller/Cuer/President/Leader to ensure the club membership has been sent to the Nova Scotia Federation. Only clubs and dancers registered with the Federation are covered by the Liability Insurance policy or are eligible for Federation awards or to benefit from Federation activities and policies.
****************************************************************************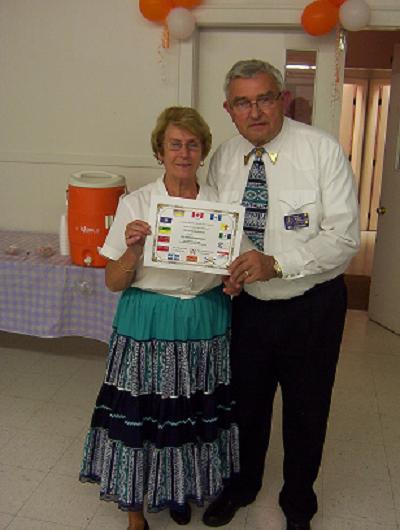 Bill and Gertie Oldford received a Canadian Society Certificate
to honour their 50th wedding anniversary.


Readers should advise the Editor of other 50th Anniversaries so that Society certificates can be presented.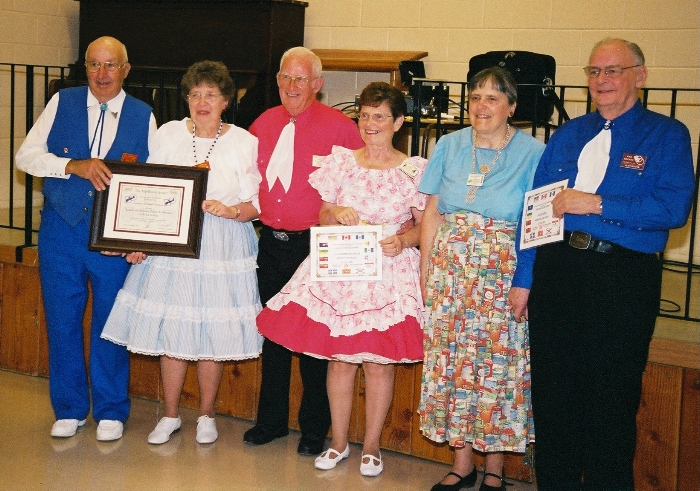 (Left) Laurence & Alice Harrison received the NS Federation Mayflower Award.
(Middle) Jack & Dolores MacArthur received the Society Long Service Award.
(Right) Dottie Welch shares in the presentation of the Society Long Service Award to Alex Ritchie.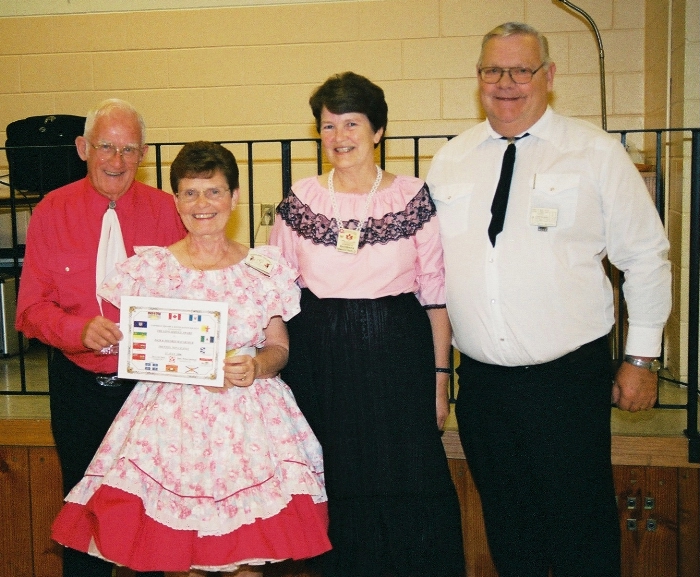 Jack and Dolores MacArthur are presented with their Society Long Service Awards
by Barb & Ralph MacDonald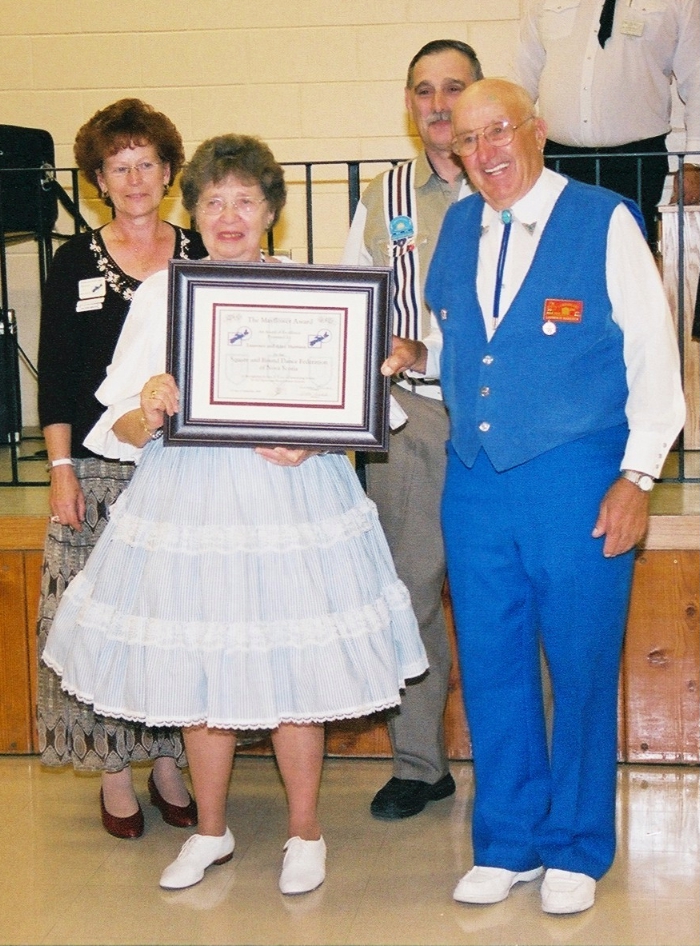 Valerie Brown, Alice Harrison, Ralph Brown, & Laurence Harrison
with the Mayflower Award
****************************************************************************
---
(Return to Home Index)