BETWEEN TIPS
"BETWEEN TIPS" is the official bulletin of the
SQUARE & ROUND DANCE FEDERATION OF NOVA SCOTIA
Bob Ruohoniemi, Editor, 6939 Hwy 1 Ardoise, RR 1 Ellershouse, NS B0N 1L0
phone (902) 757-3884 email: bobruoho@ns.sympatico.ca www.squaredance.ns.ca
APRIL 2007 -- NUMBER 136
(Back Issues) (Return to Home Index)
---
You may download this APRIL 2007 as a PDF file.
---
Editor's Comments: This edition of BT has news from the Federation, the last Halifax National Festival 2010 meeting; Festival 2008;Canadian Society information, and Club events. Many thanks to those who have sent in articles and photos.Readers are reminded of the next BT deadlines: 15 April and 15 May.
*********************************************************************
NEWS FROM THE FEDERATION
Two provincial clubs have shown interest in the International Dance Day on 29 April. As described in the lastedition of BT, this day is set aside by the International Dance Committee of UNESCO to celebrate all forms of dance. The Dice Hill Squares in Ardoise, West Hants Co. have combined with the Mount Uniake Ministerial committee tohost a Family Dance Party at the Mount Uniake Legion Hall. The LaHave River Ramblers of Bridgewater are hostingan afternoon of dancing at the Petite Riviere Fire Hall. The public are invited to both events to observe, take part, andenjoy all forms of dance from 2 to 4pm. "This is a celebration of the gift of dance as a means of bringing families andcommunities together in peace and friendship, across cultural and political boundaries."
If Clubs have not yet sent in their Summer Brochure information they should do so immediately to Dottie Welchdwelch@ap.stmarys.ca
Clubs that will accept new dancers and want their information to be in the 50+EXPO handouts, should send theircontact/open house/ location info to Bob Ruohoniemi bobruoho@ns.symaptico.ca by 1 May.
Your Federation still needs a Secretary, Publicity Officer, DANS Representative, & two Finance Committeemembers The duties of these positions are not onerous! Here is a brief listing for you to consider:
Secretary - produce Minutes of Board and Annual General meetings (4/year). Deal with correspondence received andsent by the Federation.
Publicity Officer - arrange for Federation advertising, act as liaison between the Canadian Society PublicityCommittee & the NS Federation, and co-ordinate the preparation of the Federation Summer Brochure.
DANS Representative - (an individual dancer) act as liaison between the Federation & Dance Nova Scotia (DANS),represent & vote for the Federation at the Annual General Meeting of DANS (1/year), maintain contact with theOfficial Representative of the Federation on the DANS Board of Directors.
Finance Committee Member - should have some financial experience and concern for the future of Square & RoundDancing in Nova Scotia, assists in making decisions regarding investment of Federation funds. Most discussions arecarried out by telephone consultation.
To help keep our activity alive, you are encouraged to contact the Federation Presidents: Ralph & Valerie Brown543-5278 rwvjbrown@eastlink.ca to offer your assistance or to get more information.

If you plan to attend the LaHave River Ramblers Friendship Dance in Bridgewater on 21 April, why not comeearly & attend the next Federation Board meeting at Sobeys, Bridgewater, 1:30pm., to meet your Federation Boardvolunteers. The meeting is open to any dancer who wishes to attend!
*********************************************************************
NEWS FROM HALIFAX NATIONAL FESTIVAL 2010
The FESTIVAL 2010 organizing committee met on 24 Feb. to review progress to date. The main topic of discussionwas recruiting volunteers to join the group. In particular, two very important positions need volunteers; a Secretary isneeded and someone who enjoys fund-raising activities to co-ordinate raffles and other promotions. It was decided to visitNS clubs and explain what work was involved with the various committee jobs so dancers would have a betteridea of what was entailed. Preliminary discussions about the promotional show at Festival 2008 were begun. This willrequire some rehearsal next season. The next meeting is planned for 26 May at the Bedford Superstore at 2pm.
*********************************************************************
16TH NATIONAL SQUARE & ROUND DANCE CONVENTION
MAKE A DATE FOR 2008 - COME & JOIN US IN
LONDON, ONTARIO JULY 17, 18, 19, 2008

The 16th National Square & Round Dance Convention will be held in the London Convention Centre, in theheart of downtown London. The tentative program includes Squares: Basic to C3. Rounds: Phase II to VI.Clogging: Basic to Advanced. Contras, Line Dancing and Wheelchair squares. All Round Dancing will be heldat the YMCA across the street. All facilities are fully wheelchair accessible, and are Fully Air-Conditioned. Thesound has been checked and was found excellent. Snap-lock flooring is being placed over the carpets forcomfortable dancing. The floors at the YMCA are hard wood. Healthy snack food will be available in bothbuildings.
Attached to the Convention Centre is the Hilton Hotel. The Delta Armories Hotel is just a few steps away.
The Fashion Show will be presented in the upscale, tiered 300 seat Theatre of the Convention Centre onFriday July 18, 2008 at 5:00pm. If you have a home sewn outfit that you would like to model in the fashionshow please look for the entry form on our Festival 2008 Web Site: www.swosda.ca/2008 or e-mail Liz Dickensat ldickens@sympatico.ca . We welcome families, couples or singles as models. New trends in square danceand round dance fashions are evolving. Prairie skirts and peasant blouses will be included along withtraditional square dance attire. We are now accepting entries. All forms must be received prior to June 16,2008 in order to be included in the show.
The Worship Service will be held at First - St. Andrew's United Church (just 2 blocks from the ConventionCentre) on Saturday July 19th, 2008 at 4:00pm. The Church will be open at 3:00pm for dancers who may wishto preview this beautiful historic building. Offerings will be given to First - St. Andrew's for their OutreachPrograms. All those interested in Choir, or individual participation, or wishing to play an instrument, pleasecontact Organist and Choir Director Dan Weatherby at e-mail: d.weatherby@sympatico.ca or mail: 260 WinstonBlvd., Cambridge, Ontario N3C 1M5. There will be a lower hall (room) available for the organist & choir topractice at 3:00pm.
Marilyn Bond will be our Sewing Clinic Leader. Marilyn has four clinics planned of 1-1/2 hours each. Theclinics will cover 4 different skirt styles, 4 different skirt layouts, Accessorize Ideas and Technique Trivia. Priorto becoming an Authorized Educator for Pfaff Sewing Machines in Canada, Marilyn and her husband Lionelowned and operated a sewing store in Brantford, Ontario for 14 years. Marilyn has conducted manyworkshops at Square Dance functions on both sides of the border.
The Registration Fee for our 3 day convention is $85.00 per person. On July 1, 2007 theRegistration Fee WillGo Up to $95.00 per person for the 3 days.
Please check out our Web Site: www.swosda.ca/2008 for registration forms, fashion show entry forms,information on Hotels, Camping, University Accommodations, and much more.
E-mail: convention2008@squaredance.ca Thank you, and Happy Dancing Carol Down - Publicity 2008
---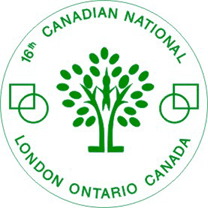 16TH NATIONAL
SQUARE & ROUND DANCE
FESTIVAL
London, Ontario

JULY 17, 18, 19, 2008



The Square and Round Dancers of South Western
Ontario are the proud hosts of the 16th Canadian
National Square and Round Dance Festival.


This exciting event will be held in the London
Convention Centre, in the heart of downtown
London, Ontario

With a population of over 335,000 people, London is a thriving, commercial and industrial centre. Because of the many parks and pathways, thecity has become known as "The Forest City". The area offers many attractions for the young and 'young at heart' - Museums, Art Galleries, andplenty of local History. Enjoy touring London in a Double-Decker Bus, or visit Storybook Gardens where Slippery the Seal made his great escapea number of years ago. You may also wish to try your luck at the Western Fair Raceway and Slots. Visit us in 2008 and enjoy great Dancing,Touring, Friendship and Fun.

Make A Date For 2008

Not only is there a lot to see and do in London, but nearby there is St. Thomas, Port Stanley - situated on Lake Erie, Sparta, and many, many otherinteresting places. Enjoy driving through the Mennonite areas of Aylmer and St. Jacobs, and browse through their country markets. Visit GrandBend, the home of the Huron County Playhouse, or travel to Stratford for the Shakespearean Festival. Niagara Falls, Toronto, Windsor & Detroitare only a 2 hour drive from London.



"Canadian Square and Round Dance Convention" sanctioned by:
The Canadian Square and Round Dance Society.
NOTE: Registration Fee increase as of July 1, 2007
*********************************************************************
UPCOMING MAJOR EVENTS
49th New England Square & Round Dance Convention - 27/28 April 07 - Springfield, MA www.nesrdc.org
46th T & D International Square&Round Dance Convention - 10-12 May 07 - St. Catharines, ON www3.sympatico.ca/jerry.callen/td/Brock.htm

*********************************************************************
News from Sunrise Squares
Sunrise Squares dance Friday nights 8-10pm. at the MARC in Dayspring Lun. Co., Neil Dorey 644-2757
Well here it is April already and Christmas and New Years are a memory. Sunrise Squares dancers are still talkingabout our New Years day Frolic at he Bridgewater fire Hall. We started with a delicious potluck supper, then followed byentertainment and dancing.
We were entertained by talented members of our club, some of these members were Irving and Geraldine Ramey, withIrving playing the fiddle, and Geraldine accompanying on the keyboard. The Ukulele Players, and Jack MacNeil and theTrue Tones, also Valerie and Ralph Brown, with Ralph playing the accordion, and Valerie on keyboard. The eveningclosed with Neil leading us in the Friendship song.
Congratulations to Earl & Goldie Fancey on their 50th wedding anniversary. Valerie and Ralph Brown, Presidents ofthe Federation, presented them with a certificate on behalf of the Canadian Society.
Until next time, Good Squares and Happy dancing! Written by Hazel Hebb/Club Historian. .../3
*********************************************************************
News from LaHave River Ramblers
LaHave River Ramblers are enjoying a good season of dancing with no cancellations to date. Our two couples and onesingle class members are responding well to the instructions of Caller Barry Bendle.
We had in excess of seven squares at our Christmas dance, with guests from Yarmouth, Shelburne, Clyde River and BearRiver. A hearty array of food trays sent the dancers home full of Christmas cheer.
In February we were able to make a financial contribution of $342.00 to the Heart and Stroke Foundation. Also inFebruary we helped two couples celebrate their 50th anniversary, Lorraine and Delta Wamboldt and Delma and JanetRitcey. In March we were saddened by the untimely death of Club member Bruce Kenneth "BK" Herman. He and wifeJeanette were last years graduates. We will miss his amiable personality and comradeship. Our thoughts go to Jeanette andson Kyle.
Attached pictures are of Delma & Janet Ritcey, and of Lorraine & Delta Wamboldt. They received cards ofcongratulations and gift certificates from their fellow dancers. May they enjoy many more years of happiness together.Our annual Friendship Dance will be April 21st at the Michelin Social Club, 8:00 pm to 10:00 pm. Caller is Wayne Isles.All are welcome to attend.
Respectfully submitted, Paul & Carol Conrad, Club Presidents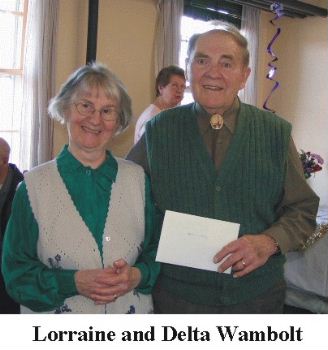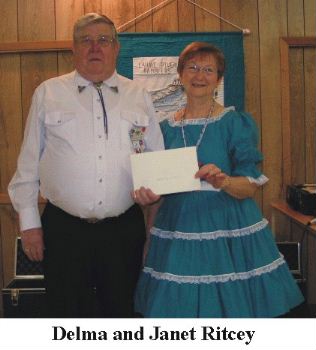 *********************************************************************
Every Club Should Have One!

The NB-NS Border Round Dance club is very unique.
We are probably the only dance club in Nova Scotia(maybe Canada) that has a live mascot.
The Boston terrier's name is Duster
and he belongs to Stan & Ollie Williams, who dance withthe club on Thursday nights.
Duster comes in, socializes with all thedancers, greeting each one in turn, and when the dancing starts he heads for his bed and doesn't move until Stan or Ollie tells himthat it's time to go home.
He is a great little 'ice breaker' and is loved by all the dancers.
Thanks to Ollie & Stan for providing theevening's entertainment every Thursday night.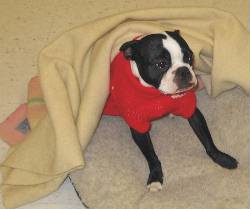 ---
(Return to Home Index)