BETWEEN TIPS
"BETWEEN TIPS" is the official bulletin of the
SQUARE & ROUND DANCE FEDERATION OF NOVA SCOTIA
Bob Ruohoniemi, Editor, 6939 Hwy 1 Ardoise, RR 1 Ellershouse, NS B0N 1L0
phone (902) 757-3884 email: bobruoho@ns.sympatico.ca www.squaredance.ns.ca
DECEMBER2007/JANUARY 2008 -- NUMBER 141
(Back Issues) (Return to Home Index)
---
Editor's Comments: NEXT DEADLINE 15 JANUARY 2008
This BT has news from your Fed. Board, the Fed's Halifax National Festival 2010, CALLERLAB, F2008, & Clubs
---
---
NEWS FROM THE FEDERATION
All Clubs, Associations, Federations, Leaders are reminded that Federation and Society memberships forms shouldhave been sent to: Ralph and Barb MacDonald, PO Box 16, Goshen, NS B0H 1M0
A list of the Federation Board members and their contact information is provided in this edition.
All dancers should note that the NS Federation still has no Publicity Officer. It is important that the Federation hasa volunteer to perform the Publicity tasks that are not terribly onerous. Interested readers should contact theFederation Presidents: Ralph & Valerie Brown, 543-5278 rwvjbrown@eastlink.ca
Publicity Officer -- arrange for Federation advertising, act as liaison between the Canadian Society PublicityCommittee & the NS Federation, and co-ordinate the preparation of the Federation Summer Brochure.
It was decided at the Federation AGM 07 to hold AGM 08 on either 27 September 08 or 4 October 08, dependingon the availability of a suitable venue, preferably in the Fundy Region.
The Federation Board has agreed to next meet on 26 January, 2008 in Melvern Square, hosted by the Valley Region.
---
---
NEWS FROM THE HALIFAX NATIONAL FESTIVAL 2010
The Registration table at MCCA 2007 in Wolfville, had some success in getting NS dancers to register for F2010.There is still a need to have NS dancers send in their registration forms so that plans for the Canadian National Convention 29 -- 31 July, 2010 can accommodate their needs.
See: F2010 at www.squaredance.ns.ca
"PROMENADE TO HALIFAX IN 2010"


****************************************************************************
CALLERLAB GIFT CERTIFICATE
CALLERLAB is pleased to announce a new service from CALLERLAB in the form of CALLERLAB GIFT CERTIFICATES. These certificates are offered in the following denominations: $25.00, $50.00, $75.00, $100.00 or more. The gift certificates may be used for CALLERLAB merchandise, membership, or convention fees. The certificates may be used as a gift for any caller's birthday or maybe for Christmasor both? With the holiday season near, now would be the time to order the certificate for your favorite caller. We can send it to you in time for Christmas.
The ordering info and certificate format are available at:CALLERLAB Gift Certificate
---
---
ROUND DANCE PROGRAMMER'S REPORT
16TH NATIONAL SQUARE DANCE CONVENTION JULY 17,18,19,2008


Plans are well under way for aterrific Round Dance program for the Canadian National 2008. We will be offering convention dancers figureworkshops, introduction to new rhythms, classic dance teaches, as well as new choreography at all levels, and dancingdesigned to make your convention experience memorable. We have over 40 leader/cuers registered from Nova Scotia,Quebec, Ontario, Manitoba, Saskatchewan, Alberta, and British Columbia as well as Michigan, Vermont, New Jersey,Ohio, Pennsylvania, and South Dakota. We have three excellent round dance rooms with hardwood floors for yourdancing pleasure, all air conditioned and spacious, with round dancing at the Phase II & III, Phase III, IV & V, andfinally Phase V & VI levels. The deadline for leaders who wish to participate in the program is January l, 2008. Don'thesitate - register today! Registered leaders and cuers will be contacted by January, 2008.
Jerry and Bonnie Callen
---
"Trans-Border Clubs provide Trans-Pacific Experience"
Although the Tantramar Twirlers of Sackville NB, and the Cumberland Twirlers of Amherst NS, are separated bya provincial border they are actually nearest neighbor square dancing clubs and not infrequently get together. One such event took place on November 6, when the clubs jointly provided a square dancing experience for more than fifty Japanese students enrolled at Mount Allison University in the MASSIE program. This program (MOUNT ALLISON SOPHOMORE SEMESTER IN ENGLISH) now in its seventh year, brings thesestudents here for about three months, during which time they are introduced to "aspects of life in the Tantramar region"and naturally this includes square dancing. The consensus among our dancers was that the students were quick learners and soon overcame language limitations, as demonstrated by their enthusiasm and smiling faces. -- Douglas H. Grant.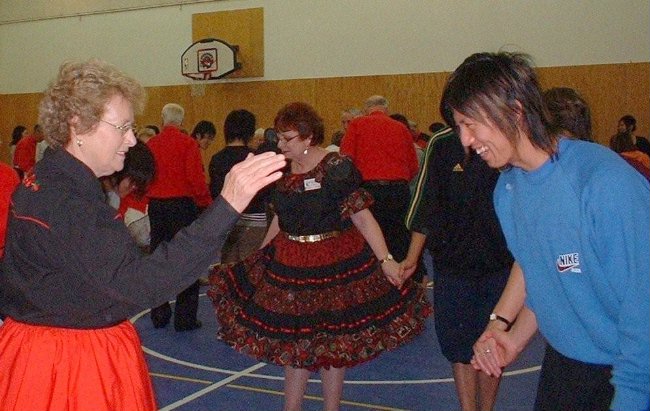 ****************************************************************************
20 YEARS OF DANCING AWARDS
Barry & Dianna Bendle were presented with their Federation certificate, recognizing 20 years of square dancing.The Federation Awards Committee Chairs, Don & Carol Scott, made the presentation at the Timberlea Twirlers Club.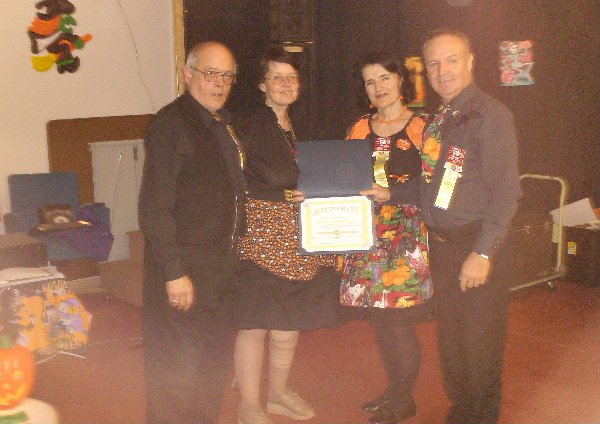 ---
*******************************************************************************
---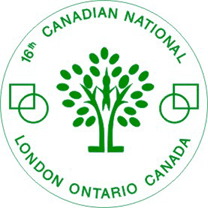 16TH NATIONAL
SQUARE & ROUND DANCE
FESTIVAL
London, Ontario

JULY 17, 18, 19, 2008



The Square and Round Dancers of South Western
Ontario are the proud hosts of the 16th Canadian
National Square and Round Dance Festival.


This exciting event will be held in the London
Convention Centre, in the heart of downtown
London, Ontario

With a population of over 335,000 people, London is a thriving, commercial and industrial centre. Because of the many parks and pathways, thecity has become known as "The Forest City". The area offers many attractions for the young and 'young at heart' - Museums, Art Galleries, andplenty of local History. Enjoy touring London in a Double-Decker Bus, or visit Storybook Gardens where Slippery the Seal made his great escapea number of years ago. You may also wish to try your luck at the Western Fair Raceway and Slots. Visit us in 2008 and enjoy great Dancing,Touring, Friendship and Fun.

Make A Date For 2008

Not only is there a lot to see and do in London, but nearby there is St. Thomas, Port Stanley - situated on Lake Erie, Sparta, and many, many otherinteresting places. Enjoy driving through the Mennonite areas of Aylmer and St. Jacobs, and browse through their country markets. Visit GrandBend, the home of the Huron County Playhouse, or travel to Stratford for the Shakespearean Festival. Niagara Falls, Toronto, Windsor & Detroitare only a 2 hour drive from London.



"Canadian Square and Round Dance Convention" sanctioned by:
The Canadian Square and Round Dance Society.
*********************************************************************

Square and Round Dance Federation Executive, January 2008



OFFICERS
ASSOCIATION LIAISONS

President:
Ralph & Valerie Brown (902) 543-5278
652 Pinegrove RR2, Bridgewater, NS B2V 2W1
rwvjbrown@eastlink.ca

National Society Directors from Nova Scotia
Bob & Inge Ruohoniemi (902) 757-3884
RR 1 Ellershouse, NS B0N 1L0
(6939 Highway #1) bobruoho@ns.sympatico.ca

Vice President:
Ralph & Barb MacDonald (902) 783-2731
P.O. Box 16, Goshen, NS B0H 1M0
ralph.macdonald@ns.sympatico.ca

DANS Representative: (Dance Nova Scotia)
Gerry & Marion McLellan
(see Fundy Representative)

Past President:
Wayne & Dianne Burns (902) 866-0649
PO Box 73, Mt. Uniacke, NS B0N 1Z0
(Summer) waynedianne@eastlink.ca
(Winter) mailto:wburns12@tampabay.rr.com

ANSSRDT Liaison:

(Assn. NS Sq & Rd Dance Teachers)


Dottie & Gary Welch (902) 435-4544
415 Conrad Road, Lawrencetown, NS B2Z 1S3
dwelch@orion.stmarys.ca
(or dwelch@ap.stmarys.ca both go same inbox)
Secretary:
Dottie Welch (see ANSSRDT)
REGIONAL REPRESENTATIVES

Treasurer:
Russ & Mary Trimper (902) 465-1380
42 MacCormack Lane, Eastern Passage, NS B3G 1A3

Central Region Representatives:
Don & Carol Scott (902) 865-5780
52 Sami Drive, Lower Sackville, NS B4C 3S7
dwscott@ns.sympatico.ca

Finance Officer:
Don & Verna Ward (902) 465-7648
41 Guy Street, Dartmouth, NS B3A 4N2
thewards@accesswave.ca
Central Region Alternates:
Barry & Dyanna Bendle (902) 876-2266
28 Greenpark Close, Halifax, NS B3S 0A1
dyannaandbarry@ns.sympatico.ca

Publication Officer:
John & Lynda Reid (902) 434-7577
26 Belle Royal Court, Dartmouth, NS B2V 2B4
jsreid@eastlink.ca

Valley Representatives:
Bill & Gertrude Oldford (902) 765-6333
5 Maple Ave., Jefferson Pines, Kingston, NS B0P 1R0
b.g.oldford@ns.sympatico.ca

Webmaster:
Alex & Kathleen Ritchie (902) 469-1492
58 Oakdale Crescent, Dartmouth, NS B2A 2L8
alexr@eastlink.ca

Valley Alternates:
Al & Corinne McNabb (902) 538-9541
RR 1 Berwick, NS B0P 1E0
acmcnabb@ns.sympatico.ca

Newsletter Editor (Between Tips):
Bob Ruohoniemi (see National Society Rep)

South Shore Representatives:
Gerry & Irleen McKiel (902) 634-8232
Box 1175, Lunenburg, NS B0J 2C0
(176 Green Street) hilldj@eastlink.ca

Historical Archivist:
Clara & Harold Redden (902) 538-9513
RR 1, Cambridge Station, NS B0P 1G0
morebuttons@eastlink.ca

South Shore Alternates:
Dan & Janette Burke (902) 648-2593
RR 3, Box 49, Tusket, NS B0W 3M0
jeandan@eastlink.ca

Parade Trailer Officer:
Harold & Clara Redden (see above)


Fundy Representatives:
Gerry & Marion McLellan (902) 447-2857
PO Box 370, Oxford, NS B0M 1P0
mclellan.gm@ns.sympatico.ca

Awards Committee:
Don & Carol Scott (see Central Region)

Cape Breton Representatives:
Lionel & Shannon Parsons (902) 842-9066
6 Carrol Street, Glace Bay, NS B1A 3B3
parsons.l.s@ns.sympatico.ca

Publicity Officer:
Vacant

Highland Reps:
Ralph & Barb MacDonald (see Vice President)
(Return to Home Index)