BETWEEN TIPS
"BETWEEN TIPS" is the official bulletin of the
SQUARE & ROUND DANCE FEDERATION OF NOVA SCOTIA
Bob Ruohoniemi, Editor, 6939 Hwy 1 Ardoise, RR 1 Ellershouse, NS B0N 1L0
phone (902) 757-3884 email: bobruoho@ns.sympatico.ca www.squaredance.ns.ca
April 2008 -- NUMBER 144
(Back Issues) (Return to Home Index)
---
This BT has news from: YOUR Federation, FESTIVAL 2010, FESTIVAL 2008, Fundy Squares, and DANS.
Editorial Note: In the listing of Nova Scotia clubs provided last month, change the hall location for the Apple Valley Dancers to read: Aylesford Fire Hall
---
As reported in the last issue of BT, the Federation has applied for a booth at the 50+EXPO on 13/14 June. It is planned to have both a TV/DVD show and live demo dancing at the Halifax Exhibition Grounds. Two Metro Callers have volunteered to call each day. In order to put on the live dancing, the Federation needs volunteer dancers! If you can spare 2-4 hours on either day, please contact Don & Carol Scott 865-5780 dwscott@ns.sympatico.ca, or Ralph & Valerie Brown 543-5278 rwvjbrown@eastlink.ca
---
The F2010 Demonstration Dance Group continues with practices under the direction of Dottie Welch. These dancers will be performing three themed square dances and one round dance at the 16th Canadian National Convention (Festival 2008) in London, Ontario in July. Dancers who would like to join this group should contact Dottie at: 435-4544, or dwelch@ap.stmarys.ca
The F2010 fundraiser Quilt Raffle project is well underway with Valley quilters preparing the "blocks" to be quilted together. It is hoped to have the quilt ready by the next dance season, with raffle tickets on sale.
Plans for advertising at London's F2008 are being finalized. If you are going, and can offer one hour of your time, please contact Paul & Reta Blades, 861-1972, or paul.blades@pwgsc.gc.ca
Advertising and Promotion for FESTIVAL 2010 will take place at the 50th New England Square & Round Dance Convention in Sturbridge. MA., 25-26 April. The Vice-Chairs Marketing will be attending with lots of information for our New England neighbours. Other NS dancers planning to attend are asked to contact Bob & Inge 757-3884, or bobruoho@ns.sympatico.ca
Similar Advertising & Promotion for FESTIVAL 2010 will occur at the 47th Annual Toronto & District International Square & Round Dance Convention in St. Catharines, Ontario, 8-10 May. Education & Info Committee members, Harold & Clara Redden will be attending. NS dancers planning to also attend are asked to contact them: (902) 538-9513, or morebuttons@eastlink.ca
---
This school will present the full Callerlab Curriculum, and is scheduled in harmony with the National Convention in London, Ontario.
Leader: Jeff Priest, Brantford, On., Special Guest Coach: Betsy Gotta, North Brunswick, NJ.
The school is designed for newer callers, with 0 - 5 years' experience. You will be given a solid 40 hours of learning and professional presentations to expand your knowledge base and improve your calling skills. Your coaches will teach the full CALLERLAB curriculum. Items to be included, but not limited to:
Mechanics of Choreography (FASR)
Choreographic Management – Including Sight Resolution
Smooth Dancing & Body Flow-Including writing choreography
Your topics and assignments will match your level of calling experience and abilities. An introductory Reception will be held on Friday evening at 8:30pm. The course starts Saturday Morning at 9:00 am. Location: Holiday Inn Express Hotel & Suites, Downtown London, only 1 1/2 blocks from the Convention Centre. For Information: Jeff Priest 519-752-2172, or jeff@jefferypriest.com
---
The Fundy Squares Dance Club held their annual "Pot Luck Supper & Benefit Dance" on the 12th of March. The club raised and donated $450 to the Margaret Salsman Cancer Care Memorial Fund. The funds were presented to Murray Salsman by Club President Al Worthen. Mr. Salsman attended the supper (see below) and spoke briefly on the good works the fund provides in the area. He is well known in the Valley as the operator of GLAD GARDENS where he raises Gladiolus to raise money for this fund. All money received goes to help cancer patients and their families in our area – aid includes drugs, food, oil, transportation, rent, mortgages, utilities and ambulance service. Referrals come from the "Cancer Care Patient Navigator" at the Kentville hospital.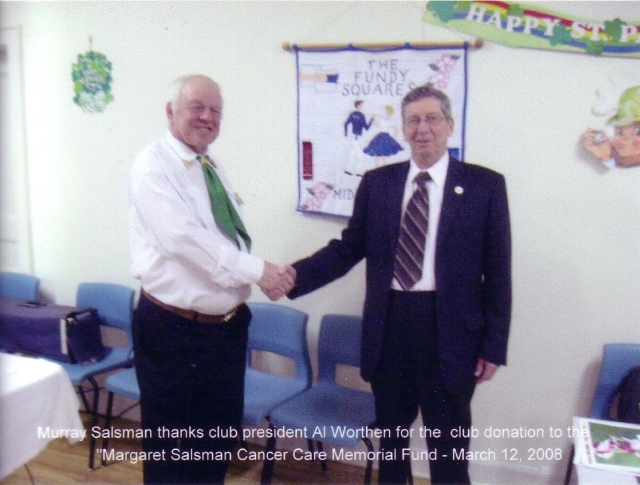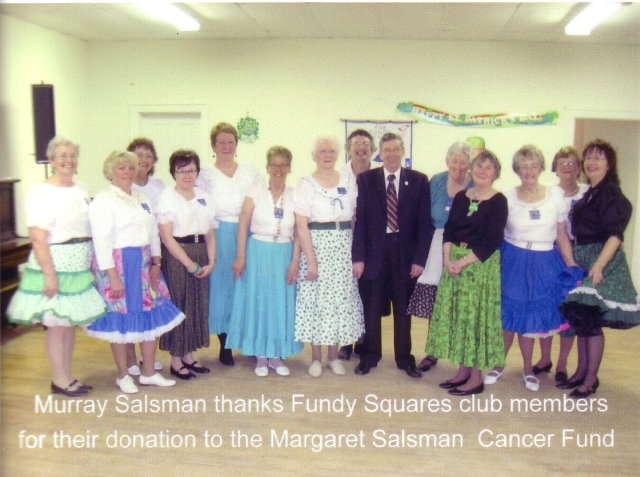 ---
25-26 April - New England Convention – Sturbridge MA, www.nesrdc.org
8-10 May - T&D International Convention – St. Catharines, ON, www.td-dance.ca/
25-28 June - US National Convention – Wichita, KS, www.56thnsdc.com
17-19 July – Cdn. National Convention – London, ON, www.swosda.ca/2008
7-8 Nov. - Maritime Sq.&Rd. Convention (MCCA) – Charlottetown, PEI
---
Clubs are remined that the Federation booklet Welcome to the World of Modern Square Dancing is available free to all new graduates the year of graduation. The booklet covers:
| | |
| --- | --- |
| Square Dance Etiquette | Medical problems |
| Recovering from a breakdown | Calendar of Events |
| Square Dance World | Square Dance Organizations |
| Banner Stealing Rules | Square Dance Dress |
| Liability Insurance | Helpers and Helpees |
| Dance Programs | History |
For copies, send the names of your club's graduates to:
Dot & Ron Connell, 7 Terrance Court, Dartmouth, NS, B2W 3J3 or phone: (902) 434-3023. Dancers, other than new graduates, may also order a copy at the above address, and enclosing $1.00 per booklet.
---
Official Message
Governments, sponsors, and the media is our main concern this year.
Governments (national, regional or local), sponsors (private or public) and the media (newspapers, magazines, radio, TV) are the three most important factors affecting the practice of our art. Dance professionals struggle to approach them individually - with poor results. We propose a better way: through CID Sections representing all forms of dance, all levels, all functions.
I invite all dancers to join the International Dance Council and to form CID Sections. These Sections will be able to tackle general issues affecting dance. Through them, as officially recognized bodies, all dancers can secure better conditions for the practice of their art. They will be able to obtain appropriate regulations from governments, adequate support from sponsors, and satisfactory visibility from the media.
We propose to replace self-centerred isolation with concern for the common good. Each one of us has been trying to get some crumbs, by working together we will increase the size of the cake. CID is certainly not a trade union, but CID Sections can act as pressure groups on the local and the national level. They can persuade. Their force arises from the fact that they represent the entire spectrum of dance. They can convince the environment where dancers evolve that their art is essential for the well-being of every society.

Prof. Alkis Raftis, President of the International Dance Council CID, UNESCO, Paris
International Dance Day – Dare to Dance!
Dance Nova Scotia (DANS) is celebrating International Dance Day by issuing a challenge to all schools in NS to DARE TO DANCE for 20 minutes of healthful, fun activity. In designating a special day for the world to acknowledge the important role that dance plays in world culture, the United Nations Education, Culture and Scientific Organization is affirming that dance has eduction and cultural value. Nova Scotia Square & Round dancers, Callers, & Cuers are asked to join DANS' effort to encourage schools to create a celebration that shows the healthful, educational, cultural and joyful benefits of dance.
---
16th National Square & Round Dance Convention
London, Ontario - July 17, 18, 19, 2008
The Square & Round Dancers of South Western Ontario are proud to be hosts of this National Convention. It all takes place in the heart of downtown London, Ontario.
During this Convention, you can expect all levels of Square Dancing, from Basic to C3, as well as Wheelchair Square Dancing. We have a large number of registered callers, lined up to participate in our Square Dance Program, anxious to provide you with a unique dancing opportunity.
Plans are progressing nicely for a terrific Round Dance program. Leaders from Canada, and the United States are planning to provide dancers with figure workshops, introductions to new rhythms, classic dance teaches, as well as new choreography at all levels, and dancing for your enjoyment. We have nearly 50 leader/cuers registered from Nova Scotia, Quebec, Ontario, Manitoba, Saskatchewan, Alberta, and British Columbia as well as Michigan, Vermont, New Jersey, Ohio, California, Pennsylvania, and South Dakota. There will be a Trail-In Dance especially for campers the weekend before the Festival in Fergus, and a Trail-In Dance Wednesday night before Convention, beginning at 8:00 pm. The Wednesday Trail-In will be available for a nominal fee, with dances from Phase II – V. The Showcases of Rounds that will be taught each day will be shown at 9:00 am in the YMCA Gymnasium each morning. The programs will start at 10:30 am (earlier in the Phase II - III room in the Convention Centre) and continue until 5:00 pm with a break at noon for lunch. There will be dancing each evening at all levels. The evening round dance program will be posted on the convention website when it is finalized. Check the website in June. This is not a convention to miss. You will be guaranteed to have a good time. Jerry & Bonnie Callen
Anne McBride and Rose Marie Young are coordinating the Clogging program. Anne and Rose Marie are the leaders of Cripple Creek Cloggers in Kincardine, Ontario. There will be Basic, Easy Intermediate, Intermediate and Advanced Clogging at our Convention.
Grant Logan is coordinating the Contra Sessions. Grant, along with other Registered Leaders, will provide a full Contra Program for your dancing pleasure.
This very important room will feature displays from all of our 49 SWOSDA Clubs. Each Club will have a display board showcasing their Club story; you'll also find a written history, pictures of past events, badge collections, and more. There will also be a display of Convention Dolls. These Dolls have been dressed in the Official Convention outfits representing all of our 16 Conventions. The upcoming 17th Convention Dolls will also be on display. This is a very special room and a must visit for everyone going to the Convention.
There will be a number of vendors selling square dance clothes, dance shoes, jewelry, cosmetics, and other items. This is a very popular place for the ladies, and even some men.
On Thursday July 17th, 2008 we have plans for an outdoor Banner Parade. This is a great time to display all those wonderful club banners that you are so proud of. The parade is for Banner Carriers and any dancers who wish to participate. We will be parading on the street with a police escort. There will be officers on every corner to guide you along the way. For a successful parade, everyone should do the following: At 5:00 pm Everyone gathers with banners in the hall leading to the back of the Convention Centre. Signs will be in place, and volunteer staff will be present to direct you. Club members should stand behind their respective banners.
Parade Start Time: 5:30 pm sharp
We will come out of the front doors of the Convention Centre; Parade right on York St. to Wellington. Turn Right onto Wellington St. to King St.; Turn Right on King St. to Waterloo St.; Turn Right on Waterloo St. On Waterloo St. the dancers not carrying banners will exit the parade, cross the parking lot to the back door of the Convention Centre, and go up the stairs to the Plus Hall for the Opening Ceremonies. The rest of the Banner Parade (banner carriers only) will continue down Waterloo St. to York St. Turn Right on York St. and proceed to the front doors of the Convention Centre. Everyone will go up the escalator (which will be stopped) to the Plus Hall for the beginning of the Opening Ceremonies at 6:00 pm.
In the event of Rain - The Banner Carriers only will gather on the 2nd floor of the Hilton Hotel by the Grand Ballroom. Banner Carriers should gather at: 5:15 pm Parade Start Time: 5:40 pm Parade Route: We will parade across the pedway to the convention Centre, and proceed to the Plus Hall for the Opening Ceremonies. Carol & Stan Down
The Fashion Show will be presented in the upscale, tiered 300 seat Theatre of the Convention Centre on Friday July 18th at 5:00 pm. The committee has something very special planned for this event. Home sewn outfits will be modeled by couples and singles. New trends in square dance & round dance fashions are evolving. Prairie Skirts and Peasant Blouses will be included along with traditional square dance attire. Tickets for the Fashion Show will be on sale Friday at 10:00 am.
Marilyn Bond will be our Sewing Clinic Leader. The clinics will cover 4 different skirt styles, 4 different skirt layouts, Accessorize Ideas, and Technique Trivia. Marilyn has conducted many workshops at Square Dance functions in Canada and the United States. Tracing Room: The tracing room has some of the older patterns from previous conventions for sleeves, panels, etc. We have also included the pattern for the convention executive skirt, which is also nice made up in a print with complementary colours. Also new, we have a long skirt with flared bottom, a knitted cape, tie pattern, overskirts and a swirl panel skirt. We also have a black skirt with a rising ruffle. All the new patterns will be on display in the tracing room with directions on how to assemble them. Bev Piazza
The Worship Service will be held at First St. Andrews United Church (just 2 blocks from the Convention Centre) on Saturday July 19th at 4:00 pm. The Church will be open at 3:00 pm for dancers who wish to preview this beautiful historic building. Offerings will be given to First St. Andrews for their Outreach Programs. All those interested in being part of the Choir, or individual participation, or wishing to play an instrument, please contact Organist & Choir Director Dan Weatherby at email d.weatherby@sympatico.ca . There will be a lower hall available for the organist & choir to practice at 3:00 pm. Dan is a Caller in the Kitchener area.
Brad Gibbs from Ortho-Kinetics in Cambridge talks about foot care. London Police Services discuss Identity Theft. Shirley Hartung – Discussion on nutrition and Muffins from the Heart, etc. Brian Elmer from British Columbia talks about Youth Square Dancing & other information of interest to people relating to square dancing.
The Windsor Singles Square Dance Club will be hosting the singles at Festival 2008. There's a Meet n' Greet dinner at Harmony Grand Buffet Restaurant on Wednesday July 16th at 5:00 pm. This is the perfect spot to meet, and get to know each other, before attending the Trail-in Dance. The restaurant is about a 10 minute walk from the Convention Centre where the Festival Trail-in Dance will take place. Advance reservations are required, so check out the Festival website for the form to sign up for the dinner.
Wednesday July 16th at the Convention Centre. Dancing from 8:00 to 10:30 pm. Cost is $5.00 per person. Two Rooms: (1) Mainstream with announced Plus Tips (2) Round Dance Room
Festival 2008 website: www.swosda.ca/2008
London Ontario website: www.london.ca
London Convention Centre website: www.londoncc.com
London Tourism: www.londontourism.ca/main.aspx
Toll Free Phone Number For Canada & United States: l-866-206-6696
Make a Date For 2008
Not only is there a lot to see and do in London, but nearby there is St. Thomas, Port Stanley - situated on Lake Erie, Sparta, and many, many other interesting places. Enjoy driving through the Mennonite areas of Aylmer and St. Jacobs, and browse through their country markets. Visit Grand Bend, the home of the Huron County Playhouse, or travel to Stratford for the Shakespearean Festival. Niagara Falls, Toronto, Windsor & Detroit are only a 2 hour drive from London.
16TH NATIONAL
SQUARE & ROUND DANCE
FESTIVAL
London, Ontario Canada
JULY 17, 18, 19, 2008
The Square and Round Dancers of South Western
Ontario are the proud hosts of the 16th Canadian
National Square and Round Dance Festival.

This exciting event will be held in the
London Convention Centre, in the heart
of downtown London, Ontario.

Square Dancing - Basic to C3, Round Dancing
Ph II to VI, Clogging, Contras, Lines, Wheel Chair
Dancing, Seminars, Sewing Room, and more.
With a population of over 335,000 people, London is a thriving, commercial and industrial centre. Because of the many parks and pathways, the city has become known as "The Forest City". The area offers many attractions for the young and 'young at heart' - Museums, Art Galleries, and plenty of local History. Enjoy touring London in a Double-Decker Bus, or visit Storybook Gardens where Slippery the Seal made his great escape a number of years ago. You may also wish to try your luck at the Western Fair Raceway and Slots. Visit us in 2008 and enjoy great Dancing, Touring, Friendship and Fun.
Festival 2008


c/o Lee Cox
12 Anne Marie Crescent,
Kincardine, ON N2Z 2M9
Canada
Have a question? Need Information?
Try: www.swosda.ca/2008
Email: convention2008@squaredance.ca
Phone: 519-396-7228
Toll Free: 866-206-6696
"Canadian Square and Round Dance Convention" sanctioned by:
The Canadian Square and Round Dance Society
---
(Return to Home Index)