BETWEEN TIPS
"BETWEEN TIPS" is the official bulletin of the
SQUARE & ROUND DANCE FEDERATION OF NOVA SCOTIA
Bob Ruohoniemi, Editor, 6939 Hwy 1 Ardoise, RR 1 Ellershouse, NS B0N 1L0
phone (902) 757-3884 email: bobruoho@ns.sympatico.ca www.squaredance.ns.ca
May 2008 -- NUMBER 145
(Back Issues) (Return to Home Index)
---
This BT has news from: YOUR Federation, FESTIVAL 2010, and the Scotia Dancers.
Editorial Note: Readers should note that unless there is input from clubs, the Between Tips newsletter will offer a very short read!
Since Nova Scotia clubs take the summer off, BT will do so as well.
---
The arrangements for the Federation to participate in the 50+ Expo in Halifax on 13 & 14 June are now in place. What is needed are volunteers to join the two Callers to perform demonstration dances each day. You gain free admission to the Expo if you are dressed in Traditional Square Dance attire. At past Expos, dancers have enjoyed themselves and had a chance to encourage the public to take up our activity. If you want to continue to enjoy square dancing, the only way to keep it alive is to get New Dancers! Here's a chance to demo in front of people looking for healthy, active, recreation. If you can spare 2-4 hours on either day, contact Don & Carol Scott 865-5780, dwscott@ns.sympatico.ca, or Ralph & Valerie Brown 543-5278, rwvjbrown@eastlink.ca.
The Spring meeting of YOUR Federation will take place on Saturday, 10 May, with Registration at 1:30pm. & the meeting at 2pm., at the North Woodside Community Centre, 230 Pleasant St., Dartmouth. All NS dancers are welcome to join in the discussions on how to keep Square & Round Dancing alive in NS.
---
The F2010 Demonstration Dance Group held two practices in March & April. The dancers are progressing well and plan two more sessions in May. They should be fully rehearsed for the 16th Canadian National Convention (Festival 2008) in London, Ontario in July. Dancers who would like to join this group should contact Dottie at: 435-4544, or dwelch@ap.stmarys.ca.
If you are going to the London Convention and can offer one hour of your time, help is needed at the F2010 Registration & Information desk there. Please contact Paul & Reta Blades, 861-1972, or paul.blades@pwgsc.gc.ca.
Advertising & Promotion for FESTIVAL 2010 took place at the 50th New England Square & Round Dance Convention in Sturbridge. MA., 25-26 April. The Vice-Chairs Marketing attended with lots of information for our New England neighbours. Harold & Clara Redden are attending the 47th Annual Toronto & District International Square & Round Dance Convention in St. Catharines, Ontario, 8-10 May, to promote F2010.
NS dancers going to London, who have NS tartan outfits, are asked to wear them at the Saturday evening dance.
The F2010 Committee will be meeting on Sunday, 4 May to continue the plans for the best-ever 17th Canadian National Convention. If you haven't registered yet, you should do so now before the price goes up!
---
---
The Scotia Dancers held their 25th Annual Spring Fling on 5 April. The Senior club in the METRO Association has seen a steady decline in numbers of dancers, but their enthusiasm is still there!
The evening had both squares and rounds called & cued by Club Caller, Bruce Savage. He brought along a special guest, his brother Wade Savage, who called a few more intricate tips!
Door prizes are always a popular attraction and there were plenty of those. There was a raffle for two crystal bowls that were won by Susan Lucas. When it was time to make the 50/50 draw, Susan announced that she would like to win that money too! You guessed it, she DID! It was recommended that on their way home she and Garry should buy lottery tickets as there was obviously a lucky streak going!
During announcements, the Senior Scotia Dancer, Edna Myers was honoured for her dedication. She reported that her annual penny collection for the Food Bank was well on the way to setting a new record this year!
The evening ended with a fine lunch including various pies and ice cream. So the 25th Spring Fling was another success due to the hard work and enthusiasm of the Scotia Dancer volunteers.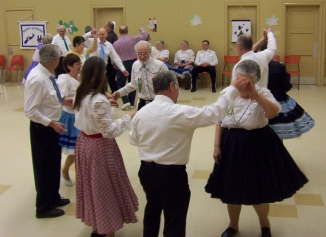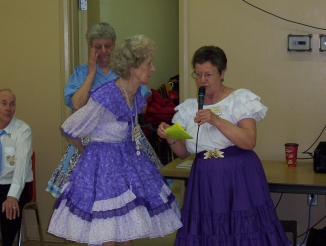 LEFT: Edna Myers & Inge Ruohoniemi RIGHT: Spring Fling 08 at Scotia Dancers
---
First plant four rows of peas
Preparedness, Promptness, Perseverance, Promptness
Next plant three rows of Squash
SQUASH Gossip, SQUASH Criticism, SQUASH Indifference
Then plant four rows of lettuce
LET US be Truthful, LET US be Unselfish, LET US be Thankful
No garden is complete without turnips:
TURN UP for Volunteer work, TURN UP with a smile, TURN UP with Determination.
Let's all get to work on our garden!
br> Have a wonderful summer. Be careful, we need everyone back dancing in the Fall!


---
(Return to Home Index)