The CSRDS Publicity Committee meeting was well attended and several interesting items arose.
The Society celebrated it's 30th Anniversary during the Convention by awarding a special certificate & long service award to those members who have attended all 16 National Conventions. These included Nova Scotia dancers Ron and Dot Connell (right, below), and Maxine and Les Cross (left).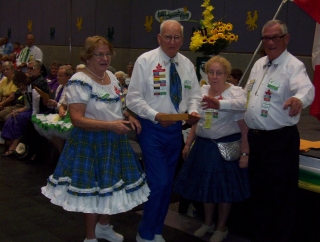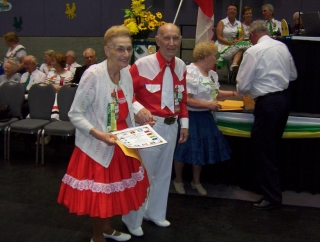 ---
On April 24th, 2008, many square dancers arrived at the Berwick Town Gym to help celebrate the 95th birthday of Esther Chute. The Berwick Belles'n Beaus Square Dance Club were honoured to sponsor this dance for the "matriarch" of square dancing. The hall was decorated with colourful streamers, a beautifully decorated birthday cake, punch was available as well as a laden table of food. A bouquet of flowers was presented to Esther as well as many birthday cards. Tom Collins, caller, did an excellent job of calling and everyone had a great time.
Belles'n Beaus Square Dance Club 45th Anniversary
There was a big celebration at the Berwick Town Gym on May 3rd, 2008, when the Berwick Belles'n Beaus Square Dance Club celebrated the 45th anniversary of their club, along with celebrating their annual Mayflower Dance. Invited guests, Berwick Town Mayor, John Prall and MLA Leo Glavine brought greetings and congratulations to the Berwick square dancers for this great achievement. Mayor John Prall presented a framed certificate of congratulations from the Town of Berwick to club President Tom Collins.
Certificates of Appreciation were presented to all the actual club members and to some couples who have not been dancing because of illness. The Presidents of the Nova Scotia Square and Round Dance Federation, Valerie & Ralph Brown, presented an Achievement Award to our club for our 45th anniversary. Also they presented an Achievement Certificate to Harris and Thelma Huntley for their 45 years of square dancing and one to Esther Chute for her 44 years of dancing. A certificate was also presented to the club from the Canadian Square & Round Dance Society. The Berwick Club presented a plaque to Harris and Thelma Huntley for their 45 years of dedication to their club, also one was presented to Esther Chute for her 44 years of dedication to her club.
Ron Lowe, Saint John, NB, did an excellent job of calling to the twelve squares of dancers. The hall was decorated with balloons and streamers. A display table of awards and certificates showed the club's many activities: benefit dances, demonstration dances at Grand View Manor, seniors groups, walking in the Gala Day parades, demonstration dances at the Berwick arena and most recently at the Fieldwood Heritage Society's annual banquet in Canning. Two photo albums of pictures taken over the years also showed the many times the club members have participated in special events. We have been busy over these 45 years. The evening closed with the Friendship song and everyone enjoyed the tables of food, punch and birthday cake.
Submitted by: Thelma Huntley, Berwick Belles'n Beaus Club Historian
---
The Dice Hill Squares, who dance in the Ardoise Community Centre held their annual "Mulberry" dance on Thursday, 22 May, 2008. The hall was decorated with Mulberry blossoms as the trees were in full bloom in West Hants County!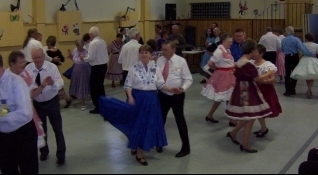 The six and one half squares included dancers from 6 different NS clubs. All enjoyed the calling and cueing provided by club caller, Bruce Savage. A special treat was to have his two brothers, Mark and Wade Savage join in to provide a variety of calling styles for the dancers.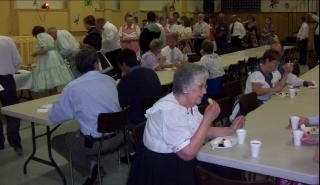 Following the energetic dancing, everyone enjoyed pies of various kinds along with scoops of ice cream! All attendees seemed well-satisfied with a friendly evening of square and round dancing to end the regular season with the Dice Hill Squares.
---
APPLE VALLEY DANCERS "FINAL DANCE"
The Apple Valley Dancers held their closing dance at the Aylesford Lions Hall where they were catered to a fine roast beef dinner. There were eight squares in attendance mostly all in club colours. Caller Nelson Labor, announced just before the last tip, that this would be the final dance for the Apple Valley Dancers Club. The club was started seventeen years ago by Nelson and Pat Labor and has been a very successful Plus club for all of this time. Nelson suggested that if some of the members were interested in running the club and hiring a caller, that they were welcome to use the name, badges and banner. Nelson plans to continue to call for his other club; West Kings Twirlers.

THE REBORN APPLE VALLEY DANCERS!
The Apple Valley Dancers Plus club begins a new season of fun and enjoyment, dancing every Tuesday night in the Melvern Square Community Centre, starting 07 Oct 2008 and running through to 19 May 09. Dance time is 8:00 to 10:00 PM. Calling will be provided by Nelson Labor, Terry Lewis, Barry Walker and Laurie Illsley. They will alternate every week to provide a varied and exciting program.
For more information please contact Kaye & Bob Amos (902) 765-3809 or Gord & Collette Way (902) 765-8887.
Driving Directions: From Highway 101

Take the Marshall Road exit (just outside of Kingston)
Turn left on Marshall Road (towards North Mountain) and go to the end
Turn left on Brooklyn Street and go to end
Turn left on Rte 221 (Stronach Mountain Road) and travel approximately 100 yds
Turn right onto Bridge Street. The Community Centre will be second driveway on right(approximately 200 ft from corner).
---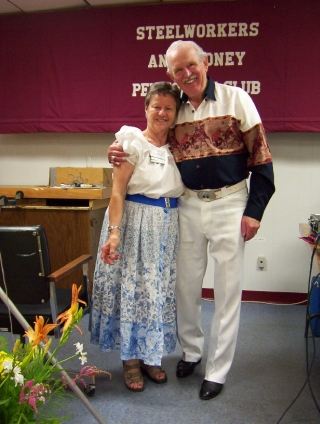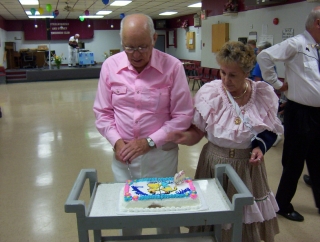 The Town & Country Square Dancers decided to celebrate Don Grant's 80th birthday in grand style by hosting a square dance at the Sydney Steel Workers & Pensioners Hall on Friday, 25 July, 2008. Don's long-time good friend – Caller "Yodeling Chuck Jordan" of Port Coquitlam, BC traveled across the country to wish him a Happy Birthday and call the dance! The eight squares in the hall had a great time with rounds, squares and progressive squares. Everyone particularly enjoyed Chuck's special yodeling tips. Lunch and birthday cake topped off a most successful evening. Above we see Don cutting the cake, while on the left is Chuck with Inge Ruohoniemi
---
Upcoming Major Dances & Conventions
Check the Calendar of Events
13 Sep. - Cumberland Twirlers 34th Blueberry Dance – Amherst, NS Regional HS. 447-2857 mclellan.gm@ns.sympatico.ca
27 Sep. - NS Federation 40th Anniversary Fall Frolic - Avon View HS, Windsor, NS. 757-3884 bobruoho@ns.sympatico.ca
18 Oct. - Lake City Swingers Swing Into Fall -North Woodside CC, Dartmouth, NS 435-4544
25 Oct. - LaHave River Ramblers 20th Anniversary Dance – Michelin Social Centre, Bridgewater, NS
25 Oct. - Metro Merry Makers/Ocean Waves Harvest Moon Dance – Bloomfield Ctr., Halifax, NS 443-2890
7/8 Nov. - 39th Maritime Square and Round Dance Convention – Charlottetown, PEI 584-3500
---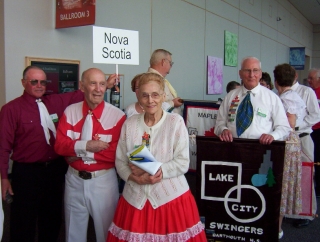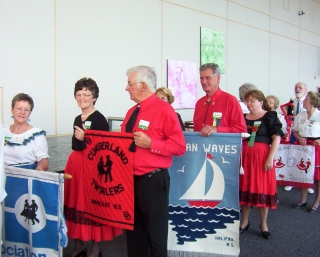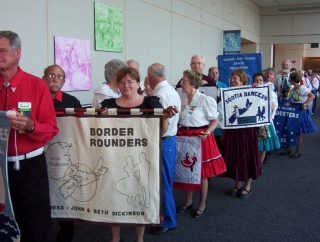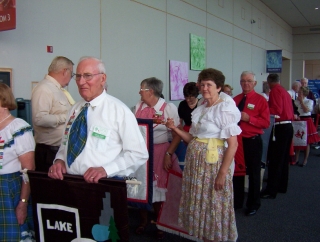 ---
Can you find Mayor Peter Kelly?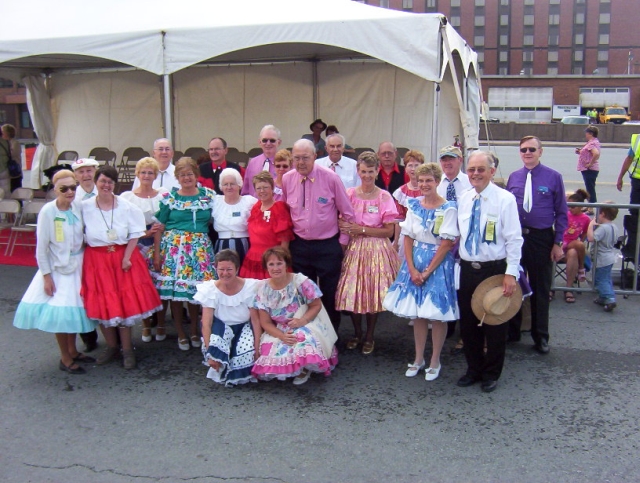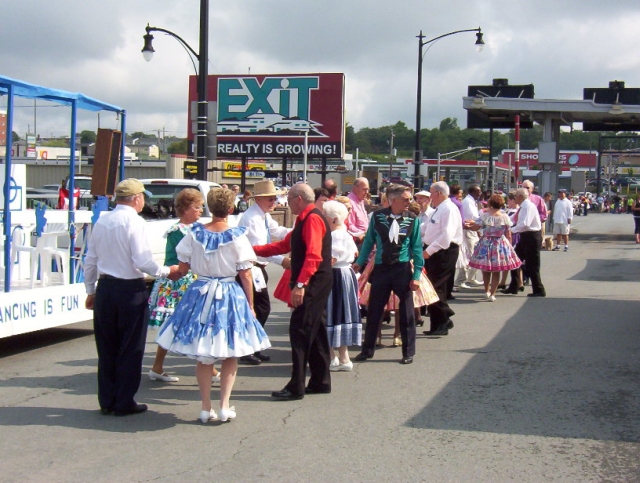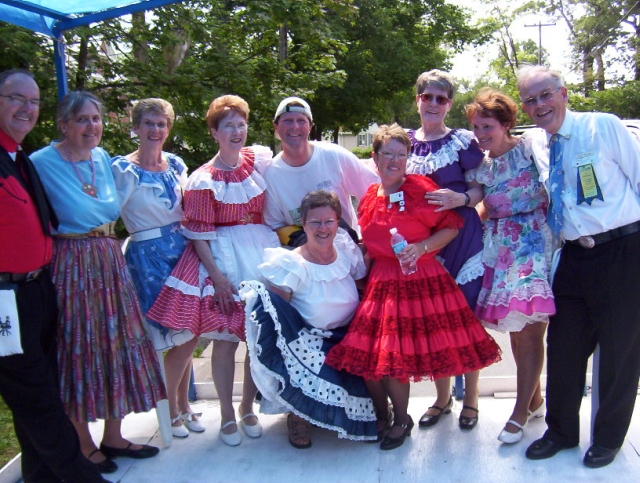 ---
(Return to Home Index)