BETWEEN TIPS
"BETWEEN TIPS" is the official bulletin of the
SQUARE & ROUND DANCE FEDERATION OF NOVA SCOTIA
Bob Ruohoniemi, Editor, 6939 Hwy 1 Ardoise, RR 1 Ellershouse, NS B0N 1L0
phone (902) 757-3884 email: bobruoho@ns.sympatico.ca www.squaredance.ns.ca
October 2008 -- NUMBER 147
(Back Issues) (Return to Home Index)
---
This issue has news from: YOUR Federation, CSRDS, F2010 and METRO Association.
---
General arrangements for Federation Festival 2009 are complete. F2009 will be held on 24 & 25 July, 2009 at the Old Orchard Inn, Exit 11, Hwy 101, Wolfville, 902 542-5751. When making reservations, ensure you mention "Square Dance Festival 2009". Rates are: Single or Double $115; Triple $125; Quad. $135 available to 10 July 2009. Inquiries about F2009 should be directed to Bob Ruohoniemi, 757-3884 or bobruoho@ns.sympatico.ca
The Federation Annual General Meeting (AGM) will take place on Saturday, 4 October at the Nappan Experimental Farm Pavilion. Registration is at 1:30 p.m. with the meeting starting at 2 p.m. Directions: To reach the Pavilion, take Exit 4 from Hwy 104. Turn towards Springhill on Hwy 2, proceed to the intersection with the amber flashing light & small motel on the left. Turn right on Hwy 302, for 10 km. to see a "Maritime Beef Testing Station" barn on the right. Turn left on the driveway at the top of the hill to the Pavillion at the far right. Bluenose RV Squares will host a dance that evening at 7:30 p.m. at Loch Lomond Campground.
All Federation Board members, Regional Representatives, and Club Representatives are expected to attend the AGM in order to decide what the Federation should be doing to keep Square and Round Dancing alive in the province. This is also an opportunity to deliver the club Registration Forms and payments to the Federation. Federation membership fees are due by 31 October.
Go to the end of this issue to grab a copy of the club registration form.
---
Each year some dancers, callers and cuers ask, or are asked, why their club(s) should pay for membership in the Square and Round Dance Federation of Nova Scotia. To assist in answering those queries here are a few reasons:
Membership in the NS Federation provides:
The club with the Federation Newsletter, the Calendar of Events - the list of upcoming dances in the Province, and posters from other clubs.
Membership permits club members to participate in planning Federation activities.eg. NS FESTIVALs and the Canadian National Convention to be held in Halifax, July 2010.
It entitles the Caller, Club, & club members to receive awards and recognition from the Federation.
The Federation can provide support in: recruiting new dancers, publicizing the club's activities, and encouraging Federation members to visit and support the club.
Federation membership is required in order to obtain membership in the Canadian Square and Round Dance Society.
For all of the above reasons, all clubs are strongly encouraged to obtain NS Federation membership. Full details regarding the NS Federation are available at
www.squaredance.ns.ca
The Canadian Society membership including Liability Insurance fee is also due at the end of October, in order to allow time for the Insurance Company to start the policy on 1 January, 2009. A listing of reasons to belong to the Society is shown below.
---
ADVERTISING and PROMOTION
The Society has a supply of attractive red lapel pins for sale to dancers and leaders. These can be obtained from Ralph & Barb MacDonald 783-2731 or ralph.macdonald@ns.sympataico.ca
The Society's Publicity Committee arranges for square dance adverts. in National magazines and on Cable TV.
The Society provides free copies of the recruiting DVD - "Dancing Keeps You Young" to all provinces. Copies can be obtained from the NS Directors Bob & Inge Ruohoniemi 757-3884 or bobruoho@ns.sympatico.ca.
CSRDS provides a toll-free telephone service for the public and dancers to get information about square dancing. The number - 1-888 206 6696 - is monitored to provide information for any CSRDS activity in Canada.
A Society webpage www.squaredance.ca lists all Canadian club information.
AWARDS
The Society provides special awards and certificates to its members. Society Certificates have been produced for special recognition and presentation:
to clubs, associations and federations on 20th anniversaries and at 5 year intervals,
to callers, leaders and instructors on 20th anniversaries and at 5 year intervals,
on wedding anniversaries every 10 years starting with the 50th.
Please send certificate requests to Bob &amp Inge Ruohoniemi at least one month before the presentation date.
The Society recognizes outstanding contributions to the Canadian square & round dance movement through an AWARD OF EXCELLENCE, and a LONG SERVICE AWARD. The Award of Excellence consists of a Certificate and a bronze medallion (for each recipient).
Eligibility: any dancer, caller or cuer member of the Society is eligible for this award.
Nominations: may be made by any ten members from anywhere in Canada to the Federation.
The CSRDS Honours & Awards Chairperson must receive this application prior to February 28 of the convention year for presentation at the National Convention.
Accomplishments can be in any field of endeavour, performed by any individual in the Canadian Square & Round dance movement. Accomplishments could be a single exceptional result over a short period of time or a steady, above average devotion over a very long period of time.
The standards for the Award of Excellence are very high and therefore a nomination must be fully substantiated with details of the results of the accomplishment to be recognized.
The Long Service Award consists of a Certificate and Lapel pin.The nominations MUST set out the EXCEPTIONAL SERVICE (non-profitable) the nominees have:
provided to the activity through involvement in their club(s), Associations, Federations, etc.
Such service should be beyond that of the average Dancer/Caller/Cuer/Leader.
Length of service shall normally be a minimum of 15 years.
To obtain the detailed forms and criteria for these two Society awards, contact Bob & Inge Ruohoniemi.
LIABILITY INSURANCE
The most valuable benefit of Society membership, is the Liability Insurance that is provided through the Society.
Your club members and you yourself are covered for any damage liability that may occur.
Many malls, schools, and churches require evidence of liability insurance before permitting dancing at their locations.
Further information about the Society and the Liability Insurance is available from
www.squaredance.ca
---
The F2010 Organizing Committee met on 20 Sep. to continue planning for a successful convention on 29 to 31 July 2010.


The hotel arrangements have been completed. Click on the 2010 button at www.squaredance.ns.ca


Four Halifax hotels are offering group rates and rooms are being rapidly reserved.


Watch for the latest F2010 colourful newsletter soon appearing at your club.


The F2010 demo dancers will begin rehearsals again to perform at the MCCA Convention in Charlottetown, PEI on 7/8 November. It's worth a trip to MCCA to see them perform!


F2010 Cookbook sales continue at a brisk pace. Anyone who wants to buy a copy or who would like to sell them, should contact Gary & Ruby Bent 864-7064. They are an excellent Christmas gift item.


NS dancers are asked to register for F2010, as plans and funding depend on your participation. Note the savings: Registration is $105 per adult dancer and $50 per youth dancer until 31 December 2008. After that the cost increases to $125 per adult and $60 per youth. If you are already registered, tell your friends and invite them to do so as well.


In addition to registering, there is an urgent need to have NS volunteers step forward to assist with planning for F2010. There are all kinds of tasks, large and small, that can be tailored to suit your skills and timetable. Please contact either Dottie Welch at dwelch@ap.stmarys.ca or 435-4544, or Bob Ruohoniemi at bobruoho@ns.sympatico.ca or 757-3884.
---
Metro had its annual general meeting on 21 Sep.with no change in the executive.


The Rag Rounds and Golden Squares have closed. The Dancing Shadows will continue, but on a part-time basis.


The Scotia Dancers are now down to 7 individuals, with a possible 3 new dancers starting.


The other clubs have or will be starting shortly. We now have 5 Mainstream, 2 Plus, 2 A1-A2, 2 Round and 1 Contra club in the Metro area.


We have entered the Federation Float in two parades in the area, danced at the Grand Parade in Halifax on July First, given demos at the 50+ Expo and the Cole Harbour Community Health Fair, all of which has generated interest in the activity.


Advertisements were placed in the Metro Recreation Department fall booklet, which stimulated some interest and phone calls. Other publicity efforts included public announcements on TV, radio, in papers and distribution of flyers listing open house dates for beginner clubs.


Eleven summer dances were sponsored, with profits of $114.00 transferred to the F2010 Committee.


The New Year's Dance was cancelled because of bad weather.


The "Dance for the Heart" in March raised $504.00 for the Heart and Stroke Foundation.
Don and Carol Scott, Central Region Representatives
---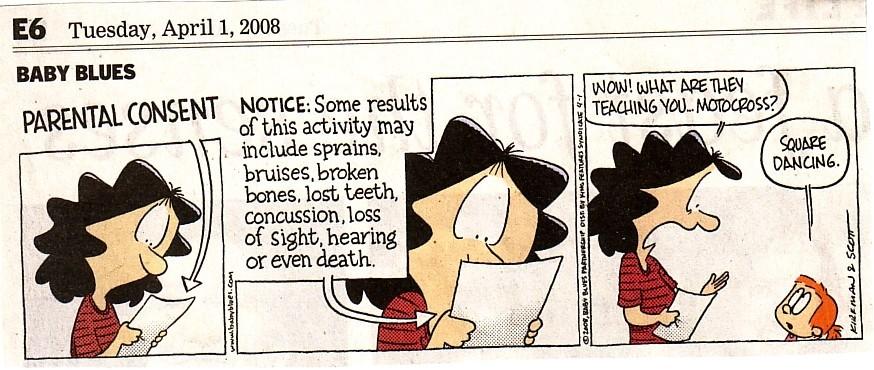 ---
Download the form as a
pdf document
.
---
(Return to Home Index)