BETWEEN TIPS
"BETWEEN TIPS" is the official bulletin of the
SQUARE & ROUND DANCE FEDERATION OF NOVA SCOTIA
Bob Ruohoniemi, Editor, 6939 Hwy 1 Ardoise, RR 1 Ellershouse, NS B0N 1L0
phone (902) 757-3884 email: bobruoho@ns.sympatico.ca www.squaredance.ns.ca
November 2008 -- NUMBER 148
(Back Issues) (Return to Home Index)
---
This issue has news from: YOUR Federation, F2010 and various clubs.
---
THE FALL FROLIC
The Federation's first annual Fall Frolic and 40th Anniversary dance held on 27 Sep. in Windsor was a great success despite the Hurricane weather forecast. There were eight squares with 7 Callers and Cuers in attendance. The facility was excellent with a great dance floor. With so many Callers and Cuers, the dancing was non-stop! The Federation Archives Chairs Harold & Clara Redden, although not able to attend, provided a collection of past Federation Festival historical panels that were of great interest to all the attendees. It was especially nice that the very first Presidents of the Federation were able to attend, along with many other past President couples. An overwhelming quantity of tasty lunch was laid out after the dance so everyone could regain their strength before heading home! The whole affair was a great success with over $400 raised toward FESTIVAL 2010.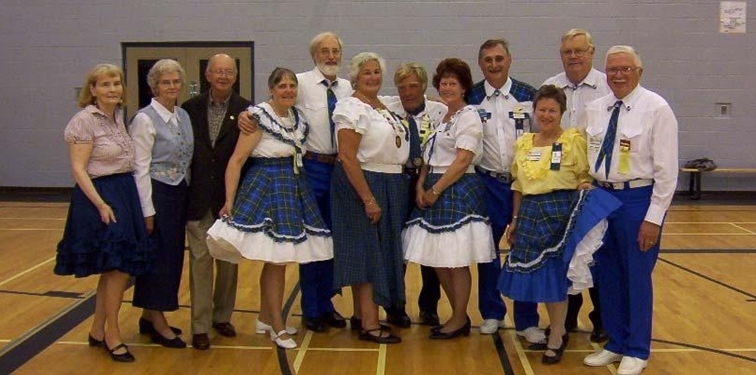 Past Presidents(L-R): Terry Melanson, Betty & Tom Dodge, Dottie & Gary Welch, Dianne & Wayne Burns, Valerie & Ralph Brown, Ralph MacDonald, Inge & Bob Ruohoniemi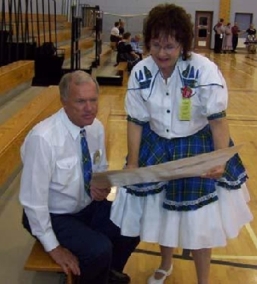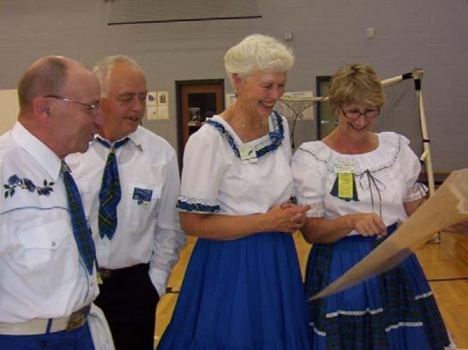 Examining the archives. Left: Allan Russell & Mary Magee Right: Norm Lee, Don & Verna Ward, Debbie Lee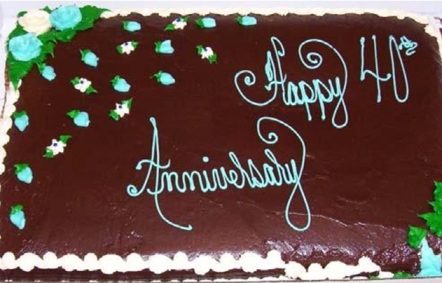 This very large chocolate birthday cake challenged hearty appetites!
ANNUAL GENERAL MEETING
The Federation Annual General Meeting took place on Saturday, 4 October at the Nappan Experimental Farm Pavilion. Representatives from most of the Provincial Regions and clubs were in attendance.
It was noted that some clubs have held fund-raising dances for the Canadian National Convention - HALIFAX NATIONAL FESTIVAL 2010. Expressions of thanks were made to those clubs. All provincial clubs are encouraged to arrange their own Festival 2010 fund-raiser during this dancing season. Smaller clubs may wish to join with other Regional clubs to do a Festival 2010 special.
The final arrangements for the Provincial Federation FESTIVAL 2009 were confirmed. It will take place at the Old Orchard Inn in Wolfville on 24 & 25 July 2009. Posters and registration forms will be mailed to clubs - early registration saves dancers' money! Reservation info for the Inn was supplied in the last Between Tips.
A letter was received inquiring whether clubs that close need to send their banner to the Federation. It was agreed that this is not necessary.
The reports from the various Board members were reviewed and accepted. Some of those of particular interest are reproduced in part or whole below.
The election of officers for the Federation Board saw the following volunteers step forward:



President -
Ralph & Barb Mac Donald
Vice-President -
Don & Verna Ward
Secretary -
Bob & Gail Davis
Treasurer -
Russel & Mary Trimper
Past President -
Ralph & Valerie Brown
Finance -
Marion & Gerry McLellan
Publicity -
VACANT !!!!!
Publications -
John & Lynda Reid
Between Tips -
Bob & Inge Ruohoniemi
Archivist -
Clara & Harold Redden
Parade Trailer -
Harold & Clara Redden
Awards Chair -
Don & Carol Scott
ANSSRDT Rep. -
Dottie & Gary Welch
DANS Rep. -
Gerry McLellan
CSRDS Directors –
Bob & Inge Ruohoniemi


Both the Awards and Finance committees are looking for one member to join them.
The Past Presidents Ralph & Valerie Brown were thanked for volunteering to chair the Federation Board for the past two years. Despite conflicts with work schedules, they supported your Federation effectively. They now will be devoting their time to the work associated with Registrations for F2010!
Newsletter Editor's Report (condensed) – Bob Ruohoniemi
A small number of clubs and representatives have continued to provide reports and photos for each edition. It is disappointing that not all Nova Scotia clubs are sending in material for their own newsletter. Informal surveying indicates that it also appears that some clubs are not making the newsletter available to their members or making their members aware of its existence. If our activity is to continue, we need to share our ideas, recommendations, and thoughts that can benefit all Federation members. The old adage applies: "Use it or lose it"
Region Representatives are asked to encourage clubs, callers, cuers, to forward news, comments, recommendations to the Editor for future editions of Between Tips. The deadline for submissions is always the 15th day of each month.
Dancers who want to receive their own printed copy of BT along with the Federation Calendar of Events, should forward their request with $15 to: SRDFNS Publications Officer, John & Lynda Reid, 26 Belle Royal Court, Dartmouth, NS B2V 2B4.
Publications Report – John Reid
The usual nine issues if the CALENDAR OF EVENTS were mailed last year (one for each month except January, July & August). Those submitting posters should provide 55 copies to ensure enough for mailing to all club & individual subscriptions. Posters should be in John's hands by the 24th of the month at the latest. Folks e-mailing special dance information for the Calendar should send a copy to both John Reid & Webmaster Gary Welch.
Contact information: John & Lynda Reid, 26 Belle Royal Court, Dartmouth, NS, B2V 2B4, jsreid@eastlink.ca,(902) 434-7577. Gary Welch, 415 Conrad Road, Lawrencetown, NS, B2Z 1S3, gwelch@ap.stmarys.ca, (902) 435-4544.
Webmaster's Report (condensed) – Gary Welch
Extensive modifications have been made to the SRDFNS website since the last AGM, and more will appear. The website of Halifax National Festival 2010 will soon have a new look.
I rely on dancers throughout the Province to help keep the information accurate and up-to-date. Additions and/or corrections can be e-mailed to gwelch@ap.stmarys.ca, sent to the address above, or passed over the phone to Dottie or myself.
Archives Report (condensed) – Clara & Harold Redden
Any clubs or individuals who would like to have their club histories or photos displayed at F2010 are invited to contact us. Material should be mounted or otherwise ready to display. We will either take it on permanent loan or display it at the Festival and return it to you afterward. Other unmounted photos, or bits and pieces of history, can be also donated. But we will need time to mount them before the Festival, so get them to us soon.
ANSSRDT Report (condensed) – Dottie Welch
The Association of NS Square & Round Dance Teachers (ANSSRDT) met in April & September. The square dance workshops emphasized teaching & calling for new dancers. The 3 new Maritime callers continue to progress and have increasing calling opportunities.
Lionel & Janet Crowe have been presenting found dance cueing workshops for the purpose of increasing the use of Square Dance Rounds, Line Dances & Mixers.
Alquire Fund: We are beginning plans for the fourth biannual Alquire Memorial Callers School to be held during the last week of August 2009. We invite prospective new callers to attend this school and also encourage experienced callers to rejuvenate themselves by attending.
CALLERLAB (The International Association of Square Dance Callers): The experimental revision to the Mainstream Teaching Order has been well received and is now widely used. CALLERLAB members continue to experiment with innovative ways to encourage new dancers. Many success stories are documented in the Winning Ways section of the CALLERLAB website, www.Callerlab.org
MCCA (The Maritime Callers and Cuers Association): The MCCA Convention will be held this year in Charlottetown, PEI on Nov. 7 & 8. Registration forms are available on the Federation web site. A hall appropriate for Basic dancers will be open at all times. Most rooms have carpet so be prepared with appropriate shoes. Tasteful Casual Attire is acceptable at the morning and afternoon sessions. Hope to see you there!
Halifax National Festival 2010 Report (condensed) – Dottie Welch
The "Nutritious and Delicious Nova Scotia Dishes" Cookbook is now on sale. With over 440 recipes contributed by dancers from around the Province, it is an excellent buy for $10. Contact any board member to obtain your copy and consider purchasing others as Christmas gifts.
Clubs and Associations all around the province have rallied to our request for fund raising dances. Many such dances have been held, and we thank all those participating in those efforts. Our Ways and Means income is making good progress toward our budgeted goal.
Four downtown hotels have cooperated in arranging room blocks and quoting room prices for Festival 2010: the Prince George Hotel, Delta Halifax, Citadel Halifax Hotel, and Cambridge Suites. Their contact information is available on the Festival website.
Registrations are approaching 500, but we would like to see more Nova Scotians in that list. The registration price goes up significantly on January 1, 2009. Now is the time to make a commitment to support our efforts and plan to attend this major national event.
With two years to go, we move into detailed planning for the Festival. If you are not already involved, please consider joining one of the committees. We really do need "All Hands On Deck" to make this a resounding success equivalent to the 1982 and 1994 national Conventions.
Valley Region Report (condensed) – Bill & Gertie Oldford
Admiral Dancers. Dancing out of Digby will not be operating this year. Terry Lewis advises that dancers are not turning out and it's costing too much to keep going.
Apple valley Dancers. Plus dancing run by Nelson Labor ceased operation in May 2008. Some of the executive from West Kings Twirlers will try to keep this club going weekly during the 2008-2009 season. They will dance out of the Melvern Square Community Center. Four callers will take turns calling.
Dice Hill Squares held two Open Houses in September to try to maintain the average of four squares achieved last year. Advertising in the media included an invitation to take up "Choreographed Ballroom Dancing" which is the term now being used to replace the title "Round Dancing". In other parts of the country, this term has been used successfully for some time. Two couples and one single remain from the group that attended the Open Houses. Club members look forward to another successful season of dancing. The members wear tasteful casual attire at regular dances and invite dancers to wear "traditional" dress at the special dances. The regular dance format includes progressive ballroom at 7 p.m., beginners' ballroom at 7:30 p.m., followed by squares at 8 p.m. During breaks, the club caller, Bruce Savage cues Square Dance rounds.
South Shore Report (edited) – Gerry & Irleen McKiel
Sunrise Squares started its season on September 26. The class couple who were attending last season will come back to finish their training and graduate.
The Yarmouth club is trying to get organized for the season. The club has a problem getting sufficient men to take part.
LaHave River Ramblers started the season September 18 with the usual free fun nights. Four couples and one single man showed up to join the fun. The Club hopes they will continue. The 20th anniversary party planning is well underway. The dance will be held at the Michelin Club on 25 October and we expect to have a really good party.
Central Region Report (condensed) – Don & Carol Scott
Metro has had its AGM with no change in the executive:


| | |
| --- | --- |
| Chaircouple - | Don & Carol Scott |
| Secretary - | Dottie Welch |
| Treasurer - | Barry & Dyanna Bendle |
| Publicity - | Jim & Pat Briggs |
Alex Ritchie has officially retired, and so the Rag Rounds and Golden Squares have closed. Alex's third club, the Dancing Shadows, will continue dancing part time to records. Scotia Dancers is now down to 7 dancers with a possible 3 new dancers starting. The other clubs have either started or will be starting shortly. The numbers of Metro Area clubs are now: 5 Mainstream, 2 Plus, 2 A1-A2, 2 Round, and 1 Contra.
Cape Breton Report – Lionel & Shannon Parsons
Town and Country Dancers finished dancing on May 7th with our closing supper, at which time we graduated 2 1/2 couples. We had a successful year and now Tom Gardner is back doing some calling with Lionel & Gary assisting.
Tom recovered from heart surgery with great success, but Wendell Carroll's recovery is slower. The Celtic Rounds is temporarily canceled.
Don Grant's birthday party Square Dance with caller Chuck Jordan was a great success. Seven squares were present, including one couple from Australia who were visiting the area. They had been at the convention in London.
Fundy Region Report - Gerry & Marion McLellan
Cobequid Twirlers, a club of 35 years, continue their Wed night Mainstream with a couple of squares. Kitty cues rounds between tips and has 3 or 4 couples. With a few others expressing interest in learning, they may talk her into a class sometime in the future. Three couples received Longevity Awards this year (see photo below): Everill & Doris Goff, Irving & Betty Strople, Charles & Audrey Weatherby. The club does not dance in the summer, but will be starting up again soon for the fall season.
NB-NS Border Rounders: Beth & John Dickinson began their career in cueing 25 years ago, forming the NB-NS Border Rounders at the same time. They received Longevity awards for themselves and their club this year. They and four member couples took part in the July National Convention in London. The Fall program has started with no dropouts at either level. Class participants study 2 years before moving on to a more advanced level; this will be the 2nd year for the current class.
Strathmore Strutters: A year full of fun and good dancing on two nights a week this year: Monday - Mainstream, Wednesday - Plus. I don't believe they had a class last year (that gave Bob and Phyllis Tuesday off). The club continues to dance a combination of both levels on several nights over the summer with casual dress - two nights in May, June & July, one in August. Full Canada Day celebrations started at 2 p.m. and featured a potluck supper, games, swimming and dancing. It was a busy schedule when combined with all the demands farmers face in the summer. Two couples received Longevity Awards this year (see below): Morley & Edith Dillman, Bob & Phyllis Fiddes. At the time of this report, Bob & Phyllis were enjoying themselves with a well deserved trip to Great Britain.
Cumberland Twirlers: Cumberland Twirlers dancers had an active season, not only dancing but contributing to the community as well. The 2007 fall season began with our annual Blueberry Dance, followed by three open houses. The open houses attracted one couple and two singles. That enabled us to form a class, which graduated in May 2008.
Dancers not only enjoyed the weekly dances but also the traveling to other venues. Several couples attended the MCCA Convention at Old Orchard Inn in New Minas last November. Our club continues to provide entertainment for the annual Joggins Fire Department Christmas party. Dancers assisted the Salvation Army with their Kettle Campaign. Entertainment was provided to several Nursing Homes in the area. A goodly number attended the S.E. NB Association New Year's Eve dinner dance at Sackville, New Brunswick. Three couples attended Convention 2008 in London, Ontario in July.
Following an active Christmas season dancing began in early January which was quickly followed by a Valentine Party combined with the Heart & Stroke dance in February. A popular outing for many of our members is a sleigh ride to a cabin in the Maccan woods followed by a hearty meal and dancing.
We hosted our annual Maple Dance in April with guest caller, Terry Hebert. Many dancers were the lucky winners of maple products. People not only enjoyed the dancing but also the opportunity to purchase maple products to take home.
Dancers joined their NB neighbors at Mt. Whatley to enjoy a dance sponsored by ANSSRDT, and again in late May our club helped out with the MASSIE program (MOUNT ALLISON STUDENTS SEMESTER in ENGLISH). Helping to introduce square dancing to foreign students is enjoyed by all our dancers.
In an effort to attract new people to our activity, Cumberland Twirlers presented demos at the Community Fair in Amherst and the Cumberland County Exhibition in Oxford, and also took advantage of available free advertising. Our opening dance this fall was attended by five squares of dancers, who enjoyed a Corn Boil hosted by one of our members at their riverside cottage in the country.
On September 13th, we celebrated a very successful 34th Blueberry Dance at the Amherst Regional High School. Ten squares of dancers came from across the province, NB and PE to square dance to Alice LaRochelle from Coles Island, NB and round dance to Beth Dickinson of Amherst.
Contributed by Laurence & Alice Harrison, Cumberland Twirlers Federation Representative.
---
Square & Round Dance Federation of Nova Scotia Awards 2008
SRDFNS awards for longevity were presented during the Cumberland Twirlers 34th Annual Blueberry dance held at Amherst Regional High School September 13, 2008.

Club awards:
| | |
| --- | --- |
| Cobequid Twirlers – 35 yrs | NS Border Rounders – 25 yrs |
Individual dance couples:
| Cobequid Twirlers | Cumberland Twirlers | Strathmore Strutters |
| --- | --- | --- |
| Everill & Doris Goff (26 yrs) | Durline & June Stiles (22 yrs) | Bob & Phyllis Fiddes (20 years) |
| Irving & Betty Strople (23 yrs) | Ron & Lyn Estabrooks (20 yrs) | Morely & Edith Dillman (22 years) |
| Charles & Audrey Weatherby (22 yrs) | | |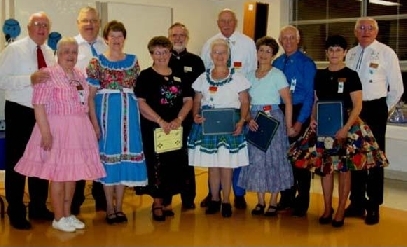 Pictured left to right: Everill & Doris Goff, Ralph & Barb MacDonald (Vice President Couple SRDFNS), Durlene & June Stiles, John & Beth Dickinson, Ron & Lyn Estabrooks, Irving & Betty Strople.
Missing from picture: Charles & Audrey Weatherby, Ken & Fran Eagles, Bob & Phyllis Fiddes, Morley & Edith Dillman.
---
1 Nov. - Metro Merry Makers/Ocean Waves, Harvest Moon Dance – Bloomfield Ctr., Halifax, NS 443-2890
7/8 Nov. - 39th Maritime Square &amp Round Dance Convention – Charlottetown, PEI 584-3500
2009
31 Jan. - West Kings Twirlers, Winter Wonderland Dance - Kingston Elementary School.
11 Mar. - Fundy Squares, Pot Luck/St. Patrick's Day/Benefit Dance, Wilmot Community Hall, Wilmot.
6 Apr. - Timberlea Twirlers, 50-60's Dance, Lakeside Fire Hall, Myra Road, Timberlea.
24/25 Apr.- New England Square & Rd. Dance Convention, Sturbridge MA., www.nesrdc.org 508-376-4952
7-9 May - T&D International S&R Dance Convention, St. Catharines, ON
9 May - Co-ordinators, Plus Windup: Sail into Summer Dance. North Woodside Comm. Ctre., Dartmouth.
21 May - Dice Hill Squares, Mulberry Dance, Ardoise Community Hall. bobruoho@ns.sympatico.ca
4-8 Jun. - 50th Australian National Convention, Perth, Australia. www.squaredance.org.au
25-28 Jun.- 58th US National Square Dance Convention, Long Beach, California. www.58nsdc.org
24/25 Jul. - Nova Scotia FEDERATION FESTIVAL 2009. Old Orchard Inn, Greenwich NS
---
(Return to Home Index)