BETWEEN TIPS
"BETWEEN TIPS" is the official bulletin of the
SQUARE & ROUND DANCE FEDERATION OF NOVA SCOTIA
Bob Ruohoniemi, Editor, 6939 Hwy 1 Ardoise, RR 1 Ellershouse, NS B0N 1L0
phone (902) 757-3884 email: bobruoho@ns.sympatico.ca www.squaredance.ns.ca
MARCH 2009 -- NUMBER 150
(Back Issues) (Return to Home Index)
---
There was no edition published in February, as there was no input from the Community. This BT has news from: YOUR Federation, FESTIVAL 2010, various clubs, and some good advice.
---
The Winter meeting of YOUR Federation Board members was held in January in Greenwood.
– The Board members determined that a provision should be made for those NS dancers who are not near enough to join established clubs in the province. That often occurs when a club ceases operations, but some dancers would still like to dance with clubs or at events when there is an opportunity. A motion was passed to establish a special club for these "Independent" dancers. Full details will be promulgated later.
– The Federation Webmaster Gary Welch asked members to review the Federation website to note errors; offer additional photos of dancers having fun (to appear in a new version of the Welcome page for non-dancers); and suggest changes or new material. He would also appreciate receiving information about deceased dancers which could be included in the "We Remember" section of the website. His address: gwelch@ap.stmarys.ca
– FESTIVAL 2009 News: The Biannual Federation Festival 2009 will be a fund-raiser for FESTIVAL 2010. Flyers are now out in every club providing the details for the July 24 & 25, 2009 event at the Old Orchard Inn, Greenwich. Reduced registration fees are available to 1 May. Reservations at the "Old 'O" are going fast! This fully-air-conditioned facility will give everyone a chance to enjoy a variety of Maritime Callers & Cuers. Plans are being made to have "special" dances that involve a swimming pool and outdoor patios! New Callers/Goofers may also have a chance to parade their talents!
– The Board members agreed to again participate at the Halifax 50+ EXPO in June, with demos and a booth.
– The Spring Board meeting will be held 2 May at a location to be determined.
– Summer Dance Brochures will be assembled again this year. Associations, Clubs, and Leaders who wish to have information in the brochure, should send the information to the volunteer editor: Verna Ward by 1 April. Contact info: (902) 465-7648; 41 Guy Street, Dartmouth, NS, B3A 4N2, or thewards@accesswave.ca
– Don't forget the two Award deadlines that are fast approaching: (See BT 149 for full details)
MAYFLOWER AWARD (March 30th). Contact Don & Carol Scott, 52 Sami Drive, Lower Sackville, NS B4C 3S7, phone 865-5780, or dwscott@ns.symaptico.ca
Caller/Cuer Bursary (March 30th). Contact Presidents, Ralph & Barb MacDonald, Box 16, Goshen, NS B0H 2M0, phone 783-2731, or ralph.macdonald@ns.sympatico.ca
Square and Round Dance Federation Executive, February 2009


OFFICERS
ASSOCIATION LIAISONS
President:
Ralph & Barb MacDonald (902) 783-2731
P.O. Box 16, Goshen, NS, B0H 1M0
ralph.macdonald@ns.sympatico.ca
National Society Representative from Nova Scotia:
Bob & Inge Ruohoniemi (902) 757-3884
6939 Hwy 1, Ardoise RR1, Ellershouse, NS, B0N 1L0
bobruoho@ns.sympatico.ca
Vice President:
Don & Verna Ward (902) 465-7648
41 Guy Street, Dartmouth, NS, B3A 4N2
thewards@accesswave.ca
DANS(Dance Nova Scotia) Representative:
Gerry McLellan (902) 447-2857
PO Box 370, Oxford, NS, B0M 1P0
mclellan.gm@ns.sympatico.ca
Past President:
Ralph & Valerie Brown (902) 543-5278
652 Pine Grove Road, Pine Grove, NS, B4V 7Z7
rwvjbrown@eastlink.ca
ANSSRDT (Association of Nova Scotia Square and Round Dance Teachers) Liaison:
Dottie & Gary Welch (902) 435-4544
415 Conrad Road, Lawrencetown, NS, B2Z 1S3
dwelch@ap.stmarys.ca
REGIONAL REPRESENTATIVES
Treasurer:
Russell & Mary Trimper (902) 465-1380
42 MacCormacks Lane, Eastern Passage, NS, B3G 1A3
rmtrimper@eastlink.ca
Central Region Representatives:
Don & Carol Scott (902) 865-5780
52 Sami Drive, Lower Sackville, NS, B4C 3S7
dwscott@ns.sympatico.ca
Secretary:
Gail & Bob Davis (902) 757-2107
115 School Road, Ardoise RR1, Ellershouse, NS, B0N 1L0
gail.davis@ns.sympatico.ca
Central Region Alternates:
Barry & Dyanna Bendle (902) 876-2266
Suite 107, 277 Rutledge Street, Bedford, NS, B4A 4M2
dyannaandbarry@ns.sympatico.ca
Publication Officer:
John & Lynda Reid (902) 434-7577
26 Belle Royal Court, Dartmouth, NS, B2V 2B4
jsreid@eastlink.ca
Valley Representatives:
Bill & Gertrude Oldford (902) 765-6333
5 Maple Avenue, Jefferson Pines, Kingston, NS, B0P 1R0
b.g.oldford@ns.sympatico.ca
Webmaster:
Gary Welch (902) 435-4544
415 Conrad Road, Lawrencetown, NS, B2Z 1S3
gwelch@ap.stmarys.ca
Valley Alternates:
Al & Corinne McNabb (902) 538-9541
RR 1 Berwick, NS, B0P 1E0
acmcnabb@ns.sympatico.ca
Newsletter Editor (Between Tips):
Bob Ruohoniemi (see National Society Rep)
South Shore Representatives:
Gerry & Irleen McKiel(902) 634-8232
Box 1175 (176 Green Street), Lunenburg, NS, B0J 2C0
hilldj@eastlink.ca
Publicity Officer: vacant
Historical Archivist:
Clara & Harold Redden (902) 538-9513
5617 Highway 1, RR 1 Cambridge, NS,
B0P 1G0
morebuttons@eastlink.ca
South Shore Alternates:
Dan & Jeanette Burke (902) 648-2593
RR 3, Box 49, Tusket, NS, B0W 3M0
jeandan@eastlink.ca
Parade Trailer Officer:
Harold & Clara Redden (see above)
Fundy Representatives:
Gerry & Marion McLellan (902) 447-2857
470 Lower Main Street, PO Box 370, Oxford, NS, B0M 1P0
mclellan.gm@ns.sympatico.ca
Finance Officer:
Marion McLellan (address at right)
Awards Committee:
Don & Carol Scott (see Central Region)
Cape Breton Representatives:
Lionel & Shannon Parsons (902) 842-9066
6 Carrol Street, Glace Bay, NS, B1A 3B3
parsons.l.s@ns.sympatico.ca<.td>
Festival 2009:
Dottie & Gary Welch, Bob & Inge Ruohoniemi
Highland Representatives:
Ralph & Barb MacDonald, Pres.
---
11 March - Fundy Squares, Pot Luck/St. Patrick's Day/Benefit Dance, Wilmot Community Hall, Wilmot.
6 April - Timberlea Twirlers, 50-60's Dance, Lakeside Fire Hall, Myra Road, Timberlea.
24/25 April - New England Square & Round Dance Convention, Sturbridge MA., www.nesrdc.org 508-376-4952
7-9 May - Toronto and District International Square & Round Dance Convention, St. Catharines, ON
9 May - Co-ordinators, Plus Windup, Sail into Summer Dance. North Woodside Comm. Ctre., Dartmouth.
21 May - Dice Hill Squares, Mulberry Dance, Ardoise Community Hall. bobruoho@ns.sympatico.ca
4-8 June - 50th Australian National Convention, Perth, Australia. www.squaredance.org.
25-28 June - 58th US National Convention, Long Beach, California. www.58nsdc.org
24/25 July - Nova Scotia FEDERATION FESTIVAL 2009. Old Orchard Inn, Greenwich NS
---
The Organizing Committee held monthly meetings in January and February.
– Registrations did increase at the end of December before the price increased! It would be better, though, if the number of registered Nova Scotia dancers was greater. Only 20% of the total NS dancers in the province are currently registered – YOUR FESTIVAL needs YOUR support!
– The FESTIVAL supplies provided by the Canadian Society have been assessed and prepared for the event.
– Publicity efforts across Canada and into the New England States continue with Newsletter advertising. An advertisement was placed in the European Square Dance Association newsletter as well. Readers are reminded to encourage their square dance friends/relatives to both register and advertise FESTIVAL 2010.
– The FESTIVAL 2010 Raffle Quilt is being completed so tickets can go on sale one year prior to the Festival.
– The meetings have advanced plans for: Using the WTCC and Metro Centre rooms; Food concessions; Water supplies; Flooring; Decorations; and the outdoor banner parade. Readers with an interest in any of these activities are encouraged to contact: Dottie Welch 435-4544, dwelch@ap.stmarys.ca, or Bob Ruohoniemi, 757-3884, bobruoho@ns.sympatico.ca
- Reports from FESTIVAL 2010 hotels indicate reservations are increasing. If you want to get your preferred hotel, then you should make those reservations now! See www.squaredance.ns.ca Click on 2010.
– Plans are beginning to create the FESTIVAL 2010 Souvenir Booklet. If you have ever dealt with editing or compiling a booklet Dottie or Bob would like to hear from you!
---
Graduation 08 at the Sunrise Squares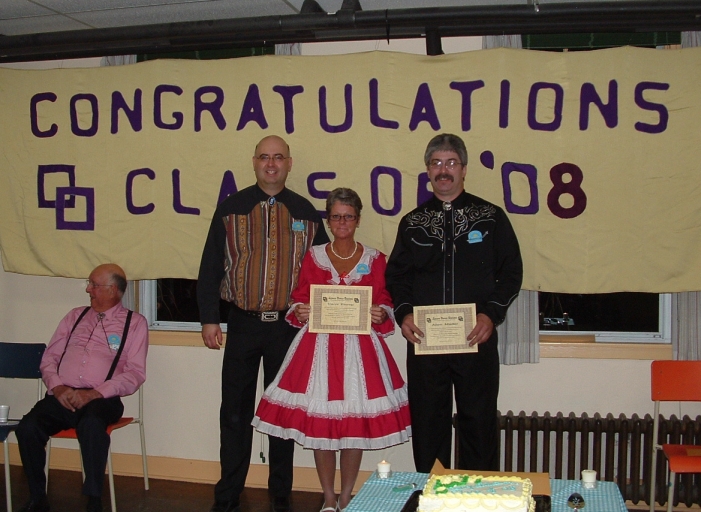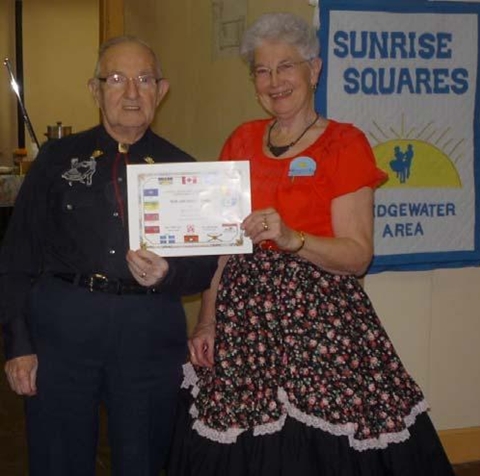 ABOVE: Caller Neil Dorey with Caro Plomp and Allen Mader at our graduation ceremony.
RIGHT: Duncan and Ruth Keddy celebrate their 50th anniversary in January 2009. Congratulations, folks!
---
Cobequid Twirlers: Nothing much new to report, still plugging along – some nights struggling to dance two squares. We are dancing fairly regularly at two seniors homes in the area. They seem to particularly enjoy the rounds. We did not recruit any new dancers this year so we felt it is critical to our survival to get more dancers very soon. Ed & Kitty Giles.
Strathmor Strutters: The Strathmor Strutters were late getting started (Oct) this year as the callers were away on a Celtic bus tour. We are down in numbers again this year due to age, sickness and injuries. We held a Christmas party on December 1 for both our Mainstream and Plus clubs. This was well attended; a great lunch followed dancing (too much actually). The club didn't want to hold a New Years dance party as some were going to the Legion. So the remainder of us, along with a few non-dancing friends, got together at the hall and had a great pot luck supper (again too much food) followed by dominos and cards.
We started up again first week of 2009, some out sick with the flu and others with pneumonia. The Monday night dances have been doing fine. Hopefully the weather will get better and we can all get into the swing of things. Bob & Phyllis Fiddes
Cumberland Twirlers: Started the year with 45 members. Although "Open House" was held 2 nights in September, we have no class this year. In lieu of the "square angel" opportunity, a 30 minute M/S workshop for last year's graduates is held weekly. The club danced in support of a local fund raiser in September and held a Halloween dance in October. We joined Tantramar Twirlers to dance with the fall group of 49 Japanese MASSIE (Mount Allison Sophomore Semester) students in November, and later in the month held our annual Ice Cream Social. Our Christmas party/pot luck collected for those less fortunate kids. Later in December 12 couples "kettle set" for the Salvation Army - 6 couples rotating 2hr shifts for 2 full days (10am. - 10pm.) with no repeats.
The SENB Federation dance held in Sackville, NB was attended by 9 Cumberland couples. Federation Longevity Awards were presented to members: Durline & June Stiles, Ron & Lyn Estabrooks; 25 year Service Award to caller Ken & Fran Eagles, Ron & Lyn Estabrooks, Austen & Shirley Rose.
2010 Fund Raisers: In addition to the $50 already donated and 50% of the $130 MCCA raffle proceeds (shared jointly with Border Rounders), 50/50 weekly draws were started in October and will continue until May 2010 ($124 to date). A "bring & buy" auction on January 13 raised $189. We continue to market cook books; members have been responsible for sales of 85 books to date. Sid & Eileen Glennie
---
Square dancers everywhere are looking for new ways to revitalize our activity. The number one priority is to be an enthusiastic participant, and a proud ambassador.
Dance with enthusiasm .Consider yourself improperly attired if you are not wearing a smile. Smiles are contagious and rapidly spread into every corner. Help make every evening a joyful one for all.
Help with the club chores . Participate in the ongoing chores associated with a club. Make it an instinctive action to help move chairs, set up refreshment tables, assist the caller/cuer with moving equipment. Take your turn at Executive positions if possible. Remember that many hands make light work. Also too few hands make a burden too heavy to carry.
Support the extended family . Your clubs and Associations need your input to improve the local dance scene. The province needs your involvement in planning Festivals and coordinating special dances. Support the National Society by attending the biannual Canadian National Festivals.
Take advantage of the wide world of Square Dancing . Always make a point to greet and socialize with guests. Visit other clubs and you will find that they are just as much fun to dance with as your own club. Dance to other callers to broaden your experience and improve your dancing skills. Find new friends in far away places by attending a square dance whenever you travel.
Show your pride in Square Dancing . Take pride in your club, your association, your provincial federation, your national society, and your international activity. Be interested and involved in the square and round dance activity at all levels. This is a truly incredible organization with its opportunities to share the joy of dancing with others from different clubs, regions, provinces, and countries.
---
(Return to Home Index)