BETWEEN TIPS
"BETWEEN TIPS" is the official bulletin of the
SQUARE & ROUND DANCE FEDERATION OF NOVA SCOTIA
Bob Ruohoniemi, Editor, 6939 Hwy 1 Ardoise, RR 1 Ellershouse, NS B0N 1L0
phone (902) 757-3884 email: bobruoho@ns.sympatico.ca www.squaredance.ns.ca
JUNE 2009 -- NUMBER 152
(Back Issues) (Return to Home Index)
---
This BT has news from: YOUR Federation, Festival 2009, FESTIVAL 2010, METRO, Sunrise Squares, and Town & Country Dancers. Hope all have a great summer and return for the new season!
---
Remember the 50+EXPO on 12/13 June 2009. Please contact Don & Carol Scott to volunteer to dance. Call 865-5780 or email Don and Carol (dwscott@ns.sympatico.ca). Dancers in Traditional Dress gain free admission to the Expo.
The Spring meeting of your provincial Federation was held on 2 May. The search continues to find a NS volunteer to respond to the Canadian 1-800 Square Dance telephone number. Anyone who has high-speed internet and the time to answer incoming phone calls inquiring about square dance activities is capable of performing this job. If interested, contact Bob & Inge Ruohoniemi, 757-338, or bobruoho@ns.sympatico.ca
The Federation Treasurer, Russ Trimper, has made arrangements for Federation dancers to make use of the NS Healthy Living Tax Incentive. The details of this program are provided below:
As part of the newly expanded program, the Healthy Living Tax Incentive will be extended to include Nova Scotians of all ages, encouraging adults and children to participate in a healthier lifestyle through fitness. The healthy living incentive provides a tax credit of up to $500 per person to help with the cost of registering for sport or recreation activities that offer health benefits. It is a tax credit not a tax rebate. A tax credit is a reduction against income tax. A person who claims the maximum of $500.00 can expect a tax reduction of $43.95. This amount will be deducted from your provincial income tax, much the same way your charitable donations are deducted.
Adults and children enrolling with an eligible sport and recreation organization in 2009 must keep registration tax receipts to claim the credit on their 2009 tax return. Only receipts from those sport and recreation groups who have registered with the Department of Health Promotion and Protection are eligible. Receipts submitted with your 2009 taxes must be dated on or after January 1, 2009 for an adult to benefit from the newly expanded program and receive the credit.
The Square and Round Dance Federation of Nova Scotia is registered under the Healthy Living Tax Incentive for the 2009 calendar year. Each Square & Round Dance club that is a member of the Federation is automatically included in that registration.
Individual clubs should issue dancers a receipt to cover their dues for the 2009 dancing year. The receipts should include the club name, amount of dues paid, and date of payment. In the event of an audit, each club should maintain satisfactory records to substantiate the receipts issued.
The Stardusters Club held a Pie Night Fund-raiser for FESTIVAL 2010 on 21 May with many of the F2010 Committee volunteers in attendance.
At the Federation meeting it was regretfully reported that after 42 years, the Scotia Dancers club will be closing. A final FREE Windup Dance will be held on 3 October at the Sackville Heights CC, Lower Sackville, NS (check the Calendar of Events).
The Federation Representative to Dance Nova Scotia (DANS), Cathy Langille, has completed her term. The Federation needs a volunteer to serve on the DANS Board of Directors to represent the interests of the NS Square & Round Dancers and Leaders. Anyone interested should contact the Federation Presidents: Ralph & Barb MacDonald, 783-2731, or ralph.macdonald@ns.sympatico.ca
---
Festival 2009, taking place on July 24 & 25, 2009 at the Old Orchard Inn, will soon be here. There have been reports that when some dancers have tried to make reservations, they have been told the "Old O" is full. This is NOT the case for the FESTIVAL 2009 Block of rooms. Those rooms can only be reserved by telephone at: 1 800-561-8090. When calling, identify yourself as a member of the "Square Dance Federation of NS". Dancers should call soon before the block booking ends. The Inn shows full only when trying to reserve via the webpage address.
See the latest (orange) poster listing the large number of Callers & Cuers who will be on staff. Furthermore, Mary's Islanders will be performing during the Festival, and there may also be another presentation of the hugely successful F2010 Demo. The square dance apparel shop, Dancer's Duds & Frills from PEI will be present.
---
If you haven't done so already, check the Festival Web Site: Go to www.squaredance.ns.ca and click on the "2010 box".
Planning continues for the 17th Canadian National Square Dance Convention (FESTIVAL 2010). The monthly meetings have completed plans for fund raising raffles at both the Provincial Festival 2009 and at the main event itself. The prizes are "awesome"!
Ideas for the Souvenir Booklet are being reviewed. Any readers interested in helping to compile and/or edit the Booklet would be welcomed.
It has been confirmed that there will be wheelchair dancers at F2010. Arrangements are being made for them.
All who have registered will soon be receiving a newsletter with up-to-date information.
Readers with an interest in helping with any of the above activities are encouraged to contact Dottie Welch (435-4544 or dwelch@ap.stmarys.ca) or Bob Ruohoniemi (757-3884 or bobruoho@ns.sympatico.ca).
---
The METRO Association Heart Dance was successfully held on 17 April with a good turnout and a collection of $575 for the NS Heart & Stroke Foundation.
The METRO Association Summer dances will begin on 4 June with a fund-raiser for F2010. For more information, consult the Federation Summer Dancing Brochure or click on the Summer Dancing button on the Federation home page.
A special demo performance will take place on Canada Day at the Grand Parade in Halifax. Come and wear patriotic red for our National Celebration.
On Halifax Natal Day, dancers are invited to dance at the MacDonald Bridge and on the parade float.
---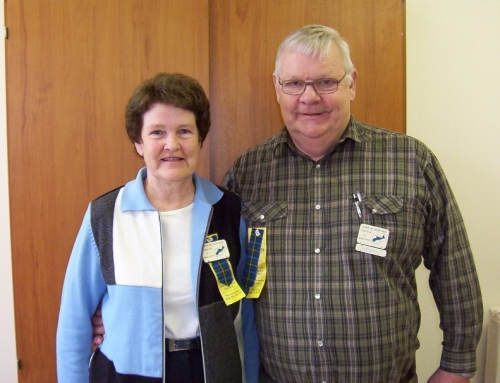 Barb and Ralph began square dancing in Sherbrooke in the late 1970s with the St. Mary's Belles and Beaus with caller Cecil Smith. The club ceased operation after five seasons. They joined the Mapleleaf Whirlaways in Antigonish in 1986 when Jack MacArthur started the club, and have danced with it continuously since then.
Their interest in calling came from their over-twenty-year involvement in teaching 4-H members in Antigonish, Guysborough, Pictou and Inverness Counties to square dance and participate in provincial competitions. They are presently the club callers for Mapleleaf Whirlaways and Bluenose RV Squares.
Since their first AGM in 1987 Barb and Ralph have continuously held positions on the provincial executive, including Regional Representative, Secretary-Treasurer, Secretary, Publicity Committee Reps, Nova Scotia Director on the Canadian Square and Round Dance Federation (2000 – 2006), Vice President and currently, President. They have also been active in ANSSRDT and MCCA and currently are ANSSRDT Square Dance Coordinators.
---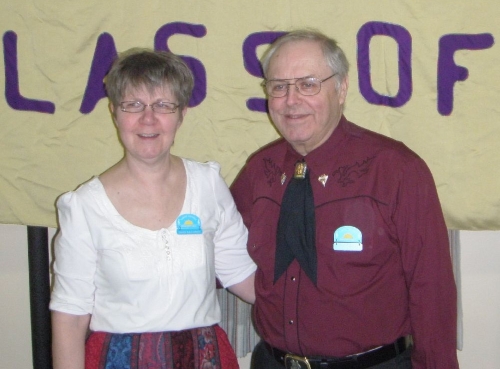 Sunrise Squares started the year with the graduation of Carol Plomp & Allan Mader. This was a good start to a very good year. We also welcomed Bill & Judy Somers and David & Marion Oickle as new members to our club.
In February we enjoyed Dancing at the Ridgewood home for seniors. A good time was had by all. Sunrise Squares enjoyed our Christmas Dance, with good music and good friends. Our annual New Years Frolic had to be canceled due to a snowstorm. Hopefully the weather will cooperate next year.
Once again our Hawaiian-themed "Honolulu Hoedown" was a big success with lots of good friends from away in attendance. We also saw an unusual occurrence this season with a second graduation. The ceremony took place on April 17, 2009. Jim & Sandi McCorry (shown above) looked very happy at this occasion. The club members accepted them with open arms.
The Lunenburg Municipal Recreation Department will hold a Dance Extravaganza May 2nd at the Bridgewater YMCA. The program will showcase different dance groups here on the South Shore and in surrounding areas. In the absence of our Caller we will have a display & information booth in an effort to promote our activity. New Dancers would certainly make things a bit easier as we struggle with declining numbers. All in all, however, we have had a successful season with good calling by our Caller, Neil Dorey, and enjoyable squares filled with our Members and Friends. We are still dancing!
Submitted by Hazel Hebb
Sunrise Squares : Historian
---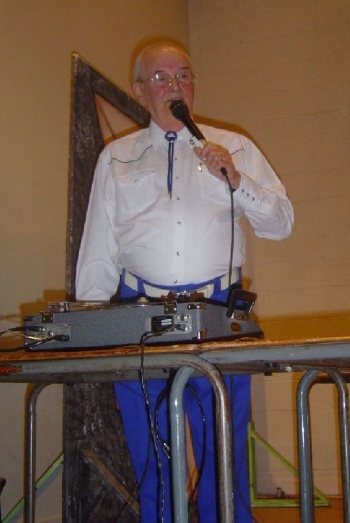 From around Nova Scotia, and as far afield as Cairo, Egypt, one hundred ten current and former members and friends of the Town & Country Dancers, one of the many modern square dance clubs in Canada, gathered in Christ Church Hall in Sydney to honour their caller, Tom and Gwen Gardner. Tom and Gwen have contributed to the advancement and enjoyment of Modern Western Square Dancing on Cape Breton Island. On this occasion Tom is hanging up his microphone and retiring after 29 years of dedicated service. Messages of good wishes were received from those who could not attend, from as far away as Victoria, BC. Assisting Mr. Gardner with the closing festivities were the new callers for the club, Lionel Parsons and Gary Jones, Ada Kehoe, the founding caller of the Town & Country Dancers, round dance cuers Wendell & Bev Carroll, and Jack MacArthur, retired caller from the Hub Trackers Club. Presentations were made to the Gardners by the Club, by Lionel & Shannon Parsons representing the Square and Round Dance Federation of Nova Scotia, and by Laurence & Alice Harrison representing the Canadian National Square and Round Dance Society.
Submitted by Evanel & Lloyd McEwen, Town and Country Dancers.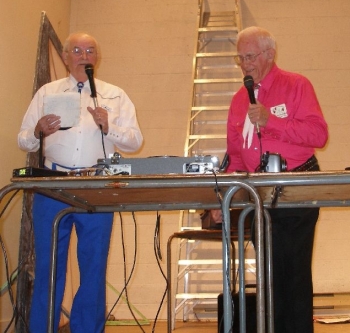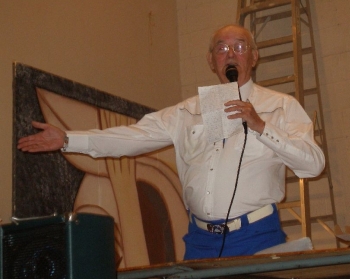 Above: Tom and Jack. Right: Tom in an expansive moment.

Below from left: Lionel, Tom, Wendell, Jack, Gary.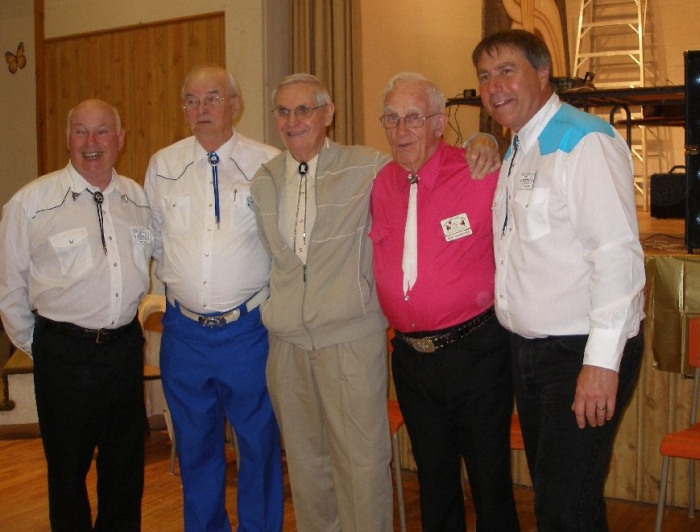 ---
---
(Return to Home Index)