BETWEEN TIPS
"BETWEEN TIPS" is the official bulletin of the
SQUARE & ROUND DANCE FEDERATION OF NOVA SCOTIA
Bob Ruohoniemi, Editor, 6939 Hwy 1 Ardoise, RR 1 Ellershouse, NS B0N 1L0
phone (902) 757-3884 email: bobruoho@ns.sympatico.ca www.squaredance.ns.ca
SEPTEMBER 2009 -- NUMBER 153
(Back Issues) (Return to Home Index)
---
This BT has news from: YOUR Federation, METRO, FESTIVAL 2010, and Regional Reports.
---
The 50+EXPO Report
On Friday, Dottie Welch called for the Federation's demonstration dance sessions at the Halifax Exhibition Park. Participants came from the Valley Region, South Shore and Metro (the Central Region). We danced intermittently all day to the enjoyment of the crowds. On Saturday, Barry Bendle and Bruce Savage arrived to do the calling. Unfortunately, Barry got sick and had to leave, but Bruce stayed to call. The numbers of both dancers and spectators were down on Saturday. Gary and Susan Lucas joined us in the morning and stayed for the day to help out at our display booth. More people arrived later in the day, and we were able to dance during the afternoon. The Saturday sessions included dancers from the Valley region, South Shore, and the Metro area; we were also joined by a couple from Sackville New Brunswick. Throughout the two day event, we were reacquainted with old friends who once participated in the activity. Several people stopped by the booth to pick up information on square and round dancing and expressed interest in learning how to square dance.
Submitted by Don and Carol J. Scott, 50+ Expo Chair.
FESTIVAL 2009
The Summer meeting of the Federation Board of Directors was held on 26 July at the Old Orchard Inn, following FESTIVAL 2009. The Directors were very pleased with that event. Most Halls were filled, with close to 20 squares of happy dancers in attendance! It is anticipated that the weekend will generate a substantial sum of money for next summer's NATIONAL FESTIVAL 2010 in Halifax. Highlights included the beautiful and extensive Archives display prepared by Clara & Harold Redden, and a spectacular performance by Mary's Islanders Dance Troupe which was awarded a "standing O" by the audience! It was announced that the Troupe has been invited to perform in Cuba.
For more pictures from the Festival weekend go to the Federation home page and click on the "Provincial Festival 2009" button in the table of "Federation Publications & Activities".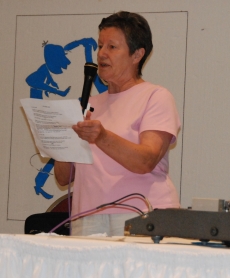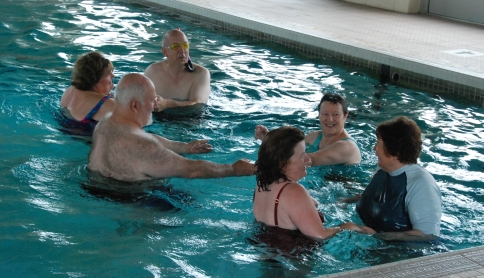 Left: The only stout heart at the Goofer's Session: Inge Ruohoniemi. Right: 6/8 of a full square earns their Duck Badges on Saturday morning to the delight of onlookers.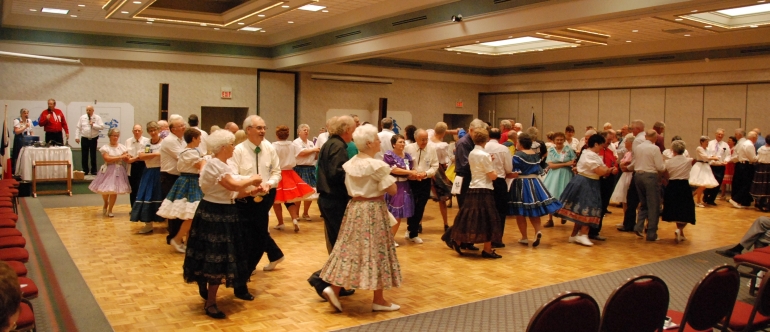 A full floor of happy dancers on Saturday night
ANNUAL GENERAL MEETING
Readers should be aware that the Annual General Meeting (AGM) of the Nova Scotia Federation, will be held on Saturday, 17 October at the North Woodside Community Centre, 230 Pleasant St., Dartmouth, NS. Registration begins at 1:30 and the meeting starts at 2:00 p.m. All NS dancers & leaders are welcome to attend and help decide the future of our activity. In particular, each club should have a voting delegate in attendance.
YOU CAN HELP
The Federation (SRDFNS) Board needs the following positions filled by volunteers:
---
NEWS FROM THE METRO ASSOCIATION
The Annual General Meeting(AGM) of METRO will be held on Sunday, 27 September at the Sackville Heights, Community Centre, Lower Sackville at 6:00 p.m. All METRO Club Reps. should be there!
---
For more info on the Festival go to www.squaredance.ns.ca and click on 2010.
The F2010 Raffle ticket sales have begun, so everyone gets a chance to win one or more of the three prizes. The three raffles are for a queen size quilt, a hand carved wooden trout, and a Nova Scotia Tartain wreath. If readers would like to sell F2010 raffle tickets, they should contact Laurie Naugler at 455-1192 or lfnaugler@ns.sympatico.ca
The F2010 demonstration squares put on a fine performance at F2009, which was held at Old Orchard Inn during 24,25 July. There may be more opportunities for them to perform later this year.
Square Dance shops from across Canada have been invited to participate in Festival 2010. Advertising to Canadian, US, and other countries continues. Invitations have been sent to VIPs to attend the Opening and Closing Ceremonies. Work continues on the Souvenir Program, the ribbons, badges, and other important items.
Registrations continue to arrive, but there are only approximately 100 Nova Scotia dancers registered out of a possible 600-plus. Planning is very difficult without the funding to go along with it and the funding comes from registrations. There are periodic payments to the WTCC and Metro Centre, printing expenses, postage, advertising costs, badge production, and other expenses. So with that in mind, readers are asked to please impress upon your friends the need to register. Remember, your Federation is hosting this Convention and that, in fact, makes it your Convention. Thanks to all those dancers registered to date.
---
The local square dance club in the Amherst area concluded this years' activities with their final dance and a 35th anniversary reunion on May 12, 2009 at the Experimental Farm Pavilion. President couple Gerry & Marion McLellan and their various committees did an excellent job in organizing this gala event. The club was visited by 85 of its previous members and their guests, as well as several callers and cuers who served the club in various capacities over the 35 years. Thank you to all for joining us and making our reunion such a success.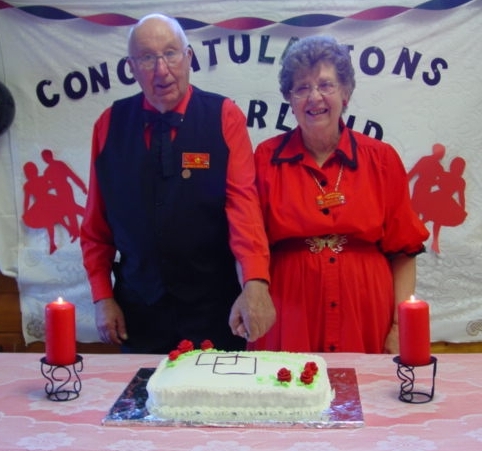 Club social committee members Sid & Eileen Glennie and Jack & Myrna Proctor arranged an excellent cold plate meal with desserts, coffee and tea which were served by the men of the club. The anniversary cake was cut by Laurence & Alice Harrison (at left); the club's senior dancing couple. After the meal several of the tables were cleared away to make room for dancing. There was great dancing and lots of fun for couples who haven't danced for quite a while.
Laurence & Alice Harrison presented a history of the club. Harold & Diane Miller, the first president couple, reminisced about the beginning of the club in the area, Al & Norma Mills' major contribution to its formation, and also acknowledged the presence of previous callers and cuers. Thank you all for your contributions to our present-day club.
Not to be outdone by the fabulous food Audrey & Orman Boss, the entertainment committee, apparently went to great lengths to obtain several of Cumberland County's next top models who provided excellent entertainment - a look at square dance attire past, present and future. Thanks to Ken & Fran Eagles, our present caller couple and congratulations to Bertha DesBarres who won the 50/50 draw.
Submitted by: Marylin Desbarres
---
12 Sept. - CUMBERLAND TWIRLERS Blueberry Dance, Amherst Regional HS, 190 Willow St., Amherst, NS
3 Oct. - SCOTIA DANCERS Windup Dance, Sackville Heights CC., Lower Sackville, NS
17 Oct. – LAKE CITY SWINGERS, Swing into Fall Dance, North Woodside CC., 230 Pleasant St., Dartmouth, NS
6,7 Nov. - MCCA's 40th Maritime Square and Round Dance Convention. Fredericton Inn, Fredericton, NB.
Check the current incarnation of The Calendar of Events for a more complete list of upcoming dances.
---
(Return to Home Index)