BETWEEN TIPS
"BETWEEN TIPS" is the official bulletin of the
SQUARE & ROUND DANCE FEDERATION OF NOVA SCOTIA
Bob Ruohoniemi, Editor, 6939 Hwy 1 Ardoise, RR 1 Ellershouse, NS B0N 1L0
phone (902) 757-3884 email: bobruoho@ns.sympatico.ca www.squaredance.ns.ca
NOVEMBER 2009 -- NUMBER 154
(Back Issues) (Return to Home Index)
---
This BT has news from: YOUR Federation, FESTIVAL 2010, Regional happenings, and a successful publicity effort from Ontario dancers.
Regretably, the Editor since March 2005 has resigned and a new one has not yet been found. The search continues, but if no one volunteers this may be the last printed issue of Between Tips! If a new editor is found, contact information will be passed to all clubs and subscribers.
******************************************************************************************************
Fortunately, Marion McLellan, Fundy Region Representative to the Federation, has stepped forward to volunteer to prepare the Federation meeting reports for this edition & for the Federation Webpage www.squaredance.ns.ca
Bob Ruohoniemi continues to advance our activity through his work as Executive Vice-chair Marketing for Halifax Festival 2010, and as our representative to the National Society. The growing burden of Festival 2010 planning has forced Bob to relinquish his position as Between Tips Editor. Job well done, Bob!
---
Festival 2010:
Registrations
Planning for Halifax National Festival continues with Board members & committees giving 100%. It is discouraging to see how slow registrations, and in particular NS registrations, have been coming in – approximately 600 dancers in total are registered to date. Comparing Hotel registration numbers with those for the Festival itself indicates that a lot of unregistered dancers are planning to attend. With that information, and knowing approximate numbers of dancers in a couple of 'groups' (one from Japan), organizers are confident that the actual number now committed to attend the Festival is about 800. In contrast, 1300 registrations are needed to break even, so you see why your registration is critical.
New refund cancellation policy
Until February 28, 2010 refunds minus an administration fee of $5/person (previously 20% registration fee) will be given for cancellations received in writing. After February, refunds of cancellations for extenuating circumstances will be considered on an individual basis.
Here are a few major expenses we are facing:
rental of Metro & WTCC Centres: $64,760 + HST
click flooring: $5,500 to $7,500 US
water for 3 days: $2,500 minimum
There is also the cost for the production of Festival badges & Halifax bars, registration, spectator & host ribbons; printing costs for newsletter, registration forms, souvenir books, round & clogging syllabus. Many of these items must be paid for before the event. Without sufficient pre-registration funds, this becomes a difficult task.
Fund Raising Efforts
Clubs have been requested to organize fund raisers – a few have complied. If you are not one of them, time is getting short. Remember that support for Festival 2010 was given by NS clubs prior to the bid by the NS Federation (at least 4 years ago).
The Bluenose RV Squares is to be complimented for collecting recipes from NS club members, processing, proof reading, and submitting them for printing. The Cookbook has been a great success with approximately 125 out of 1000 left for sale; additional copies will be ordered if sales deemed possible. (440 recipes for a $10 investment – make great Christmas / other gifts).
The Federation sponsored the Festival 2009 in July as a fund raiser. Cumberland Twirlers have had auctions, raffles, bake sales and ongoing weekly 50/50 draws – by May 2010 they will have turned over approx $1,000 to the Festival 2010 organizing committee. Grant applications have been submitted to the Provincial Government, but have not been approved to date.
Three raffles are currently taking place: [1] Queen size quilt (made and donated by Valley quilter dancers, this is definitely going to return great results), [2] A hand carved and mounted trout (beautifully carved and donated by Al Durham, Bluenose RV Squares), [3] NS tartan wreath. Draw date is the Convention closing on July 31st.
F2010 Volunteers and Participants Needed
Can you help during any of the following times?
Wed morning (July 28th) workers are needed for set up – decorating, installing flooring, etc.
Wed afternoon – people needed to help at registration desk.
Thursday - more workers needed for shifts at the registration desk and in the operations centre.
If possible, plan to arrive in Halifax on Wednesday to assist with the set up and be ready to participate in the following opening events.
Wed. night 7:30 - Trail-in Dance at Metro Centre, casual dress
Thursday morning 9 am – muster for the Banner Parade in club or provincial dress and carrying your club banner.
Thursday evening 7 pm – Opening Ceremonies
At the end of the opening ceremony all Nova Scotian dancers wearing NS tartan are requested to march onto the arena floor from a designated seating area. Once there they will participate in a simple ceremony inviting all dancers from outside NS to join them for the opening dance. Please let us know if you plan to participate.
Extra volunteers - individuals or entire clubs - are needed for all aspects of this Convention. Additionally, a volunteer from Nova Scotia is needed to take over responsibility for the Canadian Square Dance toll-free number 1-866-206-6696 until the end of Festival 2010.
For further information or offer your help, contact:
Dottie & Gary Welch (902) 435-4544, or dwelch@ap.stmarys.ca
Bob & Inge Ruohoniemi (902) 757-3884, or bobruoho@ns.sympatico.ca
50+ Expo
It was decided to drop our involvement in 50+ Expo for a few years; marketing from this exposure does not appear to attract new dancers to our clubs. Budget will be used for an alternate form of square & round dance promotion; details to be decided at a later meeting.
Web site
Gary Welch is doing a great job at keeping Federation web site current, but he needs your help:
Those we fondly remember – please advise Gary of any current or former dancers who have passed away. He needs name, date of death & name(s) of clubs that dancer attended.
Review your club information on the web site to ensure it is current – e.g., regular dance day, place, name of Caller/Cuer
Send digital images and accompanying short descriptions of your recent special event. They will form part of an occasional electronic newsletter, which will replace Between Tips.
ANNSRDT (Association of Nova Scotia Square & Round Dance Teachers)
Meetings & workshops held in April and September; next meeting scheduled for April 17, 2010. Alex Ritchie was granted Honorary Life Membership. (see ANSSRDT Newsletter on web for more details).
Alguire Memorial Callers School was held during the last week of August with teachers Barry & Pam Clasper from Ontario, assisted by Nova Scotians Kerry Fletcher and Dottie Welch. Seven leaders (4 NS, 1 PEI, 1 NB and 1 ON) completed the school.
CALLERLAB
The international organization of square dance callers held its convention held April 5-8, 2009 in Kansas City, Missouri. A new Mainstream Teaching Order has been approved; the triennial program review was completed with no changes to Mainstream or Plus. The Any-Hand Concept has been moved from the preface to the list at A-1. Next Convention March 28-31, 2010 in Niagara Falls, NY
MCCA
The Maritime leaders organization held a workshop weekend in Amherst June 13-14, 2009. The annual Convention will be held at Fredericton Inn Nov. 6 & 7. Most rooms have carpet so be prepared with appropriate shoes. Tasteful casual attire is acceptable during morning and afternoon sessions. Please wear NS tartan when possible.
Canadian Square and Round Dance Society
Bob & Inge Ruohoniemi, NS Directors of CSRDS, took part in three teleconference board meetings during 2009 and attended the Society AGM in Winnipeg in September. Results of last year's membership census are Nova Scotia: 30 Clubs, 4 Associations, 41 Leaders and 689 dancers, Canada: 57 Federations, 433 Clubs, 481 Leaders and 13,200 dancers.
After receiving 2 bursaries (at $500 max/yr), leaders will have to wait 3 years before applying again.
A bid for a convention in 2012 has not been received. Ontario will be bidding for 2014.
The Society recommends that a record of attendance be kept by all clubs, Associations, Federations at any function. In the event of an accident and resulting legal action, that information is vital.
Clubs
It seems that all clubs are struggling with attracting new dancers; Highland region has 2 new couples and 1 single, 1 returning couple and 2 couples graduating in spring.
Scotia Dancers of Central Region have closed after 42 years dancing; a final dance was held October 3rd.
In the Central Region, the Timberlea Twirlers, Fun Time Rounds, Lake City Swingers, Stardusters, Dice Hill Squares, Fun Squares, and Contra Time Dancers have their new dance years organized.
Cumberland Twirlers of Fundy Region held a 35th Anniversary Reunion in May with 85 previous graduates and/or members joining 40 current members for an evening of fun and dancing. One previous member returned this fall.
Clubs in the Valley Region are going strong; several of them had benefit dances throughout last year, and achieved great results for a number of worthwhile causes. Club members have made special mention of the hard work & sacrifice of Valley Callers/Cuers in support their recreation. Hats off to all Callers and Cuers, who make a big sacrifice for our entertainment, but don't forget the spouses who 'sit out' these nights we are having fun.
A 'Members at Large' designation has been formed for dancers who live at least 50 km from an existing club but wish to attend dances at random. Registration fee is $10/person for Society membership & Insurance coverage. Membership card will be issued by the Federation. The matter of issuing an appropriate name tag is under consideration.
Nomination & Election of Officers
President
Ralph & Barb MacDonald
Vice President
Don & Verna Ward
Past President
Ralph & Valerie Brown
Secretary
Gail & Bob Davis
Treasurer
Russell & Mary Trimper
Finance
Marion & Gerry McLellan
Publicity
vacant for the third year
Between Tips Editor
vacant
Awards
Don & Carol Scott
Publications
John & Lynda Reid
Webmaster
Gary Welch
Historical Archivist
Clara & Harold Redden
Parade Trailer
Harold & Clara Redden
NS National Society Rep
Bob & Inge Ruohoniemi
DANS Rep
Gerry McLellan (temporary)
ANSSRDT Liaison
Dottie & Gary Welch
Regional Reps
Central
Don & Carol Scott
alt: Barry & Dyanna Bendle
Valley
Bill & Gertude Oldford
alt: Al & Corinne McNabb
South Shore
Gerry & Irleen McKiel
alt: Dan & Jeanette Burke
Fundy
Gerry & Marion McLellan
Cape Breton
Lionel & Shannon Parsons
Highland
Ralph & Barb MacDonald
Future Meetings
Date & location of next Executive meeting: Jan 30, 2010 Sobeys, Greenwood.
Date & location of next AGM : Oct 16, 2010, North Woodside Community Centre, Dartmouth.
Submitted by Marion & Gerry McLellan
---
The Dickinson's contribution to the square and round dance movement far exceeds that of most participants. After graduating from the Cumberland Twirler's Square dance club in 1978 they became very active and traveled to all the local dances in the Maritimes. They wanted to learn to round dance. There being no round dance club in Amherst, they traveled to Moncton to join a class, Meri Lites, with instructors Ron and Vi Walker graduating in 1981. Meanwhile, John Essex had introduced round dancing to a few couples in Sackville and Amherst. When he and Fran returned to Metro, John and Beth were persuaded to come in and demonstrate some of the moves. They were not teachers at the time, but they had traveled to Moncton for a few years taking classes. They began using tapes but discovered this method was not very satisfactory so with the help of Al Mills, and the encouragement and support of John Essex, the NB/NS Border Rounders Club was formed and graduated its first class of 11 couples in 1984. Twenty-five years later their club is still active with a new class most years & an advanced group which dances phases I to IV.
In 1982 the Dickinsons joined Charlie's Angels Round Dance club and became leaders following the retirement of Charlie and Rolla in 1996. The Rosses always encouraged John & Beth to cue and were a great help to them when they began with the Border Rounders club in Nappan.
From the very beginning John & Beth attended the Provincial Federation meetings and later joined the Executive. They were ANSSRDT (Association of Nova Scotia Square and Round Dance Teachers) representatives for several years and later Publicity Chair. They were representatives from the Border Rounders on the two Fundy Region Festivals, cued at both events, and were responsible for organizing the Round Dance program at the second of the two.
At the present time John & Beth are vice-presidents of MCCA (Maritime Callers and Cuers Association) as well as Round Dance Co-Coordinators. They are always involved in the organization of the fall MCCA Conventions, as well as the round dance program, and at one of the Conventions organized a great Fashion Show. They are also members of RDLANB (Round Dance Leaders Association of New Brunswick.)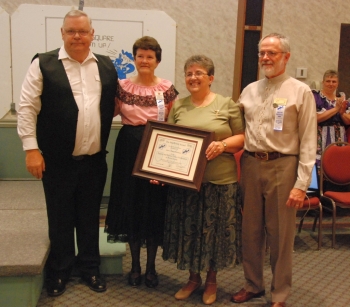 Beth & John have attended the majority of National Conventions and always contribute to the round dance program. In 1992 they chaired a very successful demo in Winnipeg to promote Convention '94 in Halifax.
For the past twelve years Beth & John have traveled to Moncton twice a week to teach rounds, in addition to their once a week double session in Nappan. They have presented round dance demos in malls or church halls in an effort to attract new dancers. They always encourage dancers to support other clubs' dance parties. Twice a year they organize Special Dances in Amherst in addition to their work in NB. Beth is often the Guest Cuer at Special Dances in both NS and NB.
Beth is an excellent teacher who always has a well-prepared program and John is a great support person. Together they make an effective team. In recognition of their fine work they have been awarded the Distinguished Service Award from the NB Federation.
---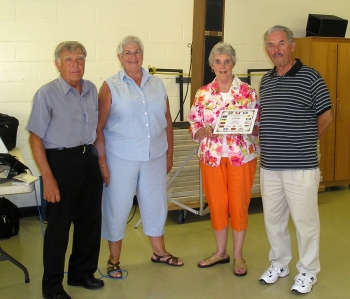 On behalf of the Canadian Square and Round Dance Society, Wayne & Diane Burns, F2010 Chaircouple, presented a certificate to honor their 50th Wedding Anniversary. Jim & Pat are from Dartmouth, Nova Scotia where they have lived all their life. They have two children, four grandchildren and one great grandchild. Jim is retired from the Dartmouth Fire Department and Pat is still working as a school bus driver in Dartmouth. Jim & Pat are members of the Stardusters and are very active in their club and also in the Metro Association. Congratulations Jim & Pat and may you have many more happy years together.
---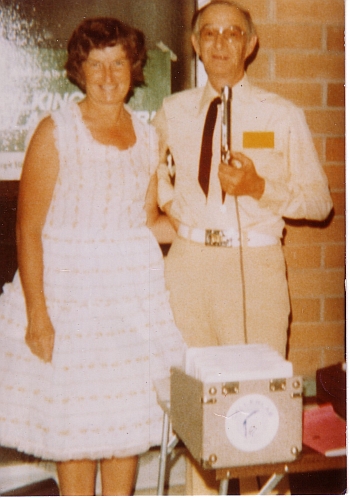 The Scotia Dancers club held a final dance after 42 years of dedicated fun and friendship. The club was created by combining the Happy Whirlers and Merry Millers as a Modern or Western style club with the first Presidents, Norman and Myrtle Sellars. In 1978, the Scotia Dancers were taken over by Jim and Pat Alquire, until Jim's death in 1993. With some help from Metro callers, the Scotia Dancers enjoyed the calling of Pat Alquire until 2004. The last few years saw Pat Matheson and Bruce Savage serving the club as callers. The club membership varied from a high of 9 squares to the final strength of 9 dancers. The member of longest standing is Edna Myers, who has been a staunch supporter since 1972! Despite valiant attempts to recruit new dancers from the Lower Sackville and Bedford areas of Halifax over the last two years, the number of dancers attending weekly club nights just did not justify continuing. It is hoped that this trend in the province will not continue!
LEFT: Founding club caller Vern Carmichel and spouse Mildred.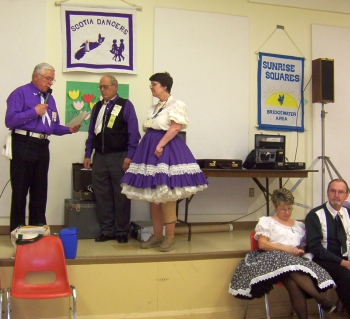 Many past Scotia Dancers attended the club's final dance on 3 October 2009 (see photos below). Between tips, guests enjoyed leafing through several thick binders of photos from the club's long history.
RIGHT: Don and Carol Scott, last presidents of Scotia Dancers, are shown in 2007 receiving their 40th anniversary certificate.
Below are two photos from the Scotia Dancers' final dance.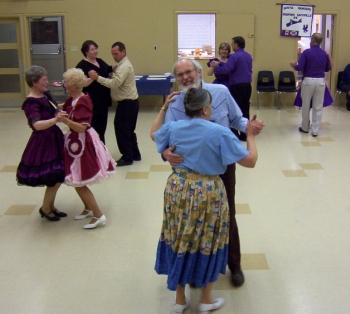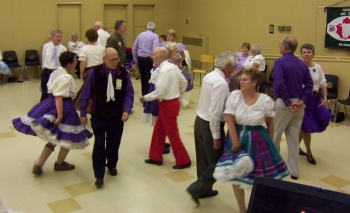 ---
MODERN SQUARE AND ROUND DANCING
Strathroy Square and Round Dance Club (Swinging Duos) in Ontario planned a newspaper campaign with their local newspaper, "The Age Dispatch" with great success. These articles are what is needed to add synergy to the Canadian Square & Round Dance public service announcement shown on cable television across Canada. Some would say there is nothing new in these articles, but there is! The authors clearly spell out in a series of three installments exactly what square dancing has to offer to their friends and neighbours. They have kindly agreed to share these articles with you in the hope that you too will experience a surge in new dancers.
Article Number One
If you wish to keep fit the easy way, try Modern Square and Round Dancing! No special skills are necessary and it is not a competitive recreation. If you can walk, you can square dance. If you can smile as well, you'll love it! Square dancing involves a "set" of eight people moving to directions given by the caller. Round dancing is couple dancing in a circle formation responding to "cues" given by the cuer. Anyone can learn. There is no age limit to enjoy square or round dancing. If you enjoy walking for pleasure, then you will really enjoy square dancing. It is like walking to music. It's great fun and good exercise. It's mentally stimulating, the music is good, and we laugh a lot. No experience is necessary and two left feet are fine!
Article Number Two
Modern Square and Round Dancing is for the average couple who enjoy meeting new people and share a common interest in music and friendship. The fun starts on your very first night. You meet new people and make new friends. Modern square dancing is a challenge. It is dancing, thinking and teamwork. Moving in rhythm to music keeps you physically fit. Reacting quickly to the square dance calls keeps you mentally on your toes. It is a worldwide activity that combines mental and physical exercise in a great social format.
Article Number Three
Modern Square and Round Dancing is enjoyed throughout Canada, USA and 50 countries worldwide. It provides Fun, Fitness and Good times in a healthy environment with new music from Golden Oldies to Elvis to today's Hot New Country! Modern Square Dancing is an activity where couples can do something together and it helps reduce stress and tension. It is recommended by the Heart and Stroke foundation as a viable form of exercise that can reduce your risk of Heart and Stroke disease. Modern square dancing is reported to improve cholesterol profiles, strengthen bones, and prevent or slow osteoporosis. New dancers usually wear casual clothing and soft soled shoes. Prairie skirts are popular with the ladies. Men are encouraged to wear long sleeves. Singles are also welcome as they can pair up to form a couple.
---
(Return to Home Index)