I ask you, dear reader, to occasionally send a short summary of recent events in your part of the Nova Scotia square and round dance world. Images are welcome; I will edit as needed. Send your contributions to the address shown below.
News from Dice Hill Squares
Pictures kindly provided by Bob Ruohoniemi
The Dice Hill Squares wound up the 2009-10 season with their traditional Mulberry Dance on Thursday, 20 May 2010. Since the weather is two weeks ahead of the normal, there were no more Mulberry blossoms available to display at the dance! This did not interfere with the fun enjoyed by the attendees!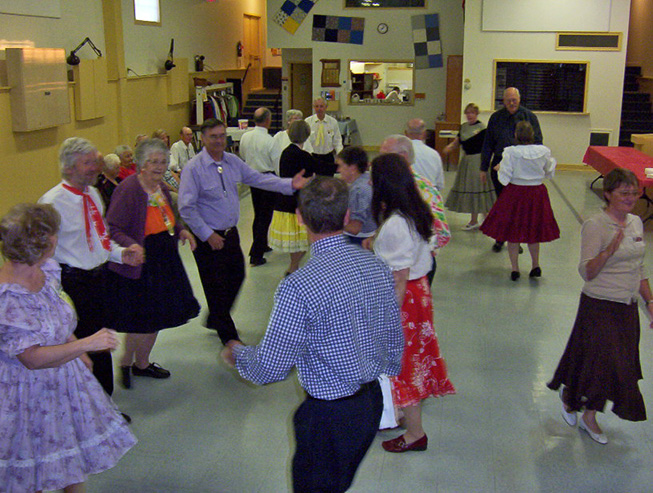 The club Caller, Bruce Savage, provided an entertaining evening of both Square & basic Rounds dances with all singing calls. There were ample opportunities to socialize and review the season's dances. The club photo album provided the evidence of another successful season.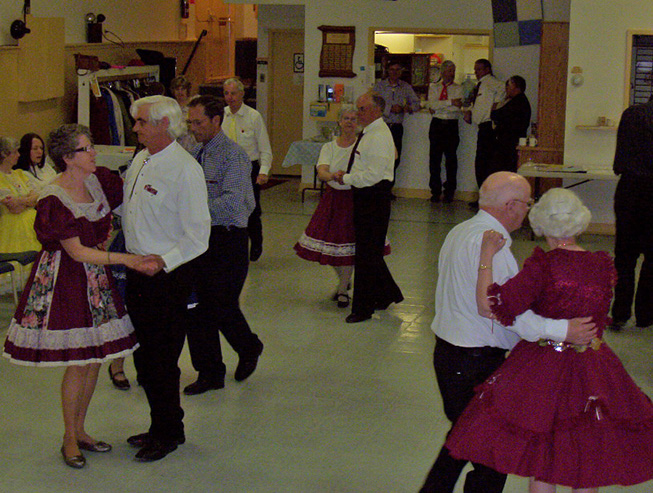 With guests from both the Valley and Halifax Regions, dancers had a chance to renew and make new friendships. One of the highlights of the evening was to have the group sing Happy Birthday for Esther Chute, who recently celebrated her 97th birthday, and has visited the Dice Hill Squares several times this year!
The evening wound up with the Friendship Ring and then enjoying the variety of home-baked pies with ice cream. With one dance per month through the summer, members plan to keep in touch and keep up their skills. They look forward to a new season beginning on Thursday, 9 September 2010 at the Ardoise Community Recreation Centre at 8pm.
Canada Day Demo Dancing in Halifax
Pictures Courtesy of Bob Ruohoniemi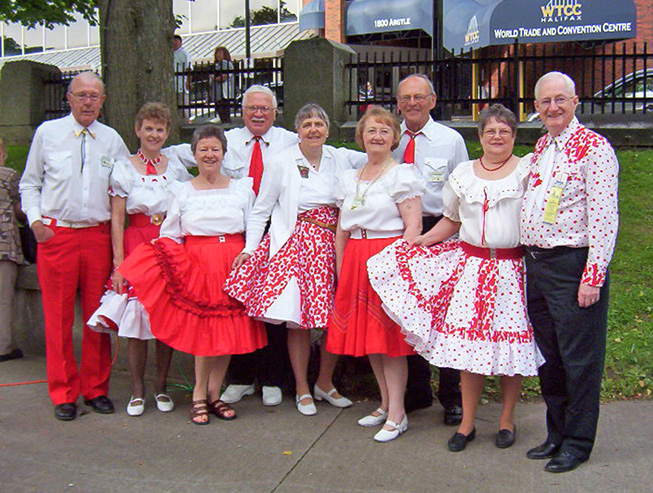 July 1 dawned warm and clear - excellent weather for strutting our stuff on the Halifax Parade Grounds. Our volunteers put on a good show for the assembled crowd. From left: Curtis and Pat Mercer, Inge and Bob Rouhoniemi, caller Dottie Welch, Joan and Don Embree, Judy and Dave Nickerson.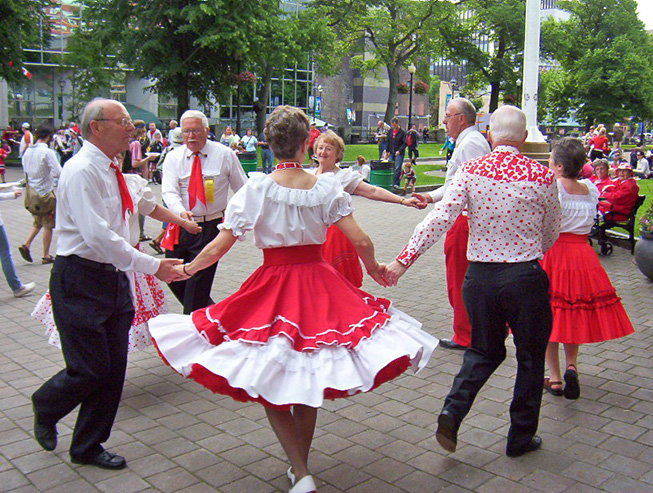 Your Federation at Work: A Synopsis of the
October 2010 Annual General Meeting
Submitted by Fundy Region Reps Gerry and Marion McLellan
Halifax National Festival July 29 – 31, 2010
The long anticipated event was carried off with great success. Many thanks go to all who assisted in many different ways, from organization to providing financial support or carrying out physical/other duties during the event. Thanks also to all those who attended the Festival and made our visitors from across North America and around the world welcome.
Final registration count was 1166 dancers (NS 190, NB 63, PEI 12); 962 Canadians, 158 Americans and 32 Japanese. England, Germany, Switzerland, and Qatar had small representations as well.
Nearly 30 squares danced at Sackville Landing on Friday & Saturday mornings giving an excellent visual presence in the city; publicity in the Chronicle Herald & CTV's "Live at 5" provided additional exposure.
As a result of all the fund raising efforts, careful budgeting, and a late registration surge, a net profit was realized, with $19,065.77 being turned over to the Federation. Major expenses included a $74,347 bill from The World Trade & Convention Centre; staging, water, ushers, Leader & VIP Reception $13,213. The National Society was paid their 15% of the Registration Fees: $19,712. A Grant received from the NS Dept of Tourism, Culture & Heritage in amount of $5,000 was returned, as required if a profit was realized.
A survey will be forwarded to all clubs requesting member feed back as to best disposition of 2010 profit. Response must be submitted to Federation by early January 2011; in the interim $15,000 has been invested.
Approximately 200 Cookbooks and 100 canvas bags (3 types) remain unsold; these will be held by Federation for future sales. Clubs are encouraged to participate in liquidating these items.
Committee Reports
Archives
After many years at the helm, Harold & Clara Redden have requested someone else take over the responsibility of sorting and storing the archives.
Parade Trailer
The trailer is stored for the winter at a cost of $100. Everyone agreed that it is now time to dispose of this liability (significant repairs are needed) and every effort will be made in the spring to sell it to an individual or organization, or to donate it to a charity. Those with suggestions for disposing of the trailer are asked to contact Harold Redden at morebuttons@eastlink.ca or 902-538-9513.
Webmaster
In response to a request from the Festival Board of Directors, Gary Welch took on the challenge of producing a video record of Festival 2010. During the Festival, Alex Ritchie and Gary recorded a large number of video clips and still images to be used for producing the 2-3 DVDs. The Federation web site will broadcast availability of the resulting movie, cost and ordering information.
Club Regional Reports
One club closure reported last year: Cobequid Twirlers, closed in January 2010 as a result of membership decline and facility availability. A few clubs still held their annual summer dances with varying degrees of success. All have reopened for the 2010/2011 season, several with new class members.
Most clubs support one or more Charity by holding special fund raisers each year.
Everyone will be glad to know that Nelson Labor has recovered from his lengthy illness and sharing calling again with Laurie Illsley for his local club, West Kings Twirlers.
Liaison Reports
CSRDS (Canadian Square & Round Dance Society)
Membership numbers for NS 2009/2010: 4 Federations & Associations, 27 Clubs, 32 Callers/Cuers and 676 dancers.
Canada wide: 56 Federations & Associations, 412 Clubs, 483 Callers/Cuers and 13,099 dancers. The Canadian membership declined by 5.5% rather than the usual 10%
.
Previous policy to have Leaders wait for 3 years after receiving 2 Bursaries before applying again, has been cancelled.
A bid for a National Convention in 2012 has not been received; Ottawa will be hosting 2014.
There were only 2 nominations for Society Awards this year. Members are encouraged to submit 2011 nominations by Feb 28th. An information message will be issued to club reps in the near future.
Society 2010 AGM
New Maritime couples accepted to the Board included:

NB Society Reps - Eric & Dianne McCormack (Bob & Inge Ruohoniemi – continue as NS Reps)
Society President - Bob Ruohoniemi
Society Vice President - Eric McCormack

Motions passed

"In any year that no National Convention is being held, teleconference meetings will be acceptable to the general membership." This will reduce the costs of holding the AGM as a face-to-face meeting.
Arrangements to permit the general membership to have input at the AGMs are being investigated.
"The square dance Federations, Associations and Clubs with teen dancers under the age of 19 years, submit their request for Society membership funding, to the CSRDS Public Relations Committee who are authorized to cover that expense." This means that teen dancers under the age of 19 will not have to pay the Society membership/insurance fee.
Members are encouraged to visit the rearranged and updated web site www.squaredance.ca
ANSSRDT (Association of Nova Scotia Square & Round Dance Teachers)
The April & Sept 2010 Newsletters can be found on the Federation web site.
ANSSRDT will host next Festival July 22–23, 2011 at Old Orchard Inn. Editor's Note: Check the Festival 2011 home page.
The 5th Biannual Alguire Memorial Callers School is scheduled for August 21-26 2011 at Elm River Park Campground. Donations to the fund may still be made through Alex Ritchie or DANS
We remember: Gloria Roth (80), founder of MCCA in 1970 and Bill Clarke (89), who danced Advanced level with wife Phyllis last year. Both passed away in 2010. They will both be remembered for their exceptional contributions to the dance community. Editor's Note: Look at Phantom Number 1 for a short biography of Gloria Roth.
Election of Officers
Following the resignation of Don & Verna Ward as Vice President couple, Ralph & Barb MacDonald agreed to continue as President couple for one more year. Dottie Welch assumed responsibility of Secretary. All other Directors/Committees remain the same.
Vacant positions include: Vice President, Publicity and Newsletter Editor. The Federation is the Provincial umbrella organization; it represents all NS Clubs. We are in urgent need of some 'new blood' on the Board, and we urge clubs/club members to become more actively involved.
Next Directors meeting – Jan 29, 2011 in Greenwood
Next AGM – Oct 15, 2011 in Dartmouth
Lake City Swingers
Swing into Fall Dance
Photos kindly provided by Don Scott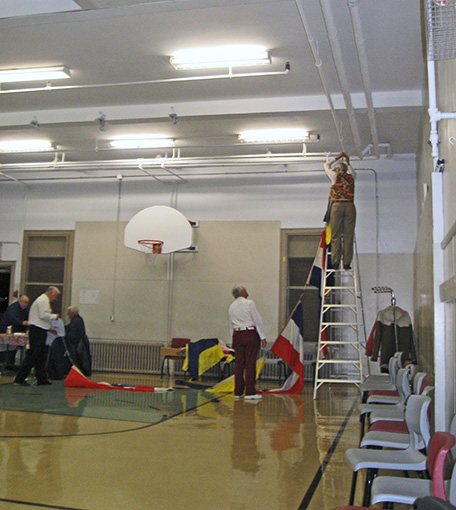 Hanging the naval flags before the dance. Hint: never look down!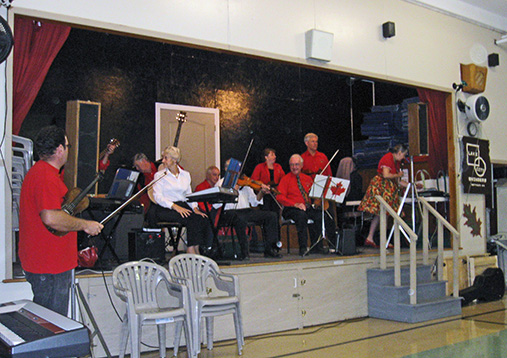 The Metro Fiddlers and caller Dottie Welch prepare to sock it to us.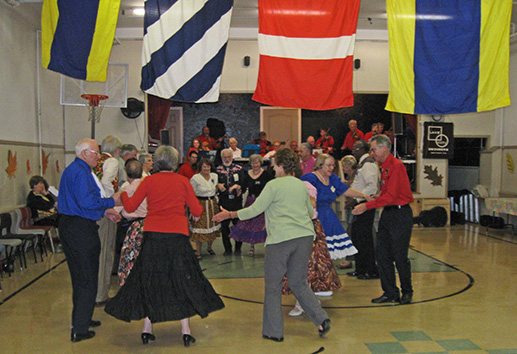 The dancers are working up appetites for strawberry and blueberry shortcake.
The 41st Maritime Square and Round Dance Convention
Photos courtesy of Don Scott
A weekend of wind-driven November rain couldn't dampen spirits on the dance floors at Old Orchard Inn. Thanks to our Maritime callers and cuers for a great time!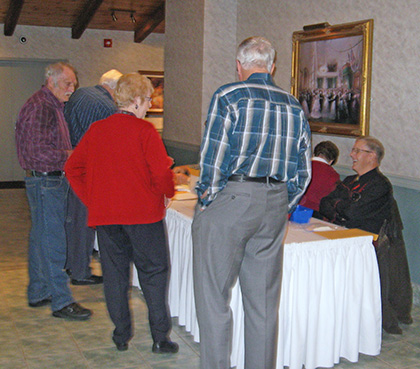 In good humour at the Registration Desk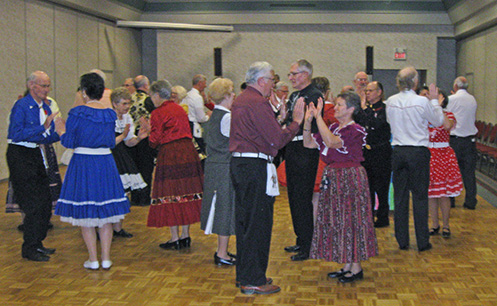 Clapping hands during a Sicilian Circle in the Basic Hall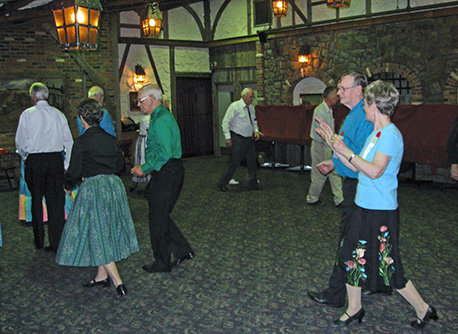 Moving towards reverse line of dance in the Round Dance Hall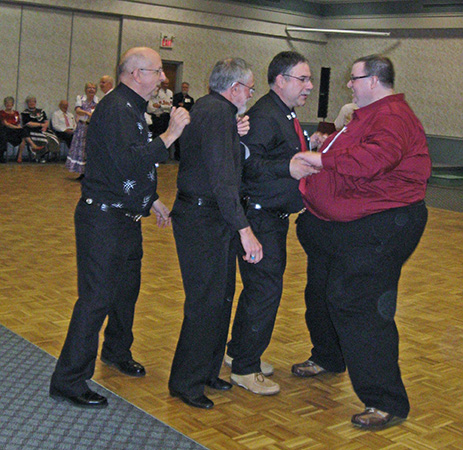 Lining up for time with Terry Hebert during the closing round dance Saturday night
Metro's 2010 New Year's Eve Potluck and Dance
St. Andrews Presbyterian Church Hall was again the scene of much good food, dancing, and general merriment. Barry Bendle's square dance program and Lionel Crowe's excellent cueing set the tone for a thoroughly enjoyable evening. Ron Connell presided over a free-spirited episode of Survivor which generated a huge reward for crafty winner Emery Faught. The New Year was greeted by a remarkable cacophony of horns, buzzers, bells and cheers, which quickly morphed into hugs and handshakes all around. The first tip of 2011 concluded the festivities, sending folks home tired, happy, and quite full of dangerously good nibbles. Really, is there a better way to mark the turning of the calendar?
The candles are lit, now for Supper!
The casseroles are attracting some serious attention.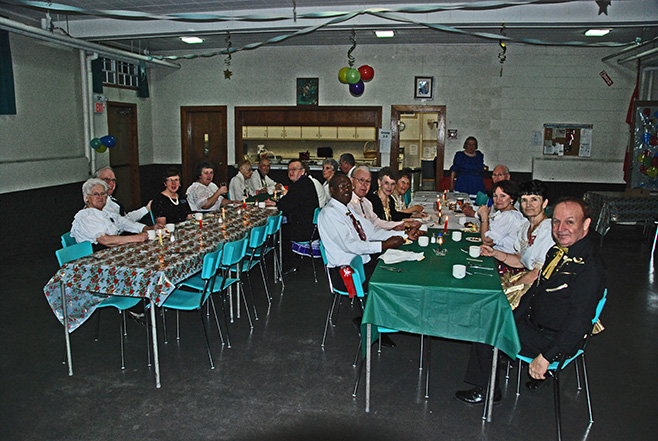 Time for a Formal Group Photo while awaiting dessert
Even without rum, the punchbowl doesn't stay full for long.
Heroic efforts to work off Supper, not helped by a counter full of punch and snackies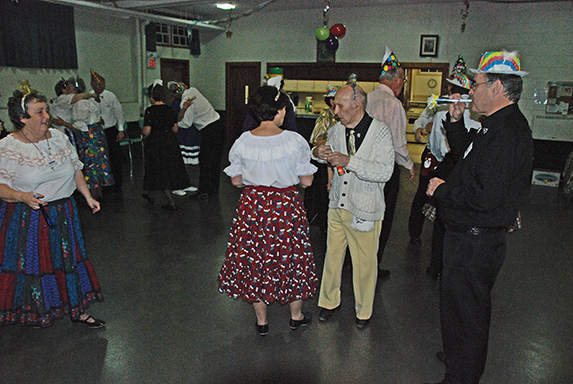 Noisemaker must undergo rigorous testing before midnight.
The new year brings a special moment of good cheer.