Material for new issues, dear reader, must come from you. I ask that you occasionally send a short summary of recent events in your part of the Nova Scotia square and round dance world. Images are welcome, with brief descriptions if possible. Send your contribution to the address shown below.
Square dancing is a natural fit for folks nearing retirement and looking for a way to have fun and keep healthy. In June a square of happy dancers spread the word about our activity at the annual 50+Expo held at the Halifax Exhibition Park. Thanks to them, and to callers Don Scott and Dottie Welch. The following pictures were provided by Bob Ruohoniemi.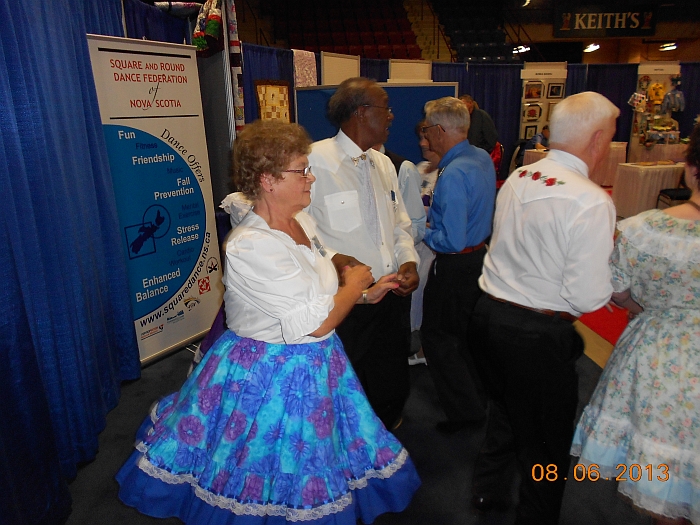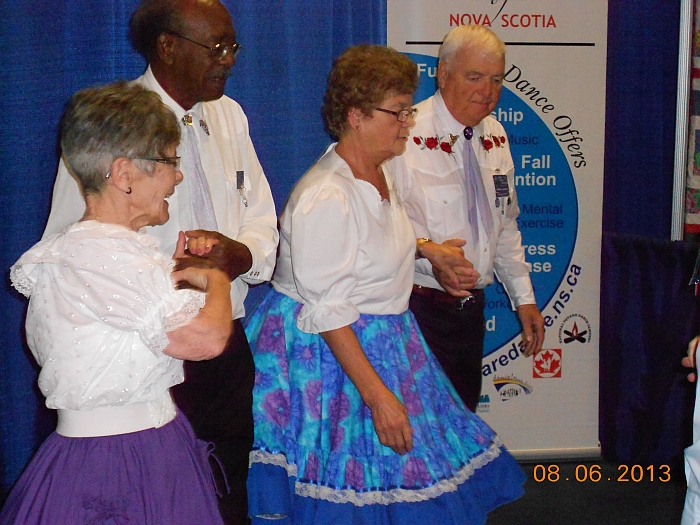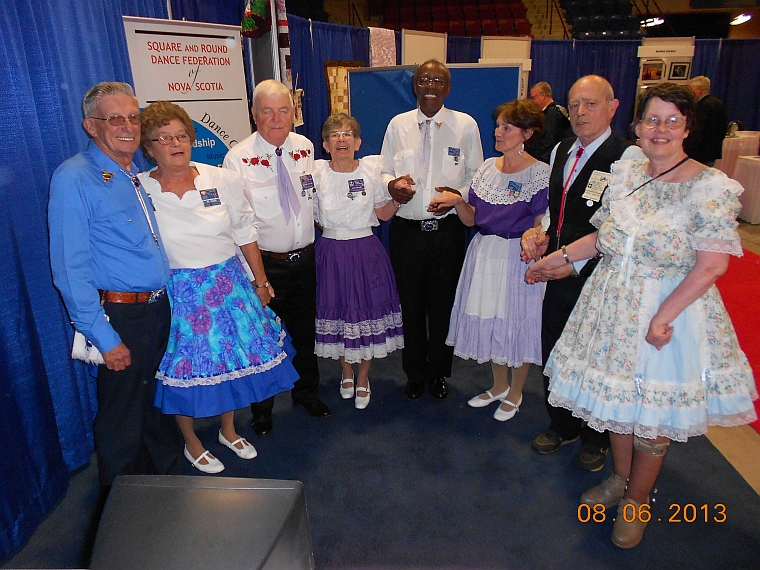 Dancers new and old packed Cole's Neighborhood Restaurant in Cole Harbour on the evening of 16 April to express their best wishes to Ron and Dot Connell as they prepared to move to Ontario in order to be closer to their children.
The Connells graduated into square dancing in 1974, and soon became familiar faces at both square and round dances throughout Nova Scotia. The list of square dance clubs to which they belonged over the years includes Tartan Twirlers, Stardusters, Lake City Swingers, Metro Merry Makers, Ocean Waves, Scotia Dancers and Fun Squares. They were also committed round dancers, having been members of Dancing Shadows, Rag Rounds, Rebel Roundabouts, Lite Fantastics, In the Pinks and Fun Time Rounds.
Ron and Dot also made important contributions to square and round dance organizations at all levels, and played a vital role in the success of the 1982 National Convention in Halifax. A more complete account of their many contributions can be found in the citation to the Mayflower Award they received in 2003.
The following pictures of the Connell's sendoff supper were provided by Jim Briggs and the Editor.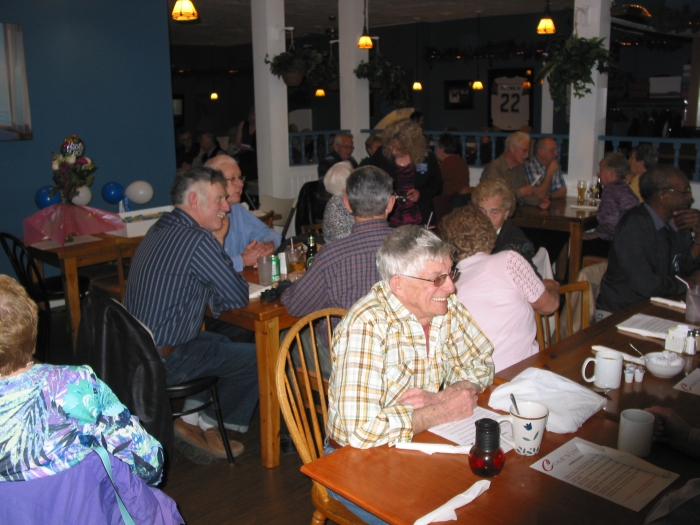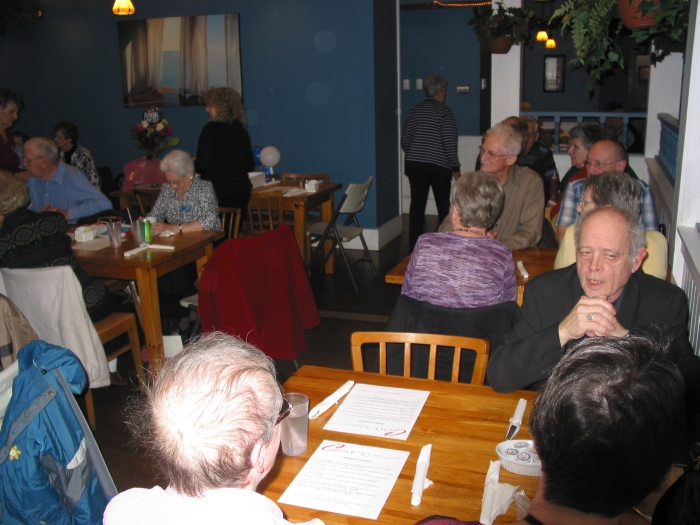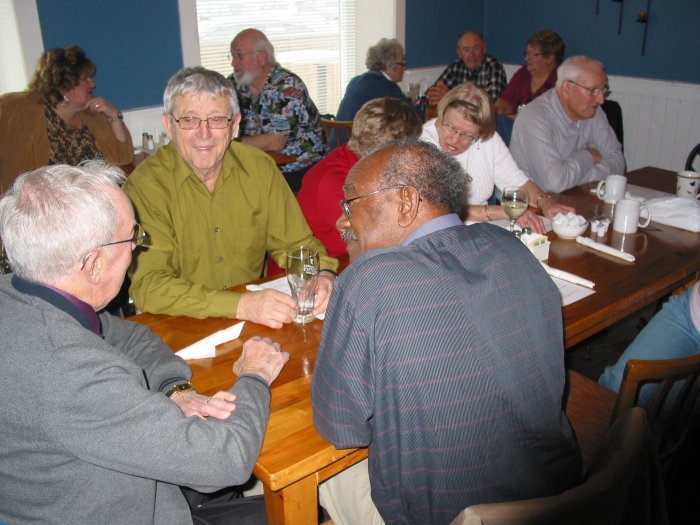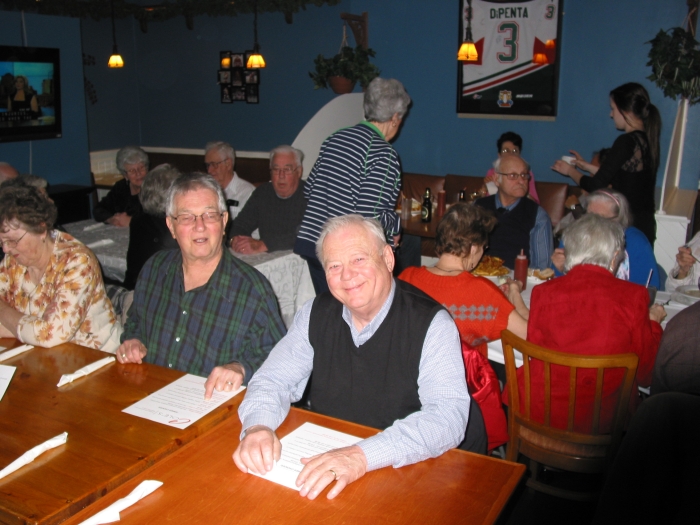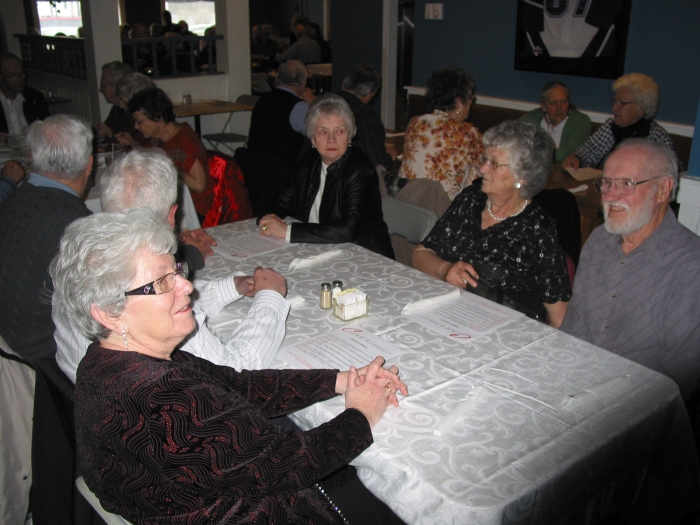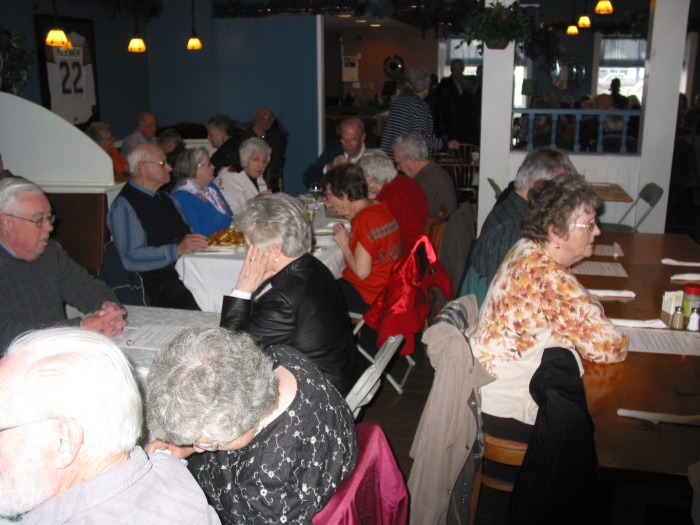 BELOW: Presentations or reminiscences by Ruby Bent, Stardusters President; Paul Langille, Federation President; Dottie Welch, Caller for Lake City Swingers and fellow 1982 Board member; Russ Trimper, Metro Association; Cathy Langille, Federation President (bottom).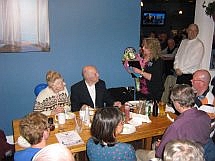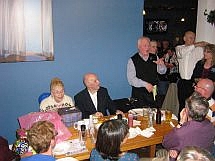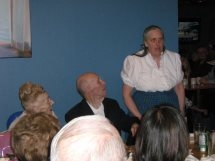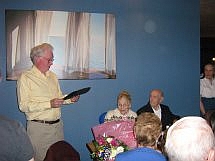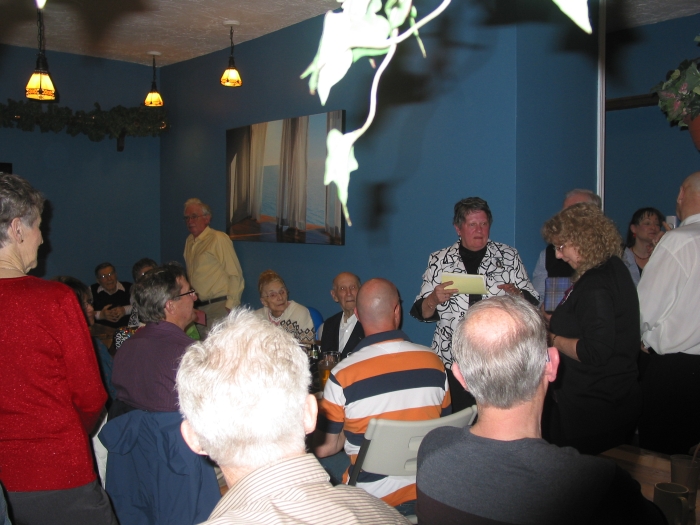 Smiles all around at Cumberland Twirlers in May, as 15 new members received their Basic certificates during the club closing. The photo was taken by club secretary Clare Christie and passed along by Marion McLellan.
March 9 offered up perfect weather for a drive to Cambridge. In the Community Hall a friendly crowd of relatives, dancers, and neighbours enthusiastically munched cake and other refreshments, and loudly applauded the guest of honour, Harold Redden (Clara too). Harold, we hardly knew ya in that coat 'n tie! Always ready with a smile and eager to dance as much as health permits, Harold and Clara have enriched the lives of all who know them. Bob Ruohoniemi kindly provided the photos below.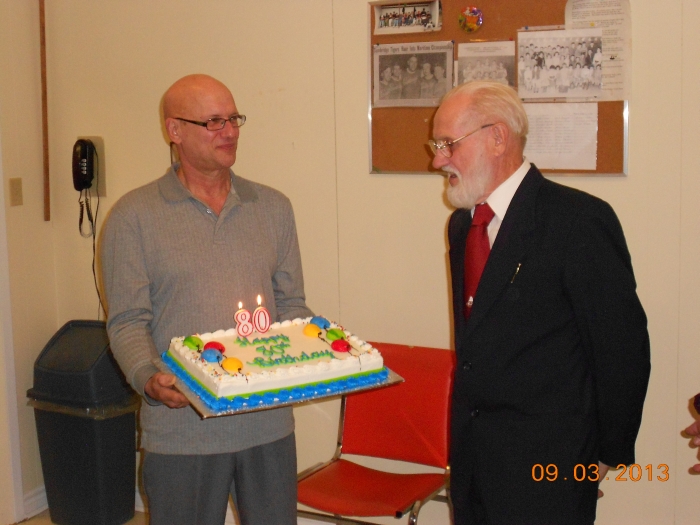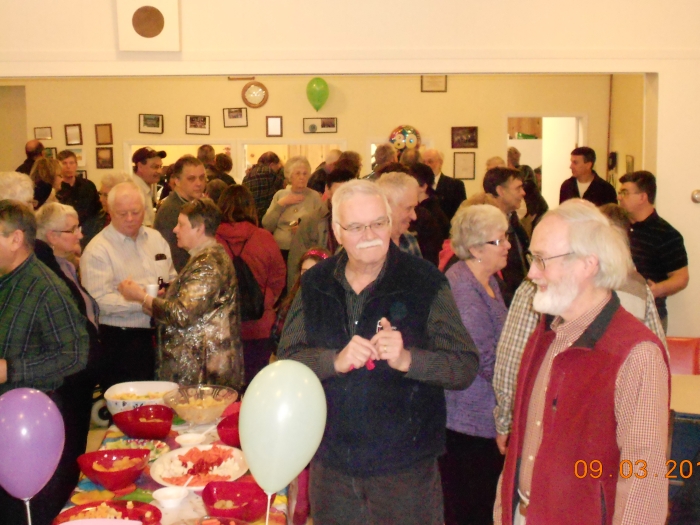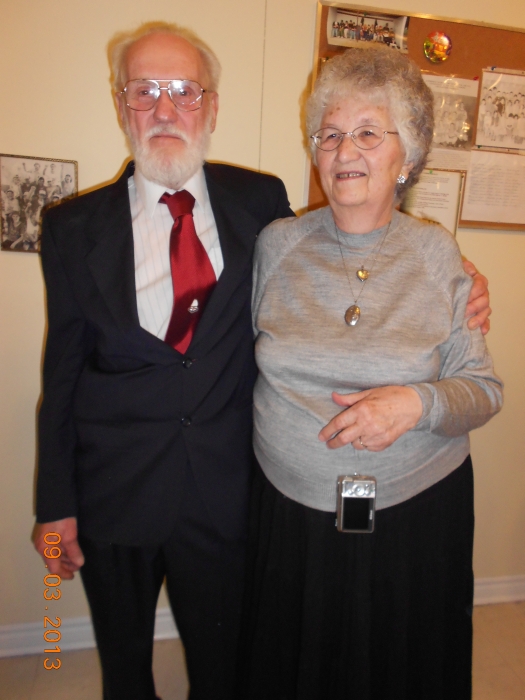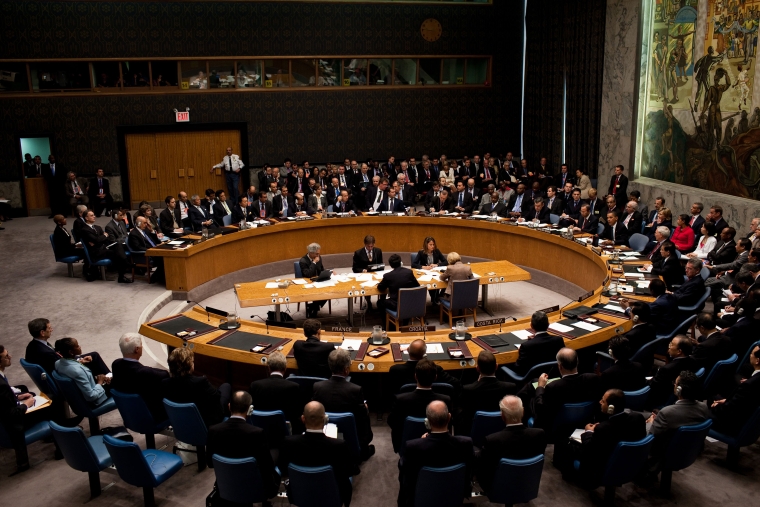 OK, perhaps the Federation meetings are a bit more laid back than those of the UN Security Council. But perhaps they have more impact on your (dancing) life! Why not read the minutes of the January and April Executive meetings to find out what your Provincial organization does. You will see that much effort is given to organize and advertize dances, and to publicize our activity. Can you think of a better way to spend precious time and money? Let us know! Plan to attend the next AGM on October 19th (details in Calendar of Events). GIVE THE FEDERATION YOUR OPINIONS!
During her 95th birthday party dance Ron Lowe promised Esther Shute of the Berwick Belles and Beaus that he'd call again for her 100th. On April 20, 2013, one day before her actual birthday, the time had come! Fifteen squares of Maritimers crowded into the Cambridge Fire Hall for an evening of dancing, eating, and birthday celebration, with Esther very much part of the action. This indomitible lady has been dancing for 51 years! We understand that Ron has made a similar promise for five years hence. Photos of the festivities were generously contributed by Paul Langille and Bob Ruohoniemi.
Esther prominades with Club Caller Tommy Collins.
Esther's skirt from dancing on the 1967 Centennial Train; she's added the names of everyone she danced with.
Esther receives a presentation from National Society President Bob Rouhoniemi,
another from SRDFNS President couple Paul and Cathy Langille,
a bouquet from Berwick Belles and Beaus Caller Tommy Collins,
and a specially composed song from the talented Mary McGee, which she sang to the tune Five Foot Two, Eyes of Blue":
An Ode to Esther Shute

Four foot two, eyes of brown,
My how she can paint the town.
It's Esther, Esther, Esther Chute.
Born in Aylesford East in 1913,
The sweetest gal you've ever seen.
It's Esther, Esther, Esther Chute.

Born to loving parents, the oldest of nine,
A favourite memory---stuffing straw ticks in the springtime,
Making hard candy on Friday nights,
Her mother was her special light.
Can she cook? oh yes she can!
Can she knit? baby bonnets, mittens and toe covers,
It's Esther, Esther, Esther Chute.

She taught school, worked for a doctor,
Married her love, worked on a farm,
That's Esther, Esther, Esther Chute.
Off to Minas Basin she did go,
Worked 25 years there we now know,
That's Esther, Esther, Esther Chute.

Thinking of others before herself,
Knows kindness is a special wealth,
That's Esther, Esther, Esther Chute.
Can she volunteer? oh yes she can
(Rebekahs, Women's Institute, Church,
Community Club, Politics to name a few)
Can she square dance? indeed she can---
(why every man wants to dance with Esther!)
That's Esther, Esther, Esther Chute.
Congratulations to a grand lady!
Over $500 was donated to the Nova Scotia Heart and Stroke Foundation at Metro's annual Heart Dance on 22 February. Dancers moved through a variety of traditional figures to the calling of Dottie Welch ably accompanied by the Metro Fiddlers. Nobody left this dance hungry!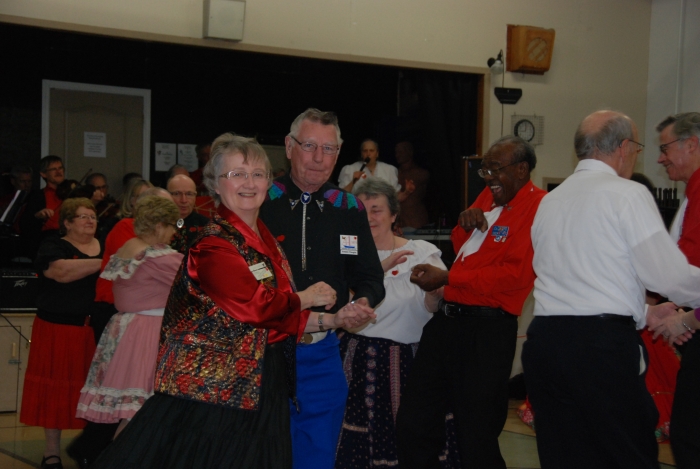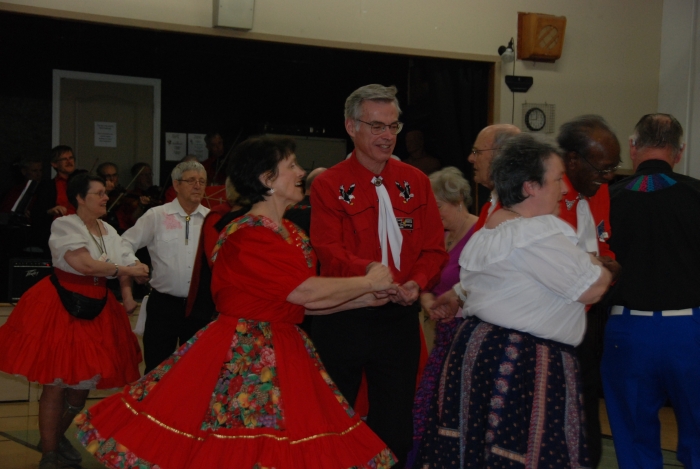 On 16 May Bob Ruohoniemi captured this merry bunch at Swiss Chalet, there to fill empty tummies and trade plans for the coming summer before adjourning to the closing dance at nearby North Woodside Community Centre. Similar scenes played out across the Province as another dance season concluded. Happy summer, everyone!
Provincial festivals are held biannually on odd-numbered years to avoid Canadian national festivals (See above). This year's event, held in July at the Pictou Campus of the Nova Scotia Community College in Stellarton, was jointly sponsored by the Highland Region and the Association of Nova Scotia Square and Round Dance Teachers (ANSSRDT). One hundred fifteen dancers and leaders from Nova Scotia, New Brunswick and as far away as Ontario enjoyed a weekend of North Shore hospitaliy and a full program of dancing, workshops and public demos.
Special thanks to the hard-working volunteers from the Highland Squares in Stellarton, and to Festival Chaircouple Ralph & Barb MacDonald, Round Dance Program Chaircouple Lionel & Janet Crowe, Square Dance Program Chaircouple Laurie & Wilma Illsley, Sound Technician Kerry Fletcher, and Registration Chaircouple Dottie & Gary Welch. The slide show below contains 36 pictures from the Festival. Stop any slide by passing the cursor over it.
The Mayflower Award is an award of excellence in recognition of 20 years or more of outstanding contribution in Nova Scotia to square and round dancing, and all other dance categories recognized by the Federation, at the local, regional, or provincial level. It is given on an occasional basis - when a qualified couple has been nominated. This year, at Provincial Festival 2013, two couples received this very special honour. The following citations were read during the Festival closing ceremonies:
Ralph and Barb MacDonald began square dancing in Sherbrooke in the late 1970s with the St. Mary's Belles and Beaus. Cecil Smith called for this club which danced for five seasons. In 1986 the MacDonalds joined the Mapleleaf Whirlaways when the club was started by Jack MacArthur in Antigonish. They have danced with it continuously since then.
Their interest in calling came from their over-twenty-year involvement in teaching 4-H members in Antigonish, Guysborough, Pictou and Inverness Counties to square dance and participate in provincial competitions. Ralph and Barb attended Callers School with Gloria Roth during the summer of 1998 working with Tom Miller in the "More Experienced" group. They are recorded as new attendees in the April 1999 ANSSRDT Minutes. Ralph first called at a Maritime Convention in 2001. Since then they have been loyal attendees and active members of both caller organizations and are currently the Square Dance Workshop Coordinators for ANSSRDT. They have attended all five Alguire Memorial Callers Schools constantly working to improve their calling and leadership abilities. Ralph (with Barb's support) is presently the club caller for the Mapleleaf Whirlaways, Highland Squares, and Bluenose RV Squares.
Since their first AGM in 1987 Barb and Ralph have been active participants in the Square and Round Dance Federation of Nova Scotia. By 1989 they were the representatives for Mapleleaf Whirlaways. At the 1992 AGM they were the acting Secretary and Highland Region Representatives and were elected as Secretary-Treasurer. During 1994 and 1995 they were the Federation President, followed by a year as Past President, and then four years as Publicity Committee Chaircouple.
At the Vancouver National Convention in July 2000 they were elected as Nova Scotia's Representatives to the National Society and soon became the CSRDS Treasurer. Their term ended at the Montreal National Convention in July 2006. Not resting on their laurels, they accepted the Vice Presidency of the SRDFNS in October of 2006 and became President again in October of 2009 holding the office until October of 2012.
During the last year they have chaired the committee organizing the SRDFNS Festival 2013 in Stellarton. This event has been a joint effort of ANSSRDT and the Highland Region. It is symbolic of their years of effort on behalf of square and round dancing in Nova Scotia, that this event has involved willing workers from all of the organizations of which Ralph and Barb are members.
In October 2012, the members of the Bluenose RV Squares nominated Ralph and Barb MacDonald for the Mayflower Award and it is with great pleasure that we present them with the Square and Round Dance Federation of Nova Scotia Mayflower Award of Excellence.
~ ~ ~ ~ ~ ~ ~ ~ ~ ~ ~ ~ ~ ~ ~ ~ ~ ~ ~ ~ ~ ~ ~ ~ ~ ~ ~
Bob and Inge Ruohoniemi began square dancing with the Scotia Dancers club in Bedford in 1992 after Bob's retirement from the Air Force. They had been introduced to the activity at two summer house parties where Bruce Savage was calling on the house driveway. They enjoyed it so much that when neighbours invited them to come to the Scotia Dancers' Open House, they accepted. It seemed to be a great exercise activity and also a pleasant social opportunity to meet new people.
They quickly became involved with the various duties required to keep a club operating and became Vice Presidents of Scotia Dancers by May of 1995. This two-year term was followed by two-years as Club Presidents ending in May 1999.
During this time they had become involved in both Metro Association and the Provincial Federation. They were Chaircouple for the Central Region committee organizing the SRDFNS Festival which was held in July 1999 at Mount Saint Vincent University. This was followed by a year as Chair and another year as Acting Chaircouple of Metro Association from September 1999 to 2001.
Meanwhile, in September of 1998 they began a two-year term as Vice Presidents of the Federation, which was followed beginning in September of 2000 by a three-year term as Presidents. After a year as Past Presidents, in September 2004 they took on the jobs of Publicity Chaircouple and Newsletter Editor. In March of 2005 a Square Dance Marketing Seminar was organized to focus our efforts and generate new ideas. Bob continued to edit "Between Tips" until its final issue in November of 2009.
At the Montreal National in July of 2006, Bob and Inge became the Nova Scotia Directors on the Board of the Canadian Square and Round Dance Society. While holding this job they also became Vice-Chairs Marketing on the Board of Directors for the Halifax National Convention held in July of 2010. The latter position entailed overseeing all of the marketing aspects of the planning, and also acting as Chairman in the absence of the Chaircouple. At the Halifax National in July of 2010, Bob was elected President of the Society, while Inge continued as Canadian Society Historian.
As part of their promotional efforts they organized and coordinated the Dice Hill Square Dance Club, which danced in Ardoise to the calling of Bruce Savage from September 2003 to December 2012. They say that this (along with their jobs with the Scotia Dancers) was the most rewarding of their numerous jobs because of the close personal relations with the members.
They continue to dance two to three times per week at the Mainstream and Plus levels and have joined the Lake City Swingers. They also enjoy Contra Dancing when possible. Square dancing is a very important part of their life because of the many new relationships it has given them and the wonderful hours of fun on the dance floor.
They have been ambassadors for square dancing in both Nova Scotia and Canada by attending conventions in New England, Toronto, and six Canadian Nationals, as well as dancing in Maryland, USA and Germany. Always striving to publicise our activity, they share information about dancing whenever there is an opportunity and hope to do so for many years to come.
In January 2013, Bob and Inge Ruohoniemi were nominated for the Mayflower Award by members of the Federation Executive. It is with great pleasure that we present them with the Square and Round Dance Federation of Nova Scotia Mayflower Award of Excellence.