FUN TIME ROUNDS
Ph II-III Rounds - Wednesdays 8:00-10:00 pm, Bloomfield Centre, Argicola St., Halifax
Leaders: Janet & Lionel Crowe


Fun Time Rounds was founded in Dartmouth in 1983 by leaders Marg and Tom Keighan. The club received a big boost in its membership the following year when caller Jim Alguire suggested to the Scotia Dancers membership that they should go to Marg and Tom if they wanted to learn round dancing.
Elmer and Rose Caborn were the first presidents with a membership of 24 couples. Marg's excellent cueing combined with Tom's sense of humour made the club a great success. Her ability to conduct a full evening program without ever looking at a cue sheet was quite remarkable. They both believed strongly in the philosophy embodied in the club's name of making it Fun. Special occasions such as Halloween, Christmas and Easter together with Hard Times, Australia , Badge nights were used as an excuse to dress up and party. In 1986 Marg and Tom announced their relocation back to their home town of London, Ontario. A sad farewell dinner was held at the Dartmouth Inn as the membership wished them well.

Lionel and Janet Crowe,
who had numerous years of experience as round dance teachers agreed to fill the void for a few years while John and Valerie Pinks taught the class and gained the necessary experience to take over the teaching and cueing duties in 1988.
In 1996 Larry and Margie Clark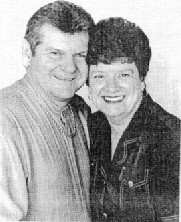 taught the Fun Time Rounds class and started to fill in for John and Valerie when they were away on business trips. In September of 1999, Larry and Margie became the full time leaders for the club, and they give the Fun Time Rounds a FUN TIME.
The club's special "Parade of Rounds" dance is held annually early in May in the Halifax area, and is hosted by both Fun Time Rounds and In The Pink Dancers.


(Return to Club Index)