A Brown Shrike in Halifax
---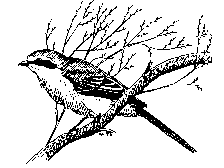 The authoritative published account of this appearance of the Brown Shrike appeared as:
Foxall, Roger & Ian McLaren: A Brown Shrike in Halifax, Nova Scotia: First for Canada: Birders Journal 1998. 7(1): 32-36.
Foxall and McLaren included a very detailed description of the bird and an account of its behaviour and observations here. Their conclusions (after considerable discussion) were that:
It thus appears that the Halifax bird was an adult, with the limited flank barring (several sources) and perhaps grayer sides of crown suggesting a female.

The Halifax bird seemed to have characteristics of both L. c. cristatus and L. c. confusus. This somewhat indeterminate status was conferred on a Brown Shrike overwintering in California after it obtained adult plumage in the spring (Bailey et al. 1987).

The bird's somewhat worn and possibly moulted rectricies need not reflect prior captivity or confinement; flight feathers of cristatus and confusus may not be renewed until they reach wintering grounds.

Although the bird appeared quite close to a container-ship terminal, it is unlikely that it arrived in Halifax by ship. Although direct shipping from Europe (to Halifax) is routine, only two Brown Shrikes are known to have reached western Europe. Reverse migration in eastern Asia could have brought the bird to Alaska, thence to eastern North America.
---