Clan Cameron of Lochiel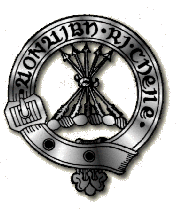 Clan Cameron of Lochiel Crest
Copyright applies

The history of the Camerons of Lochiel is said to be the history of Clan Cameron itself.
Among the long line of Chiefs of Cameron of Lochiel, we find Donald, the 19th of Lochiel, son of John and grandson of the famous Sir Ewen Cameron of Lochiel.
Donald Cameron was known as "The Gentle Lochiel," who followed Prince Charlie and suffered with him. After Culloden, he went to France where he died in 1748.
"The Gentle Lochiel" is said to have saved Glasgow from being pillaged during its occupation by the Jacobite Army in 1745. In many other ways, he always endeavoured to minimize the horrors of war as much as possible.



Back to:
[Scots in New Scotland (Nova Scotia)]
[Scottish Culture & Heritage: Scotland & New Scotland]
[New Scotland (Nova Scotia)]
[Scottish Clan System]
[Scottish Clans]
[Clan Cameron Home Page]

[Credits]

Standard Disclaimer


Copyright (C) 1996 * All Rights Reserved

---
[CCN Culture & Heritage]
[Find]
[Comment]
[CCN Home]