Sall Ross

Crest of Clansfolk of Clan Ross


We seldom write of those of our Clan who, for whatever reason, become notorious, but because of the historical nature of this story, we thought it was worth repeating.
DOING TIME in a disease ridden Halifax, Nova Scotia Jail came about as close as one could come to a sentence of Death. In the 1800's mainly, the strong survived a jail term, and then they would re- enter Society as shrunken shadows of their former selves. Some criminals actually preferred the Gallows to a slow Death in Prison.

NOT Sall Ross. She was more clever than that, much more! Sall was a sneak thief and a Highway Robber, and during her brief career in Halifax, Sall had accumulated more than 20 years in prison sentences of which she served only three days. Around May 1825, Sall was in a Halifax Court accused of stealing jewellery from Mrs. Carrit's house. Her voice was soft and low, her face pasty and sunken, her body as thin as a length of tarred rope.

The Judge sentenced her to three years in the House of Correction but, upon raising his eyes to this shrivelled wretch of a human being, he deferred her prison term until she was in better health.

Sall was no sooner gone from the side door of the Court House and her health improved remarkably! She went straight to Goulds Tavern on the waterfront and spent the next three days sinning against the sixth commandment.

Three months later, Sall was back in Court, this time for breaking into Charles Loveland's store while Loveland and his wife were in the back parlour hosting a tea party.

Once again, Sall played the Judge a fool, standing before him with her dress stuffed with straw to give the appearance of being with child and near to term.

The Judge shook his head out of pity, and again deferred her sentence, saying it would go against the compassionate words of The Saviour to detain this Mother to be in a jail cell. He paid no attention to the snickering among the spectators and the broad grin breaking over Sall's face.

Six months later, she was back in Court with same charge, theft, same results. This time Sall was suckling twins. There were not her own, only borrowed for the occasion.

By December 1826, the Courts had wised up to Sall. For breaking into Hague's Dry Goods Store, she was sentenced to seven years hard labour in the House of Correction on Spring Garden Road. There was no compassion this time for her frail, pasty face and appearance. The sentence stuck.

Three days later, however, Sall broke hail along with the highwayman, John Ryan. Together they held up the stage on Cobequid Road, then disappeared into history. Most likely Sall was on her way to St. John or Fredericton to test the wisdom and compassion of New Brunswick's Judges.

Our thanks to Halifax author and historian, Bob Kroll, for this story.
---
From Newsletter of Clan Ross: The Ancient Clanna Siol Aindrea
Submitted for the Clan Ross homepages by Jack Ross, of Clan Ross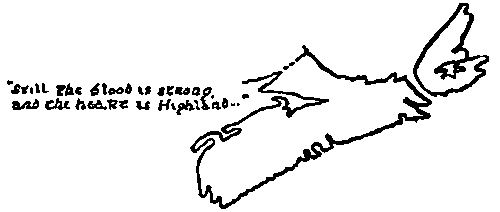 Back to:
[Scots in New Scotland (Nova Scotia)]
[Scottish Culture & Heritage: Scotland & New Scotland]
[New Scotland (Nova Scotia)]
[Scottish Clan System]
[Scottish Clans]
[Clan Ross Home Page]

[Credits]

Standard Disclaimer


Copyright (C) 1996 * All Rights Reserved

---
[CCN Culture & Heritage]
[Find]
[Comment]
[CCN Home]