Electronic Resources on Tai Chi
---
There are a vast number of resources on the Internet that pertain to Tai Chi. The following are some of the better ones, and should allow you to get started no matter what your interest is. Browse away!
---
[General]
[Groups & Individuals]
[Publishers]
[Commercial]
[Qigong]
[Taoist Sites]
[Chinese Culture]
[Usenet Groups]
---
Tai Chi Chuan Resources
GENERAL RESOURCES
Talisman of the Heavenly Messenger.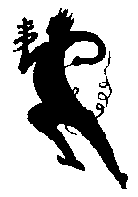 ---
Contact