Disclaimer & Copyright Notices; Optimized for the MS Internet Explorer


Web page of the Soil & Water Conservation Society of Metro Halifax (SWCSMH)


---
Contents
---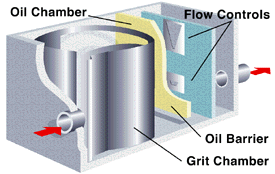 Vortechnics, Inc. has several extensive systems available for advanced stormwater treatment, and has been well known for its Hydro-Brakes, and its Customized Flow Controls.

Vortechnics, Inc. state, "What are your site's stormwater treatment criteria? If the list includes high removal rates, minimal land consumption, low maintenance, and cost-effectiveness, your BMP options have just been significantly narrowed. A major advancement in oil and grit separator (OGS) technology, the Vortechs Stormwater Treatment System efficiently removes grit, contaminated sediments, heavy metals, and oily floating pollutants from surface runoff. This innovative design combines two unique treatment structures to eliminate turbulence within the system - ensuring proper physical separation and capture of sediment and oils."
The technology seems to be capable of achieving an 80% net TSS removal efficiency!! Extensive testing in both the laboratory and in the field had produced a comprehensive set of data describing the relationship between flow rate, particle size, and removal efficiency.
A 1999 case history at the DeLorme Publishing Company in Yarmouth, Maine. Interim results:

The net removal efficiency for the 20-storm, 7-month period was approximately 80%.
Vortechnics, Inc. generally uses the removal efficiency of 50 micron sediment in the laboratory as a basis for predicting system performance in the field. The fact that the system achieved an observed removal efficiency so close to the goal is evidence that the sizing methodology is a reasonably accurate way to predict field performance.

The Vortechs Stormwater Teatment System is constructed of precast concrete and features a compact, below-grade profile. The system incorporates a combination of unique treatment structures that efficiently remove pollutants from runoff at rates up to 25 cfs without washing out. Larger flows are treated using Vortechs Systems that are cast-in-place. With its proven performance and low maintenance, the Vortechs System reduces site owners' post-construction clean-out costs.
Features and Functions
Grit Chamber
The swirling motion created by the Vortechs System's tangential inlet directs settleable solids toward the center of this chamber. During peak storms, this structure dissipates potentially disruptive flows. Sediment is caught in the swirling flow path and settles back onto the pile after the storm event is over.
Oil Chamber
The center barrier traps floatables in the oil chamber, even during clean-out. Unlike conventional oil traps that lack flow controls and extra tank capacity, the Vortechs System is highly resistant to flow surges.
Flow Control Chamber
As a storm event builds in intensity, the low-flow control within the Vortechs System will cause the inlet pipe to become submerged. This process floats oily pollutants up above the inlet pipe, and out of the influent stream. Consequently, the Vortechs System keeps captured pollutants inside the trap by reducing forces which encourage resuspension and wash-out.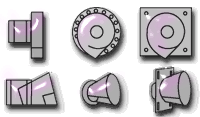 Vortechnics, Inc. state, "Vortechnics Hydro-Brakes provide you with a convenient, practical tool to precisely limit flows in stormwater management systems. When used as part of a Flow-Slipping strategy, Hydro-Brakes eliminate combined sewer overflows and the environmental hazards they create. Hydro-Brakes are also effective detention basin outlet controls - more reliable and cost-effective because, at the same flow rate, they provide openings up to four times larger than non-vortexing "plug flow" regulators. Explore further in this site to learn how Hydro-Brakes work, what separates them from the older generation of hydro-brakes, and how to specify them for your next application."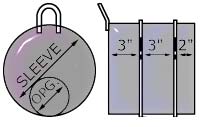 Vortechnics, Inc. state, "The Vortechnics engineering design team working closely with our hydraulics laboratory has developed flow rate control technologies specifically for stormwater applications. These technologies include:
Outlet Control
Custom-designed outlet control structures engineered to meet precise permit requirements and stormwater quantity management regulations. These outlet controls incorporate staged outlets, trash racks, undetained discharges such as underdrains and even instrumentation (if necessary) to meet your specific needs.
Vortechnics Bypass Structure
The Vortechnics Bypass Structure specifically designed for stormwater treatment systems, exceeds the performance of standard manhole bypasses by providing for containment of floatables and an extra long weir to improve bypass functionality. The floatable containment feature of the bypass will greatly reduce the loss of petroleum products and help eliminate oily sheens (a major cause of permit violations). The long weir optimizes bypass functionality by precisely regulating flows, which results in full utilization of treatment system capacity."

---

We salute the Chebucto Community Net (CCN) of Halifax, Nova Scotia, Canada for hosting our web site, and we applaud its volunteers for their devotion in making `CCN' the best community net in the world!
---