Cameron's retirement ends era in radio
By STEVE SMITH
Wednesday, August 25, 2004
When we moved back to Nova Scotia in 2000, it was a treat to still find Frank Cameron playing rock and roll on CHNS Radio. To me, it was a symbol that very little had really changed during my 20-plus years away.
Kids today don't have the same attachment to disc jockeys that we had as teenagers in the 1960s. Today's jocks are pretty much interchangeable parts. They sound the same and look the same, no matter what station they work for.
Let's go back to the early days of rock and roll radio in Halifax. First of all, there was no such thing as FM and there wasn't a heck of a lot of AM either. Real radio fanatics would lie in their bed at night trying to pick up music from the States on their transistor radios. With luck, they'd get WKBW in Buffalo, N.Y., or maybe Murray the K on Winsland.
But in Halifax, the big thrill was to rush home from church on Sunday mornings and listen to "The Big Top Ten" on CHNS. Eventually, a couple of Halifax radio stations (CHNS and CJCH) began to get with the trend and play rock and roll at night. It was a gradual thing, though. At first, they would shut it down at 8 o'clock and switch to hymn singing or something like that. Later, they kept the "kids' music" on until 9 p.m., and then 10, before finally giving in altogether.
The DJs were all-important then. We felt loyalty to them and made them celebrities. Frank Cameron was my favourite. Frank was different from today's homogenized voices. He had principles and, I think, some control in the music he put on the air. For example, Frank wouldn't play Freddie "Boom Boom" Cannon. Apparently, Freddie had once contracted to do a show in Halifax and then failed to appear. Since Freddie figured he was too good for Halifax, Frank didn't bother to play his music from then on.
Frank also used to do an afternoon request show so that kids, when they got back from school, could phone in and dedicate their favourite songs. Once, in Grade 6, I got on the air and dedicated a song (a remake of Love Potion No. 9 by The Searchers) to all my friends. "I'd like to dedicate this to Doug and Dave and Eric . . ." and so on. It caused my brother serious concern over my sexual orientation.
In addition to his radio work, Frank also did Frank's Bandstand on TV. If you don't remember it, just think of SCTV's Mel Slirrop's Rock Pile sketch. It's the same thing. I'm sure Frank wishes the statute of limitations would expire on that one, but unfortunately for him, some of us still remember.
Of course, talking out loud by yourself for several hours every day can cause problems with your psyche. Frank eventually developed an on-air alter ego whom he called Arthur. Frank always denied that he and Arthur were one and the same, but hey, we listeners may have been kids, but we weren't necessarily morons.
Arthur developed into a celebrity of his own. There was a contest to give him a last name (Zilch was the winning entry) and his cartoon likeness appeared on the Top 60 charts that CHNS used to pass out at record shops like Phinney's on Barrington Street and Bligh Radio on Quinpool Road. (These little charts were the size of the pocket schedules issued by sports teams. They showed the top 60 songs for Halifax and how far up or down the chart a song travelled during the past week. I'd love to get my hands on one of those things now.)
Frank inevitably moved on to the greener pastures of CBC-TV before coming back to CHNS to play out the string. There were other jocks, however, who tried to fill the void. You might remember some of them, such as Eric McCuen, Dave LaFave, Jimmy Mack and Danny Roman. They all had their special bits of business that made each of them a little different. Roman, for example, did a once-a-week, late-night show called Subway during which he would ditch his up-tempo, AM voice and talk in the throaty, earnest, hip whisper of an FM jock.
The non-Frank I remember best, though, was Charles P. Rodney Chandler on CJCH. He was a lively one who once made a big production out of actually placing a telephone call to The Beatles. He built it up for days before finally making the call. Unfortunately, the Fab Four weren't available to take Chuck's call, but he did get some lower-level functionary who told him big news about the group's next record, Lady Madonna. I forget what the news was, but Charles P. was very impressed with its bigness.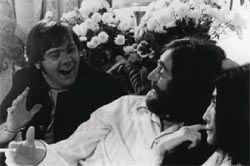 But like all the good DJs (except Frank), Charles P. Rodney Chandler eventually moved on to a bigger city. It was in Montreal that he achieved a Beatles' coup that eclipsed even the grandeur of his Halifax phone call. By virtue of being in the right place at the right time (photo at left), he became the house DJ for John and Yoko's 1969 bed-in for peace. For six days, he did his regular radio show from the Lennons' bedside, sometimes calling on John to introduce songs and read commercials. He even got to sing on the chorus of Lennon's Give Peace a Chance anthem.
Like Frank, Charles P., now known simply as Chuck Chandler, has returned to his roots and now hosts a morning show of rock and roll oldies in his hometown of Edmonton, Alta.
For better or for worse, DJ personalities have gone by the wayside. Computers tell most jocks what to play, and how often. In Canada, the government says so much has to be Canadian content, which forces oldies stations to play The Poppy Family and The Stampeders ad infinitum. No longer are the jocks surrounded by a room full of records. They get their music from satellites now. Our DJs were young, hip guys, relatively close in age to their audience of teenagers. Last week, my teenaged daughter went online and found pictures of the DJs on her rock and roll station. She was shocked to find that they looked more like me than like her.
I listened to Charles P. when I lived in Edmonton and I listened to Frank Cameron when I came back to Halifax. Now, however, Frank Cameron has retired. Frank, I wish you all the best in your dotage, but it's a shock to imagine one of my disc jockeys old enough to retire! What does that say about me? Are those silver strands in my hairbrush not an illusion? Is that wrinkled face in the mirror really me and not my father? Is that stuff my kids listen to really music?