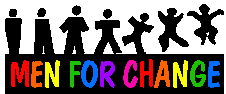 The Many Facets of Intimacy
One challenge for men may be to expand our concept of intimacy beyond the stereotype that our primary expression or experience of love or closeness is sexual. There are more possibilities for connecting intimately with others. The many facets of intimacy are offered to support our journey as men to reach the fullness of our humanity and to fulfill the rich potential in all our relationships. Many of us, both men and women, may find this list refreshing in the face of the media portrayals of shallow relationships on soap operas and in many movies and consumer ads.

Each exploration of intimacy contains an invitation to explore a richer depth of relating. With sexual intimacy, for example, research indicates that 88% of men surveyed h ad never experienced an actual orgasm. This is not the same as sexual arousal and ejaculation. Orgasm is a vulnerable and authentic body, mind and emotional experience during intense love making where the man feels emotionally closer after ejaculation. I.e. Rather than feeling like it's done with and now it's time to sleep. New possibilities for men.

Questions:
Who would you like to share this list with? What facets of intimacy are you now celebrating? Which new ways do you want to explore?
Sexual Intimacy
(erotic or orgasmic closeness)
Emotional Intimacy
(being tuned to each other's wavelength)
Intellectual Intimacy
(closeness in the world of ideas)
Aesthetic Intimacy
(sharing experiences of beauty)
Creative Intimacy
(sharing acts of creating together)
Recreational Intimacy
(relating in experience of fun and play)
Work Intimacy
(the closeness of sharing common tasks)
Crisis Intimacy
(closeness in coping with problems and pain)
Conflict Intimacy
(facing and struggling with differences)
Commitment Intimacy
(mutually derived from common self-investment)
Spiritual Intimacy
(the we-ness in sharing life's ultimate concerns)
Communication Intimacy
(the source of all types of true intimacy)

Love grows from intimate experiences. There are many ways we can talk about love and many things about love that can be summed up in a word. These two lists may help you sort out what love is or isn't.
Love Is...
Responsibility
Hard Work
Pleasure
Commitment
Sex
Caring
Sharing
Trust
Communication
Honesty
Compromise
Interdependency
Asserting yourself
Vulnerability
Respect
Friendship
Strong Feelings
Acceptance
Openness
Empathy
Openness
Honesty
Love Isn't...
Blaming
Possessiveness
Pain
Violence
Sex
Intimidation
Being selfish
Fear
Getting Pregnant
Lying
Controlling
Dependency
Giving up yourself
Intimidation
Scoring
Proving Yourself
Manipulation
Expecting all your
needs to be met
Obsession
Jealously
People in Healthy Relationships...
| | |
| --- | --- |
| | Spend time together and time apart |
| | Trust each other |
| | Respect their mutual choices and differences |
| | Are sensitive to each others feelings |
| | Are friends |
| | Communicate their feelings honesty and openly |
| | Grow closer when they explore the many facets of intimacy together |