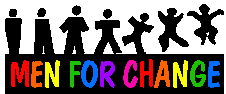 Risk
A poem with editorial comment...
Part of the process of change is to work to share who we really are as men. We live in a society where, for men, being tough, in control and competitive (by definition, against others and other gender stereotypes are qualities that are rewarded in when we work and play.
The expression, "men have a lot of buddies, but no real friends," can be a place to start. We need to be open and honest about...yes....about how we feel. How do our experiences affect our lives. What are our hopes, fears, doubts and joys regarding our relationships, children or work etc.?
RISK
Author unknown
To laugh is to risk appearing the fool
To weep is to risk appearing sentimental
To reach out to others is to risk involvement
To expose feelings is to risk exposing your true self
To place your ideas, your dreams before a crowd is to risk their loss
To love is to risk not being loved in return
To live is to risk dying
To hope is to risk despair
To try is to risk failure
But risks must be taken,
because the greatest hazard in life is to do nothing.
The person who risks nothing,
does nothing, has nothing, and is nothing.
They may avoid suffering and sorrow,
but they cannot learn, feel, change, grow, love, live.
Chained by their attitudes, they are a slave,
they forfeited their freedom.
Only the person who risks can be free