Chebucto Community Net at
Word On The Street 2003!
The 2003 Word On The Street book festival held on Pier 20, Sunday September 28th drew an estimated 50,000 people, despite hurricane warnings and strong winds.

This year Chebucto volunteers got a later start, 8 am, and setup of the Chebucto booth was much simpler than in the past. There were only two computers there this time and the rest of the setup was easier. We're starting to get good at putting together a travelling road show.

After volunteers Johnathan Thibodeau, Chris Wood and Andrew Wright set up the tent, the exhibits and the presentations, Chebucto Chair Marilyn MacDonald and Board members Bill Matheson, John McKay and Andrew Wright spent the rest of the day greeting dozens of people and answering their questions. The presentation on internet security was particularly well received.

Strong winds blew all day but the gusts were getting very strong by the end of the afternoon. About six hours after this picture was taken, Hurricane Juan hit Halifax full force, plucking hundred-year old trees from the ground like daisies and knocking out power for several days. Damage to the city is easily in the millions of dollars, not counting the human toll. At least two people were killed in the hurricane.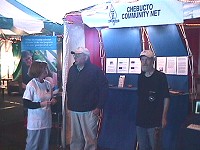 It was a busy day and unlike previous years, the crowds did not thin out later in the afternoon but stayed steady all day. Shown here are Chair Marilyn MacDonald, Board member John McKay and Userhelp Team Leader Norman De Forest. With the approaching bad weather making itself felt, everything was put away in record time.
Chebucto Community Net
PowerPoint Presentation
PowerPoint presentation:
Personal, Computer, and Internet Security:
A Primer on how to look out for danger.
(1.5 Mb in size)
This presentation is done in Microsoft PowerPoint. A PowerPoint file viewer is available free from Microsoft here: http://office.microsoft.com/Downloads/9798/Ppview97.aspx
For those unable to access this file, we also have web page versions for both graphical and text users.
See you there next year!
More Word on the Street 2003 photos (unlabelled)