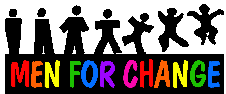 Teen's Ideas on Gender Stereotypes
One of the underlying contributions to sexism is the attitudes we have toward each other based on gender stereotypes.
Activity 1.1 from Grade 8: Gender Equality and Media Awareness asks the students to list the social expectations and pressures to "fit in" to a limited repertoire of values and possibilities for men and women.
The following is the response from a grade 9 class of both boys and girls.
Question? What does it mean to "Act Like a Man" in our society?
* Answers: Macho, tough, stand up for self, in control, nothing stand in the way, don't back down, muscles, rough sports, men stronger than women, don't cry, get mean, sexually aggressive, strong, muscular, not nice or kind, be a leader and burp.
Question? What does it mean to be "ladylike" in our society? * Answers: Polite, fragile, gentle, nice, kind, don't spit, sensitive, cry all the time, good manners, cross legs, shave your legs, passive, pretty, skinny, well dressed, don't fight, can't be smarter than guys, followers, smarter than men, confused, loyal, depend on guy.
After the answers are displayed in the workshop discussion then takes place on where we learn these attitudes.
Of course we learn for peers and family, but where do those individuals get their ideas on gender stereotypes? The media, television, magazines, movies, video games and any other medium of information effects our attitudes and shapes our value system. The Healthy Relationships Curriculum helps students deal with these influences to help them celebrate positive values and attitudes needed to form healthy relationships.