Who Are You?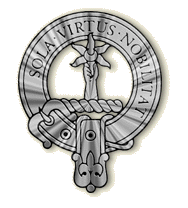 Clan Henderson Crest
Copyright applies


Gaelic Name: Mac Eanruig
             (Henry's Son)


The Gaelic word clan means children, but in use it refers first to a family and then to all individuals and families who recognize themselves as a part of a large family group. The family group could be a geographical group (e.g. everyone living in Glen Coe), or everyone who recognizes a particular chief. Sometimes smaller clans swore fealty to a larger clan for safety. In our story, we will show how several of our roots were associated with other clans, but will present reasons for all Hendersons to belong to their own clan.
Who are you?
Are you the descendant of Henry Gunn? Or Eanruig Mor Mac Righ Neachtan--Big Henry, son of King Nectan? Could you have somehow escaped the Massacre of Glencoe or the Battle on Dromossie Moor? Or are you the product of a man's desire to found his own dynasty? Or, and please don't let this one be the one, could you be the son of a Saxon?
Who are you?
Do you have the right to wear a kilt? And what about the tartan? Which one can you call your own?

These are questions which have caused many Hendersons to begin the study of the family. Our Clan Genealogist is working hard to help find that special missing part of the pedigree that many of us seek. Your support of his effort is unique to you in that only you will provide it .

The possibility of making an ancestral connection is one of the reasons for you to be an active participant in the Clan Henderson Society of the United States and Canada.

"Which Henderson am I?" you ask. Do you belong? Of course you do!

In the stories posted here, we are going to compare Scottish historical and Henderson historical events in a way which may help you position your particular branch of the tree with one of its roots and hopefully help you find your ancestral home. Part of the process will be history, part will be the myths perpetuated about our clan and part will discuss where the family is today on the threshold of the 21st Century. The myths will be placed along a time line to help position the various families and then to situate the family with the various migrations. Understand that most of this material is the amalgamation of the many clan, family and tartan books that are available commercially. There are variations on the main theme as well as variations in spelling of names (Henry versus Hendry).

Your help is requested as we move along so that future editions might provide an even better story of Clan Henderson. While personal family lore is invaluable, it adds to the myth more often than the fact, so document any information that you have whenever possible.

Now, when you are talking to a prospective addition to our collective family tree, where else would our cousin go? The Gunn, Naughton or the Donald or most any other clan choices are equally correct or incorrect as you would care to see them. Henderson, however, is correct in all cases!



---
Russ henderson



Back to:
[Scots in New Scotland (Nova Scotia)]
[Scottish Culture & Heritage: Scotland & New Scotland]
[New Scotland (Nova Scotia)]
[Scottish Clan System]
[Scottish Clans]
[Clan Henderson Home Page]

[Credits]

Standard Disclaimer


Copyright (C) 1996 * All Rights Reserved

---
[CCN Culture & Heritage]
[Find]
[Comment]
[CCN Home]