Updated: 2 December 2001
---
Chebucto launches online game servers!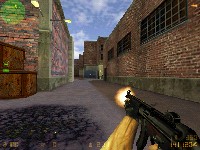 Online gamers will be pleased to hear that Chebucto has launched two new game servers.

Counter-Strike

and

Quake 2

can now be played at cstrike.chebucto.net and quake.chebucto.net respectively. These two popular online games have a dedicated local following and are played by thousands of people all over the web.

In Counter-Strike, a free modification (or mod) of the popular game Half-Life, players divide up into teams of terrorists and counter-terrorists. Each game level is set in a different terrain or map and the terrorist objective has to be thwarted by the counter-terrorists.

In Quake 2, players assume a variety of online identities and forms and shoot it out with each other over many different locations.

Both game servers are available any time after open office hours, as they run on one of the Chebucto office workstations. Home users require a registered copy of Half-Life with the Counter-Strike mod from either the commercial package or from the Counter-Strike website installed and a PPP connection to play Counter-Strike. To play Quake 2 online requires a registered copy of Quake 2 and a PPP connection.



---
Wave of virus attacks continues
Yet another in a series of recent internet worms hit Chebucto users this past week. The worm, W32 Badtrans, is designed to trick Microsoft Internet Explorer and Outlook Express into running the program by disguising itself as a harmless audio file in an HTML email. See Chebucto Userhelp Team Leader Norman De Forest's Anti-virus page for more information on this new virus, fixes, and other anti-virus resources.

Chebucto is filtering known variations of this virus from incoming email to Chebucto (excluding mailing lists on Chebucto, where filtering is setup by the list owners), and caught more than 239 copies of it in the first day. The Chebucto Technical Committee advises that this filtering is not meant to replace users having their own anti-virus software with regularly updated virus definitions.



---
New Chebucto Board member
Long-time Chebucto user Reg Hody was appointed to the Chebucto Board of Directors to complete the term of one of the recently resigned Directors. He brings a wealth of computer and community related experience to the Board. With this appointment there is only one remaining vacancy on the Board.
---
New Membership Reward Plan!
Chebucto is pleased to announce a new Membership Reward Plan open to all current Chebucto members. Full Details here.

For each new Sustaining or Family Sustaining member who tells us they were referred to us by you, we'll give you a $20 credit good towards your next Sustaining or Family Sustaining membership. "Word of mouth" advertising can now get you free internet: five referrals are good for a free Sustaining membership, including a year of our famous Chebucto Plus full graphical access.



---
Chebucto Users tops in *.NS.CA SETI processing
SETI, the Search for Extra Terrestrial Intelligence, has been processing their radio telescope data with home users' computers for years now. Using an innovative screensaver which runs whenever the user computer is not in use, SETI has had 811,000 years of high quality computer processor time donated to it.

Of all the computer domains ending in the letters NS.CA, denoting Nova Scotia, chebucto.ns.ca now ranks number one, beating out both the government of Nova Scotia and the vast resources of EdNet, the schools network. Current stats here. Chebucto users have sent in more than 9600 results, representing more than 22 years of CPU time that would otherwise have been wasted.



---
Outlook user email advisory
After the recent wave of viruses specifically targetting users of Microsoft Outlook and Outlook Express email programs, and the constant stream of user complaints about randomly altered program settings and difficulty using the program, the Chebucto Community Net Office and the Chebucto Technical Committee recommend our users do not use either Outlook or Outlook Express as their email program.

Windows Users can find a selection of email programs available for download here and Macintosh users can find a selection of email programs here.
---
Go to the Beacon