Updated: 7 February 2002
---
"We want 56K!", say Chebucto Users
Responding to December's Chebucto mailout, 72% of respondents voted in favour of Chebucto going to 56K service. 8% were opposed and 20% either expressed no opinion or had questions.

Seventy percent of the 165 responses came from current Chebucto Plus users. They voted 88% in favour of 56K, 4% against and 8% no opinion. Chebucto text users voted 35% yes, 16% no and 49% no opinion/questions.

Establishing a 56K service would mean users with 56K modems could connect to the Chebucto Plus service at the top dialup speed available anywhere. It would have no effect on the Chebucto text service, currently running at 14.4K. The Chebucto Board of Directors are continuing to discuss means of funding the estimated $15,000 startup cost for the service, one option being to raise the cost of a Sustaining membership by $20. There are no plans of any sort to raise text service membership fees.



---
Chebucto Plus service adds lines
The Chebucto Plus service added five lines, bringing the total number of available lines to 64. There are currently 702 users of the graphical access service.



---
New servers blazing fast!
Two new 1.5 GHz Pentium 4 servers are being constructed in-house by the Chebucto Technical Committee, chaired by Ed Dyer. The servers, each loaded with 1 GB of RAM, will be providing the musclepower for a new and improved CCN Webmail and a variety of databases and assorted other services.

One of the two machines, christened "Clio" after the Muse of History, is in an advanced state of completion and users should prepare to see some dramatic speed increases in some Chebucto services, such as the generated-for-each-Chebucto-Plus-user Plus home page. The Technical Committee plans to move several of the more processor or speed intensive Chebucto services to the two servers. As well, there are plans to offer other new database services to the public.



---
Year-end numbers in: mixed news
The Chebucto Office reports membership numbers for the year 2001 are down from the previous year. There were 1911 renewed accounts and 267 new accounts for a total number of 2178. In 2000, there were 2320 renewed accounts and 367 new accounts for a total of 2687.

Bucking the downward trend, the number of Chebucto Plus Sustaining memberships rose 10%. Non-Profit organization signups doubled while For-Profit organization signups rose more than 500%.

Almost all the non-renewing accounts were text-based users moving on to other services. From their feedback it seems that many were not aware that the Chebucto Community Net offers a graphical access dialup service. The Chebucto External Committee, chaired by Marilyn MacDonald, has been discussing ways to help get the word out about the range of Chebucto services.



---
Chebucto launches online game servers!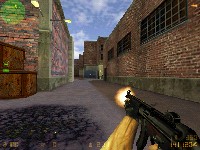 Online gamers will be pleased to hear that Chebucto has launched two new game servers.

Counter-Strike

and

Quake 2

can now be played at cstrike.chebucto.net and quake.chebucto.net respectively. These two popular online games have a dedicated local following and are played by thousands of people all over the web.

In Counter-Strike, a free modification (or mod) of the popular game Half-Life, players divide up into teams of terrorists and counter-terrorists. Each game level is set in a different terrain or map and the terrorist objective has to be thwarted by the counter-terrorists.

In Quake 2, players assume a variety of online identities and forms and shoot it out with each other over many different locations.

Both game servers are available any time after open office hours, as they run on one of the Chebucto office workstations. Home users require a registered copy of Half-Life with the Counter-Strike mod from either the commercial package or from the Counter-Strike website installed and a PPP connection to play Counter-Strike. To play Quake 2 online requires a registered copy of Quake 2 and a PPP connection.



---
New Membership Reward Plan!
Chebucto is pleased to announce a new Membership Reward Plan open to all current Chebucto members. Full Details here.

For each new Sustaining or Family Sustaining member who tells us they were referred to us by you, we'll give you a $20 credit good towards your next Sustaining or Family Sustaining membership. "Word of mouth" advertising can now get you free internet: five referrals are good for a free Sustaining membership, including a year of our famous Chebucto Plus full graphical access.



---
Chebucto Users tops in *.NS.CA SETI processing
SETI, the Search for Extra Terrestrial Intelligence, has been processing their radio telescope data with home users' computers for years now. Using an innovative screensaver which runs whenever the user computer is not in use, SETI has had more than 885,000 years of high quality computer processor time donated to it.

Of all the computer domains ending in the letters NS.CA, denoting Nova Scotia, chebucto.ns.ca now ranks number one, beating out both the government of Nova Scotia and the vast resources of EdNet, the schools network. Current stats here. Chebucto users have sent in more than 11,000 results, representing more than 25 years of CPU time that would otherwise have been wasted.



---
Outlook user email advisory
After the recent wave of viruses specifically targetting users of Microsoft Outlook and Outlook Express email programs, and the constant stream of user complaints about randomly altered program settings and difficulty using the program, the Chebucto Community Net Office and the Chebucto Technical Committee recommend our users do not use either Outlook or Outlook Express as their email program.

Windows Users can find a selection of email programs available for download here and Macintosh users can find a selection of email programs here.
---
Go to the Beacon