!- Copyright (C) 1995, 1996 Chebucto Community Net Society -> <!- This file is part of Chebucto Suite. Use is governed by the terms -> <!- laid out in the file COPYRIGHT...http://chebucto.ns.ca ->
IP3 Training
Getting Your Files onto CCN
---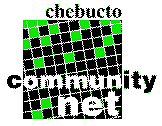 Objectives
After this session, IPs should be able to upload their HTML documents to CCN, test, and Install them in the appropriate directories. Please note that sample HTML documents * must * be made available in your public directory for the IP Trainer or Coach's approval before you will receive credit for this course.
Prerequisite Course Outlines
IP Training 1 and IP Training 2, or equivalent skills.

As well, an assignment will be completed. Users should be registered IPs (including signed IP agreement).
Topics Covered
Getting files into your home directory

Via dial-up: uploading using a communications program
Via Internet: mailing files to your CCN account and editing them afterwards

Having your IP Directory Created
Testing your HTML files within your home directory
Installing files into the appropriate CCN directory

use Install option in the File Manager
need to have install privileges on the directory

RCS - Revision Control System

what it is
why it is used

Editing files that have already been installed
Editing privileges
Getting a link from the CCN menus to your files

contact the appropriate second-page editor after you have installed you r files, or email request to CCN-ip (IP committee)
A sample docuument or URL of what is intended to be installed must be submitted to the IP Trainer before receiving credit for IP3.
If you would like to try out the new IP Proficiency test, you can obtain a copy here.
---