Disclaimer & Copyright Notices; Optimized for the MS Internet Explorer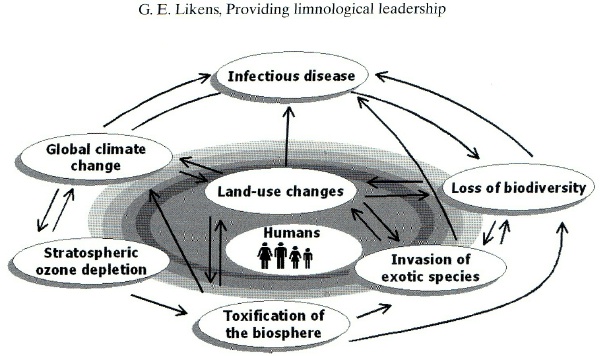 Select dealings with Nova Scotia Environment (NSE)
Soil & Water Conservation Society of Metro Halifax (SWCSMH)

Updated: September 05, 2015

---
Overview on our founding and update ...... with salutations to our primary founding partner in 1989,
the Nova Scotia Environment Department; Formal inaugural invitation, December 20, 1989; and Our scientific contributions to the NSE per letter d/April 27 2008 to Hon. Mark Parent PhD

Table of Contents:
Following is only a representative selection of our relevant dealings; see also our individual lake pages in our Narrative on select lakes/rivers:
---
Deputy Minister, Armand Pinard, appoints John Theakston PEng as the liaison to our predecessor group, the Sackville Rivers Advisory Board (SRAB)
The SRAB was subsequently amalgamated with this group (SWCSMH) with the permission of the Halifax County Planning Department: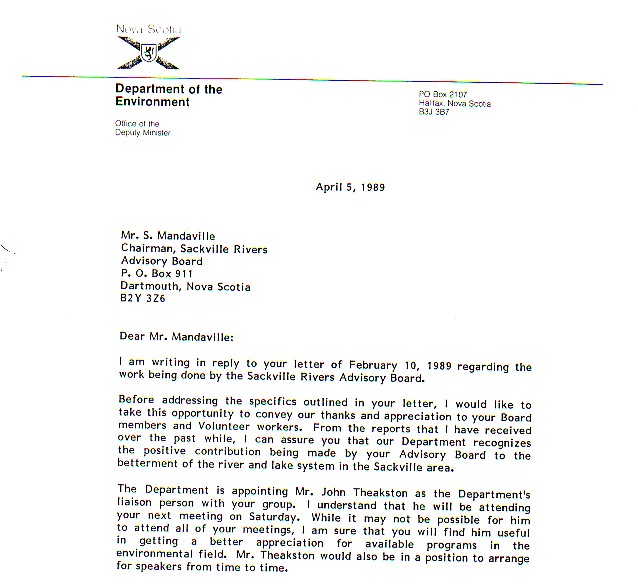 ---
Intensive discussions at a managers' meeting of the Department; February 08, 1991 at 10.10 AM
The meeting was organized by the Manager of the Central Region, Dianne Coish. Also present were Howard Windsor, Director of Regional Offices; John Turner PEng, Director of Resource Management & Pollution Control; and Andy Cameron, Manager, Water Quality Branch. The meeting was held between us and the department to clarify certain roles.
---
A February 21, 1994 letter of commitment by the Hon. Robbie Harrison
We donated synoptic studies we carried out especially for the honourable minister easily worth over $50,000 on a prior written request from the Minister!

Read also the 1-page letter we sent the Hon. Mark Parent PhD dated April 27, 2008

---
A record of decisions dated December 09, 1996 made with the NSEL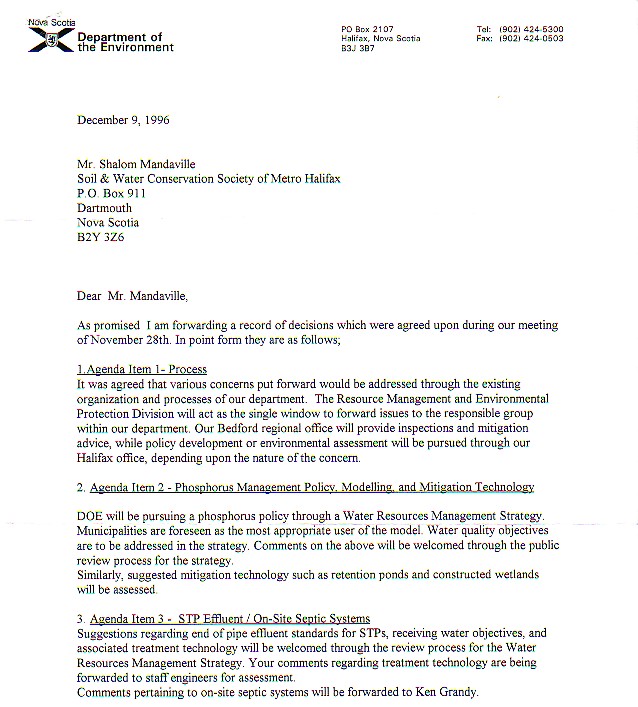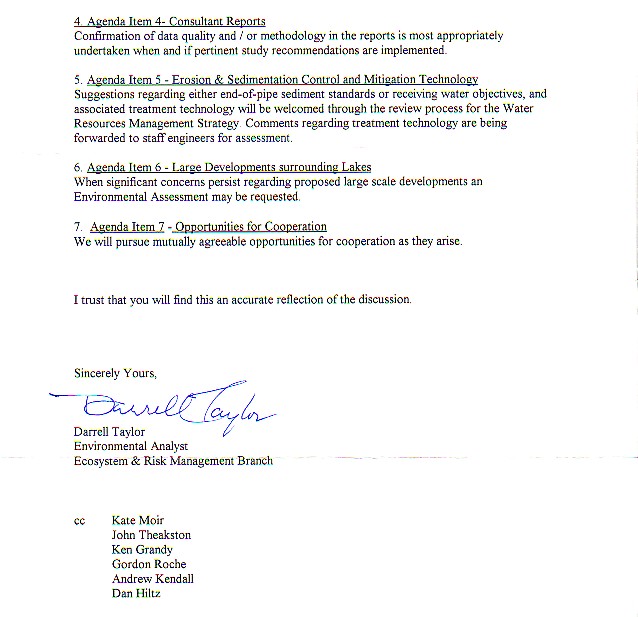 ---
Our modelling predictions came to pass, post-development, in a lightening span of 3-4 years
See Sandy Lake, Hammonds Plains as one example; such a trophic degradation ... remarkable accelerated eutrophication during 1996-1999, a process which takes tens of thousands of years, if at all!

Read the discouraging letter dated September 10, 1997 from the Hon. Wayne Adams, Minister.

See our individual lake pages in our Narrative on select lakes/rivers!
---
Mr. Andy Montgomery's email re the 1998 State of the Nova Scotia Environment report
Russell Lake, Dartmouth: Mr. Montgomery did not cite our international limnology group by name, the Soil & Water Conservation Society of Metro Halifax (SWCSMH), although it was from us that he received donation of extensive archive data as well as analyses on Russell Lake.

Further, he claimed that there were 4 eutrophic and 7 mildly eutrophic lakes within the Halifax/Dartmouth region. The report he based his views on was produced by the BIO-DFO and was only a single synoptic survey. No credible limnologist will ever base his/her conclusions on single sampling.

Our more extensive, not only chemical limnology but also biological limnology, studies show that none of the lakes reported by the BIO-DFO were eutrophic. They were all either oligotrophic or mesotrophic. There are indeed some eutrophic and hypertrophic lakes within the metro Halifax region but they were not sampled by BIO-DFO; we have developed extensive archives on same.

Notwithstanding, it is well known among us limnologists that pelagic trophic parameters do not reflect the true status of, especially, shallow lakes, cf. Shallow Lakes.

Nutrient supply does not always influence phytoplankton productivity in shallow lakes in the manner for large lakes because of the complex competitive interactions of macrophytes, attached microbiota, and phytoplankton (Wetzel, 2001).
---
We made a third detailed scientific presentation to the Department
....... and follow-up discussions from 1:30 PM to 4:30 PM on June 13, 2000. Present were Mr. John Theakston PEng and Mr. Darrell Taylor of the Ecosystem & Risk Management Branch headed by Ms. Kate Moir.
---


We salute the Chebucto Community Net (CCN) of Halifax, Nova Scotia, Canada for hosting our web site, and we applaud its volunteers for their devotion in making `CCN' the best community net in the world!
---