Polish Lajkonik
---
Nasz Lajkonik, ten Lajkonik, po Krakowie ciagle goni,
Lajkoniku laj, laj, po przez caly kraj, kraj!
Lajkoniku laj, laj, po przez caly kraj!
San Antonio Lajkonik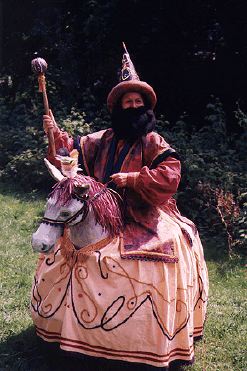 Sheilagh Hunt and Christopher Majka of Empty Mirrors Press in Halifax, Nova Scotia, Canada are pleased to be able to offer Polish Lajkoniks for sale.
Polish aficionados will know what a key place the figure of the Lajkonik has in Polish dances. A quick historical excursion for those who are interested!
In the early thirteenth century a great Mongol empire formed in Asia. Under the leadership of the Ghenghis Khan Temujin, the Mongols swept westward and conquered Turkestan, Persia, Iraq, Georgia and almost all of Russia.
By 1240 Ghenghis' successor, Batu Khan, was poised on the frontier of Poland. In 1241 he launched his attack and was met by the Poles and various foreign knights under Henry the Pious, Duke of Silesia, at Legnica. The Mongols on their swift horses were victorious. Henry was killed by these so-called Tartars' and they began to raid southern Poland with impunity - burning, looting, and carrying away the populace into slavery.

Vancouver Lajkonik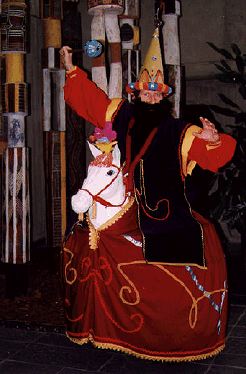 Batu Khan withdrew to Saraj on the lower Volga where he established a state called "The Golden Horde" and continued to raid Mesopotamia, Azerbaiian, Annenia, Georgia and Poland. The most disastrous of these forays into Poland were in 1259 and 1287.
After the death of Kublai Khan in 1294 the strength of the Mongol Empire declined. Nevertheless, the Polish people were subject to fierce persecution by the Tartars for over half a century - an event which left a deep impression. A symbol of these fierce people was the Lajkonik - a Tartar riding a horse - and he came to play an important role in the Krakowiak, the dance of the people of Kraków.
The Lajkonik is a white horse, crowned with a plume of feathers and dressed in an elaborate red or gold cape covered in brocade. The man who'rides him has a coat of similar material tied in front with a red sash and yellow trousers. His conical hat is peaked with a crescent and he twirls a mace in his hand. The Lajkonik always sports a thick, dark beard.

Virginia Beach Lajkonik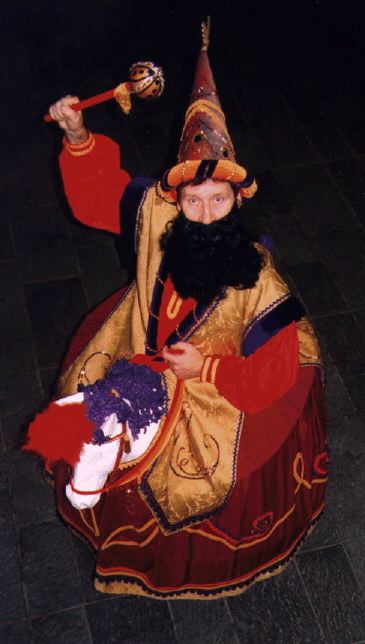 Each costume is designed and built individually to specification. They are beautiful, durable and are made for use by dance ensembles. They come complete with instructions for assembly, wear and care as well as with background information on the Lajkonik.
Cost varies slightly according to the costume, fabrics and degree of ornamentation but is in the range of $750 plus shipping.
Sheilagh Hunt studied historical costume design at Dalhousie University and has subsequently designed and built costumes for a wide variety of dance groups, theatre companies and films across the country.
Christopher Majka is an Eastern European with roots in the Polish peasantry, the Austo-Hungarian nobility and the Russian intelligensia! He has worked, studied and travelled extensively in Poland, Hungary, the ex-Yugoslavia and the former Soviet Union. He has danced with Polish, Romanian and Hungarian folk-dance companies in Canada, Great Britian, the United States and Poland.
Christopher and Sheilagh were both long-time members of the Pomorze Polish Folkdance Ensemble which has performed in Poland, Canada and the United States. They are co-authors of the book Polish Folk Costumes.
Winnipeg Lajkonik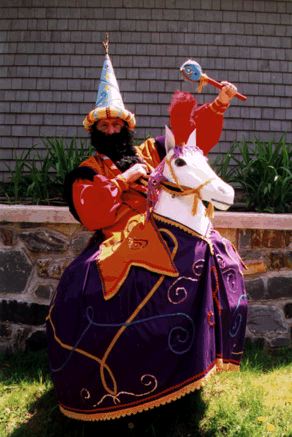 Each Lajkonik costume consists of:
A hand built, hand-painted fibre-glass horse's head complete with reins, harness, mane and feather plume.
A 'hoop-skirt' harness assembly complete with belt and suspenders.
A cotton skirt for the Lajkonik decorated with braid and rick-rack.
A cotton shirt for the rider.
A plush cotton brocade coat for the rider.
A conical buckram hat decorated with jewels and sequins.
An ornamented wooden mace.
A black beard to be worn by the 'Tartar'.
A tail for the horse.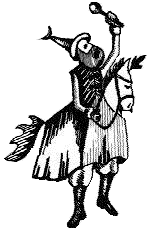 For inquires or to order a Lajkonik contact: Christopher Majka
Empty Mirrors Press
6252 Jubilee Road
Halifax, Nova Scotia
Canada, B3H 2G5
Telephone: (902) 425-3725
[EMail Empty Mirrors Press]
To purchase a Lajkonik jacket (materials, construction & shipping included):
There is, a considerable tradition and folklore of dancing horses in other cultures as well, particularly as part of the English Morris Dances.
[Polish Folk Costumes] [Polish Folk Resources] [Detroit Lajkonik] [Halifax Lajkonik] [Lajkonik in Kraków]
---