Edmonton is not especially renowned for its appealing architecture. Indeed, it seems that most any building older than about twenty years gets demolished to make room for something new and ugly.
This process can be plainly seen in these two views of Jasper Avenue in downtown Edmonton, from circa 1950 and 2001. Fortunately, there are a few interesting exceptions that have managed to survive.
The Edmonton Public Library hosts the Lost Buildings of Edmonton photo gallery. The focus is on buildings that have now been demolished.
Traditional Church Buildings:
Ansgar Lutheran Church

This church serves the Danish community.

Christ Church (Anglican)

This church was built in 1921. Architect William Blakey modeled it after Tintern Abbey in England.

Holy Rosary Church

This church serves the Polish community.

Holy Trinity (Anglican) Church

This church was opened in 1913. The architects were Henry and Arthur Whiddington. It represents the Gothic Revival style.

Knox Church

LDS Church

The Colonial-American style architecture of this building is appropriate given the American origins of this religion. The church was dedicated in 1951.

MacDougall United Church

This building was built in about 1910 as MacDougall Methodist Church. The old (1873) wooden church building it replaced was moved to Fort Edmonton park in 1977, where it now serves as a museum and "shrine".

Robertson Wesley United Church

This building was built in 1913 as Robertson Presbyterian Church. It is in the High Victorian Gothic Revival style. The architect was David S. McIlroy.

St. Josaphat's (Ukrainian Catholic) Cathedral

Trinity Lutheran Church

This building was originally constructed in 1914, and it has been expanded several times since.
Modern Church Buildings:
Knox Metropolitan (United) Church

Millbourne Alliance Church

While it is not very clear from this photograpg, the bricks in the front "tower" are all set on edge vertically, making the design rather more interesting and visually appealing.

St. John the Evangelist (Anglican) Church

Strahcona Baptist Church

This Church was built in 1964.

Trinity United Church

This West-end Church was built in 1963.
Historic Buildings:
Alberta Legislature

A. Minchal Building

This structure was built about 1925. Note the (original?) painted sign and the sandstone lintels on the facade. Industrial buildings are far too infrequently recognized as heritage sites.

Art Deco Building #1

I do not know anything about the history of this particular building (though it was repainted to the current colour scheme a few years ago), but it is a classic example of art deco style. I really like the design.

Art Deco Building #2

About a year after the above photo was taken, the building was repainted in darker colours.

Birk's Building #1

This building opened in 1929 with retail space on the ground floor, and medical offices on the floors above.

Birk's Building #2

Canada Permanent Building

Originally constructed in 1910, this Edwardian Baroque style building was threatened with demolition in the early 1980s. Fortunately, it is now an "A" list municipal historic resource.

CIBC Building

The Canadian Bank of Commerce building opened in 1929. Additions and rennovations were done to this structure in 1964, and again in 1984. I like the banconettes on the front and side facades.

Connaught Armoury

This building is a registered historic resource.

Commercial Hotel

Dominion Hotel Building

This building was built in 1903; the facade was originally far more elaborate.

Federal Building #1

The Federal Building was constructed in 1955. It is presently vacant and awaiting rennovations.

Federal Building #2

Former Retail Store?

This interesting building is located in the Garneau neighbourhood. It looks like it used to be a retail store; I am not clear on what the present use is.

Jasper Avenue

Looking North-East from 97th St.

King Edward School

This school opened in 1914.

MacLean Block

Margaret Martin Residence

This Foursquare, Prairie-style house was built in 1907. The architects were the firm of Magoon, Hopkins, and James.

McLeod Building

Constructed between 1912 and 1915, this structure was designated a Provincial Historic Resource in 1995. The architect was John K. Dow, and it is modelled after the Polson Building in Spokane, Washington.

Metals Building

This building is a registered historic resource.

Strahcona High School

This building was built in 1909.

Old Strathcona Post Office

The Old Post Office building on Whyte Avenue now houses a midling Italian restaurant.

Tipton Block

The Tipton Block was constructed in 1911 for R. A. Hulbert. In 1979, it was restored by the Old Strathcona Foundation.
Modern Buildings
Canada Place

This magnificant building houses Federal Government offices for Edmonton/Northern Alberta.

CN Tower

This building was constructed in 1966. At the time, it was the tallest Canadian office building located west of Toronto. A now vacant one-story annex to this building formerly served as the main passenger train station for Edmonton.

Whyte Avenue Store

This building was built in about the mid-1990s. The decorative details are intended to be reminiscent of the Varscona Theatre that formerly occupied the location. It was, in turn, demolished in September 2009.

Law Courts

This Brutalist-style building opened in 1972.

First Edmonton Place

I am certainly no artist, but I am very proud of this photograph. The reflection of the sunlight was just perfect that day.
Interesting Houses
Garneau House #1

Garneau House #2

Glenora House

Gold Bar House

Note the flying buttresses on the front of this house, located in the Gold Bar neighbourhood. This image is reproduced with the kind permission of Bowling Trophy.

Jacob Webb Residence

Jacob Webb lived in this house at 10632 - 84 Ave from ca. 1921 until his death in 1932. He son Truman later lived there for a short time. This photograph was taken in 2001; the building was demolished ca. 2012.

Lendrum House

This rather unusual-looking residence is located in the Lendrum neighbourhod in South Edmonton.

McCauley House

Brick houses are relatively uncommon in Edmonton. This is a fine example. Note especially the decorative details above the windows and front door, and the clever use of a door(!) in the dormer on the second-floor.

McLean House

This house was construced in 1896 for Arthur Mclean. It is an excellent example of a Gothic revival or Carpenter Gothic style residence.

Meadowlark House

Strathcona House #1

This cute little house is one of the few remaining on a street now dominated by walk-up apartment buildings.

Strathcona House #2

Strathcona House #3

"Square" House
University of Alberta: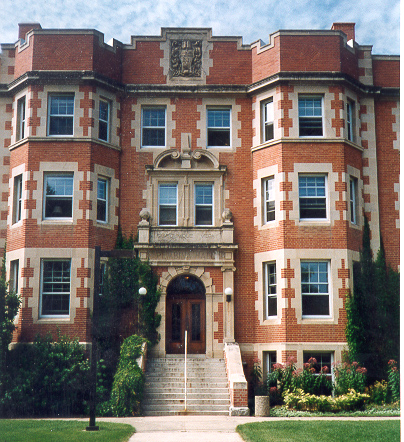 Pembina Hall
Constructed in 1914 as an all purpose building (including both residence and classrooms), Pembina Hall is one of the oldest buildings on the University of Alberta campus. In 1977, the University received the Heritage Canada Award for its painstaking renovations which preserved much of the building's original character. It primarily served as a Graduate students' residence until Summer 2005, when it was then converted into office space.
Miscellaneous
Arcade Sign at YEG

South Bend Motel Sign

This establishment is a surviving remnant of the many roadside motels of the 1950's through the 1970s. It was finally demolished in the Spring of 2013.

Former Service Station

This building used to be a service station (probably Texaco). It has since been repurposed as a dental/medical office.

Harbin Gate

This structure was erected in 1987. It was a gift from, and named for, Edmontonís sister city in Northeast China.
This page is part of my Canadian Architectural Photographs collection.
Please direct all comments, suggestions, and additions to me at jhd@interbaun.com.
---
Last Modified: December 24, 2016