When I was in Junior High School, I really wanted to be an architect. For various reasons, this did not happen, but I am still very much interested in architecture; especially heritage buildings. These pages include photographs of (and some commentary about) the more interesting and unusual buildings that I have seen during my travels across Canada.
Additional content will be added as time and resources permit.
Alberta
British Columbia
Manitoba
New Brunswick
Nova Scotia
Ontario
Quebec
Prince Edward Island
Saskatchewan
Other Places
Similar content can be found at the University of Calgary virtual exhibit Views of 20th Century Canada: The Canadian Architectural Photography Digitization Project.
A few of these buldings are included in the Canadian Register of Historic Places.
This document is related to my personal homepage.
Please direct all comments, suggestions, and proposed additions to me at jhd@interbaun.com.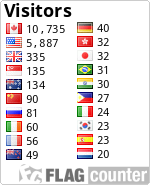 ---
Last Modified: June 29, 2018