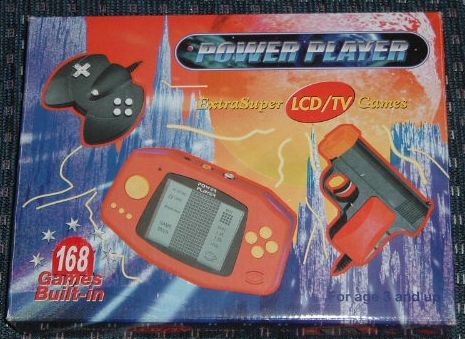 There are many different variations and models of Famiclones with different styles of cases (some of the newer models look like an N64 controller), but all of the "Power Player"-brand Famiclones I have seen include the very same 75 different games.
This model has also been referred to as the Power Player Handheld.
Some of these games are common NES games (sometimes with altered graphics), many are Japanese Famicom games that were never released formally in North America, and some I have not yet been able to identify.
Please contact me if you can identify any more of these games or any provide technical information on the system.
To my personal homepage.
| | | | | |
| --- | --- | --- | --- | --- |
| # | Name | "Real" Title | Comments | (Original) Publisher |
| 72, 124 | 1942 | 1942 | Shooter | Capcom |
| 2, 112 | Aladdin II/III | [no title screen] | Very crude side-scrolling shooter; a.k.a. "Magic Carpet 1001" | Caltron/Myriad |
| 36 | Antarctic | Antarctic Adventure | racing game | Konami |
| 32, 134, 152 | Arabian | Super Arabian | Platformer | |
| 13, 120 | Arkanoid | | | Taito |
| 40 | Balloon Fight | | | Nintendo |
| 62, 106 | Baseball | | | Nintendo |
| 55,100, 157 | Bird Week | Bird Week | Very Strange!; catch insects and feed baby birds | Toshiba EMI |
| 70, 116, 149 | Bomb Jack | Mighty Bomb Jack | Platformer | Tecmo |
| 51, 111 | Brush Roll | Brush Roller | Maze game | |
| 53, 98, 158 | Calculator | Donkey Kong Jr. Math | | Nintendo |
| 33, 135, 145 | Circus Charlie | Circus Charlie | Famicom game; see also #66 | Konami |
| 74 | Clay Shooter | part of Duck Hunt | (Zapper game) | Nintendo |
| 54, 99 | Clu Clu Land | | Very Strange!; build a maze | Nintendo |
| 45, 78 | Combat | Field Combat | Reminiscent of Front Line | HK Game Cart Co. |
| 1, 113 | Contra | | Platformer | Konami |
| 52, 97 | Devil World | Devil World | Weird maze game, not released in North America | Nintendo |
| 5, 132, 144 | Ding Dong | Binary Land | Fun maze/puzzle game | Hudson Soft |
| 39 | Door Door | Door Door | platformer; Japan-only release | Enix |
| 37 | Duck Hunt | Duck Hunt | (Zapper game) | Nintendo |
| 14, 121 | Elevator | Elevator Action | | Taito |
| 60, 104, 161 | Excitebike | Excitebike | | Nintendo |
| 18, 87 | Exerion | | Shooter with scrolling background | Jaleco |
| 57, 102 | F1 Race | F-1 Race | Basic racing game; only released in Japan | Nintendo |
| 56, 101 | Five Chess | Gomoku Narabe | Othello-like game; all text in Kanji | |
| 26, 93 | Formation Z | Aeroboto | Side scrolling shooter | Jaleco/Williams |
| 30, 127, 166 | Front Line | Front Line | Port of the Taito arcade game | |
| 23, 88, 160 | Galaza | Galaga: Demons of Death | | Bandai |
| 67, 109 | Golf | | | Nintendo |
| 27, 123 | Gyrodine | | Crude overhead shooter | Taito |
| 48, 83 | Helicopter | Raid on Bungeling Bay | Crude overhead shooter | |
| 63, 168 | High Tank | | | |
| 61, 105, 139 | Hogan's Alley | | (Zapper game) | Nintendo |
| 47, 82 | Ice Climber | Ice Climber | | Nintendo |
| 34, 142 | Joust | | | HAL |
| 46, 79, 137 | Karateka | Karateka | Primitive fighter | Soft Pro |
| 4, 130 | Kitty | Dig Dug | (with slightly modified graphics) | |
| 43 | Kung Fu | Yie Ar Kung-Fu | | Nintendo |
| 65, 108, 146 | Lunar Ball | Lunar Pool | | FCI |
| 20, 95 | Macross | Choujikuu Yousai Macross | Title screen in Kanji; side-scrolling shooter; Released in the U.S. as Robotech | Namco |
| 76, 94 | Magic Jewelry | Magic Jewelry | Taiwanese puzzle game for the Famicom | RCN |
| 38 | Mappy | | Famicom game | HK Game Cart Co. |
| 35 | Millipede | | | HAL |
| 42, 151 | Ninja I | Ninja-Kun | Fun platformer | Jaleco |
| 58, 165, 167 | PacMan | Mappy | | |
| 50, 85 | Pinball | Pinball | | Nintendo |
| 3, 136, 153 | Pokemon | Nuts & Milk(?) | | |
| 22, 129 | Pooyan | Pooyan | Famicom game | Hudson Soft |
| 31, 131 | Popeye | | | Nintendo |
| 24, 89, 163 | Road Fighter | | Famicom game | Palcom Software |
| 19, 92 | Sky Destroyer | Sky Destroyer | First-person fighter pilot; reminiscent of Air Raiders for the Atari 2600; Probably a Famicom-only release | Taito |
| 74, 125, 140, 147, 148 | Slalom | | | Nintendo |
| 49, 84 | Small Mary | Xiao Mali | Apparently a popular Taiwanese game | |
| 11, 115 | Soccer | | © 1998 Fifa Soccer | |
| 29, 96 | Space ET | Space Invaders | | |
| 16, 119, 150 | Spartanx | Spartan X | Fighter; released in the US as Kung Fu Master | Nintendo |
| 69, 162 | Speed Painter | [no title screen] | Simlar to Pac Man, but much harder | |
| 71, 118 | Sqoon | Sqoon | | Irem |
| 17, 90, 141 | Star Force | Star Force | Shooter with scrolling bacground | Tecmo |
| 25, 91 | Star Gate | Defender II | | HAL |
| 73 | Star Turtles | Donkey Kong Jr. | (with heavily modified graphics) | |
| 28, 126 | Super Dynamix | Super Dyna'mix Badminton | | |
| 12, 117 | Super Mario | Super Mario Brothers | | Nintendo |
| 21, 128, 159 | Tank 90 | Battle City | "Tank K 1990", Fun maze-type game | |
| 6, 133 | Teletubbies | Mario Brothers | (with altered graphics) | Nintendo |
| 64, 107, 138 | Tennis | | | Nintendo |
| 10, 114, 164 | Tetris II | Tetris: The Soviet Mind Game | "1993 Tetris Game"; Competent implementation | Tengen |
| 66 | Toy Story I | Circus Charlie | Famicom game; see also #33, 135, & 145 | Konami |
| 9, 86, 154 | Toy Story II | Bomberman | | Hudson Soft |
| 7, 80 | Turtles I | Donkey Kong Jr. | (with altered graphics) | Nintendo |
| 8, 81 | Turtles II | Lode Runner | (with altered graphics) | Broderbund |
| 15, 122, 156 | Twin Bee | Twinbee | Famicom game | Konami |
| 44, 77,143 | Urban Champion | Urban Champion | Very crude fighter | Nintendo |
| 41 | Wild Gunman | | (Zapper game) | Nintendo |
| 68, 110 | Wrestle | | Very crude; not WWF/WCW Wrestling | |
| 59, 103, 156 | Zippy Race | MotoRace USA | Overhead racer; Japan-only release? | Irem |
---
Last Modified: February 20, 2017