NOVA SCOTIA CONTRA DANCE FESTIVAL
REGISTRATION & PAYMENT INFORMATION
NOTE: Advanced registration is now closed, but space remains for all dances and workshops at the "Pay at the Door" prices shown below.
FEES FOR CONTRA FEST 2015 EVENTS (View the schedule here)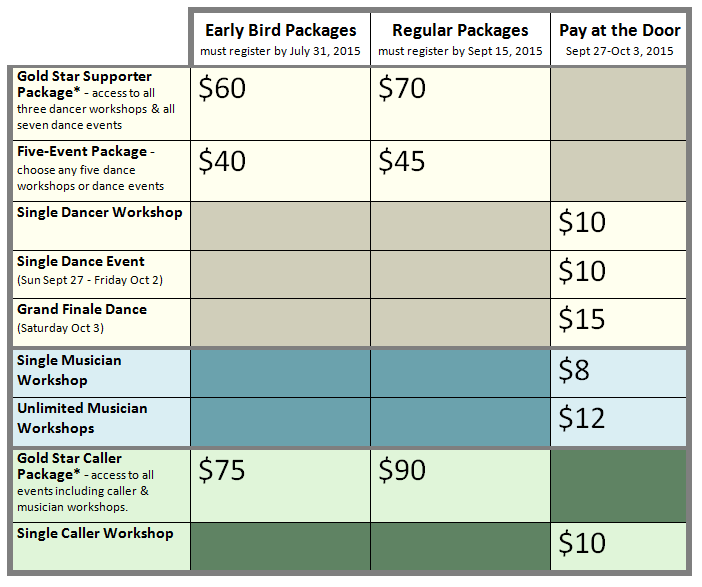 Sunday morning opening event: The first 40 people to buy a Gold Supporter package will get a pass to our limited-admission opening event. Hosted at an oceanfront private residence, the event includes an introduction to each of our 5 special-guest callers and musicians, followed by a short concert. After the concert, all are invited to mingle and enjoy tea, coffee and light snacks. Carpooling can be arranged.
Refund Policy:
Refunds, less a per-package administration fee of 10%, will be given until August 31, 2015 for cancellations received by email or in writing, and including a mailing address. After August 31, 2015 refunds for extenuating circumstances will be considered on an individual basis.
Contra Fest 2015 has been organized entirely by volunteers and our costs are covered through fundraising efforts and admission fees.
We ask dancers to pay full admission if they can - but we are committed to ensuring the cost of admission will not be a barrier to anyone who wishes to attend.
If the cost of admission is discouraging you from joining us, please contact us at halifaxcontradances@gmail.com, and we would be happy to find a price to suit your budget.
We look forward to having you dance with us!