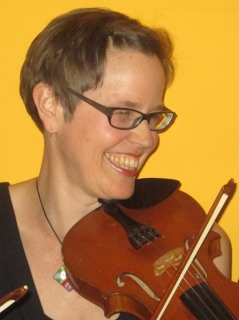 Betsy Branch is a versatile musician who loves to explore multiple genres of music. She got her start at age 5 in classical music, and then in her 20's fell in love with folk fiddle music. She has wandered her musical way through music from Ireland, Scotland, Appalachia, Quebec, Sweden, England, Bulgaria and New England, to mention a few. She plays regularly for contra and English Country Dances, and at times you can find her playing and singing at a local pub. Her dance bands include Wild Hair and The Quarks, but she works with a wide variety of musicians from the region beyond her bands. She also works with Sue Songer and Erik Weberg in the epic Portland Megaband, a contra dance band with anywhere from 75 to 80 players.
Her main work is teaching fiddle, and helping both kids and adults to find joy in the instrument and music. She has been teaching out of her Portland, Oregon home since 1999. She teaches both adults and children, and is passionate about helping students enjoy themselves as much as possible. She doesn't use any specific method. She prefers to teach to each individual student in a way that will encourage them to keep playing and having fun with the instrument (she jokingly refers to this as the "Betsy method"). She focuses especially on how to stay relaxed and loose while playing.
Her musical adventures have also taken her down other interesting paths. Since 2006, she has been the Associate Music Director for Portland's Revels Company, and has had the opportunity to work with some amazing musicians along the way. Revels has also provided exciting opportunities for her to arrange choral music and overtures for brass quintet. Many of her musical arrangements can be heard on the Portland Revels CD Down Through the Winters, available on the Revels website
.
She is also a music transcriber and editor. She is currently working on a large transcribing project for Kevin Burke, making a music book with him of his 4 solo albums plus his compositions. The book will have over 100 tunes in it, transcribed the way Kevin plays them. Additionally, she is the music editor for The Portland Collection, a series of contra dance tune books.
Besides fiddle, Betsy also enjoys singing, playing DADGAD guitar, and drumming away on dumbek. When not playing music, Betsy loves to go for long walks, ride her bike, visit with a friend on her front porch swing over a cup of tea, write hand-written letters, and hang out with her husband Mark and son Scotty.
Lisa Greenleaf calls regularly in the Boston and New England areas and has been a staff member at dance camps and festivals throughout the country and beyond. Her specialties include traditional and contemporary contras, satisfying squares, challenging dances of all shapes and sizes, and callers' training.
Lisa likes to emphasize community and communication in her workshops, guiding participants to get the most out of their dancing or calling experience. She has a keen interest in understanding group dynamics as well as the power of positive leadership. Her philosophy is: We all want to have a good time, to feel stylish as we do it and to connect with others in a meaningful way. Let's dance!
Not only does Lisa like to call squares, she really likes to dance them, too, in all their various forms, from traditional New England and southern to Modern Western (she is a member of MIT Tech Squares). Learning Modern Western has afforded Lisa the opportunity to explore square dance history and understand the relationship between the MWSD and contra communities.
The youth movement in contras and squares is another passion of Lisa's. She has encouraged new callers through workshops and scholarship programs, and has mentored up-and-coming bands to get them ready for national touring. Long before techno music came along, Lisa was experimenting with creating alternative music, using software to edit popular (and esoteric) music to fit contra dances. This interest has expanded to working with live techno bands, who use a mix of recorded tracks with live instrumentation.
While working with CDSS on the contra callers' survey, Lisa discovered that there are so many different kinds of contra, square and community dance events out there--more than she previously knew existed--and she looks forward to exploring as many of them as she can.
Sue Hulsether leads dances from American folk traditions, guided by a passion for creating positive human connections. When Sue leads, she weaves dancing, singing and community into a joyful tapestry of music and movement. Sue calls dances for groups of all types, ages and abilities, equally at home working in a barn, school, regular dance series or camp. Her dance repertoire includes squares, contras, circles, reels and play parties -- as well as teaching the rhythmic delights of flatfoot clogging and spoons. She is recognized for her clear teaching, welcoming manner on the mic and engaging humor.
Much of Sue's calling takes place in school gymnasiums, where she joyfully introduces traditional dance and music to thousands of students every year. As a Teaching Artist, she spends over 55 days per school year dancing with as many as 300 kids per day. Most school residencies culminate with a family dance and live music, the highlight of the year for many kids and their families. Dancing Sue, as the kids call her, provides learning, social skills, and community-building experiences for schools all over the Upper Midwestern United States.
Sue got her start as a caller when she organized an Artist-in-Residence program at the school where she taught music in Richfield, Minnesota. That dance leader -- Terrence Smith of Duluth, Minnesota -- inspired Sue to begin teaching dances to her music students. Soon, she was calling for local scout groups, church events and day camps. Mentored by Terrence and then by Minnesota caller Carol Ormand, Sue began calling at weddings, local contra and square dances and special events. One memorable day found her leading dancing at two birthday parties: one for a 7-year-old and the next for a 70-year-old.
She was hooked. In 1999, Sue received a sabbatical from her teaching job and a Travel/Study grant from the Jerome Foundation of Minneapolis-St. Paul. With this time and money, Sue travelled extensively in the southeastern and northeastern United States, interviewing callers and dancing in as many contexts as possible, including Larry Edelman's Square Dance Callers' Course at CDSS's Pinewoods. This extensive travel in the early stages of her calling career gave her the opportunity to gather her material in the valued oral tradition -- which she continues to do to this day. Following her sabbatical, Sue spent three more years in the music classroom before she moved to the country and launched to full-time calling in 2003.
Sue now lives on a small farm in the hills of southwestern Wisconsin. Following a long-held dream of being a market gardener, Sue sold produce for five years at the local farmers' market, until her calling calendar demanded more time than the vegetables would allow. Now, she travels far and wide to call and dance, while still finding time for the local community square dance, hosting house parties and raising enough food to eat, give away and preserve for winter. She shares her beautiful farm with her husband Steve and a crew of friendly barn cats.
Eric McDonald was born in Boston Massachusetts on July 11th, 1987, and has lived there since. Despite being raised in a heavy musical environment, he shied away from it for many years. But in his early teens, Eric was working on a student newspaper with some friends, and during one meeting, they realized that the only way to be cool was to start a band (a band that went on to be WBCN contest winners and play big rock clubs such as Bill's Bar and The Palladium). So Eric picked up the guitar and started singing. He began going out to open mikes and meeting many local, prolific songwriters, helping him develop a passion for acoustic music. When he was 14, he joined the Family Folk Chorale, a large intergenerational folk chorus that puts on themed concerts. The teens of the group often made up the band, and when the bluegrass session rolled around, the only instrument that was missing was the mandolin. Eric stepped into that role, and found his stride almost immediately. After just one month, the FFC put on their bluegrass show with Eric in a featured mandolin spot. When he was 17, Eric helped found the contemporary bluegrass band Jaded Mandolin, who played all over the rich Boston music scene, selling out shows at venues such as the legendary Club Passim and drawing heavy praise from folk writers such as Daniel Gewertz (Boston Herald) and Scott Alarik (Boston Globe). The globe also gave special attention to Eric's duo with his sister Justine, called Talaria. In his spare time, Eric began traveling around New England to back singer/songwriters on the mandolin (Jess Yoakum, Patty Keough, Thea Hopkins and others). In 2006, Eric began playing extensively with the cello/fiddle duo Ari & Mia Friedman, and continues to do so.
In the past few years, Eric has developed a passion for the music of contra dances, and can be seen on stage these days all over the northeast. He has been seen on stage with his own band, Matching Orange, as well as with the band Perpetual e-Motion (John Cote on guitar and Ed Howe on fiddle), with Lissa Schnecknburger, and with the band Nor'Easter (Jullie Vallimont on piano and Cedar Stanistreet on fiddle). Eric has attended Pinewoods Dance Camp and has taught at Maine Fiddle Camp. At these camps, and in other social situations, he has met and drawn inspiration from many contra dance musicians, including Keith Murphy, Jeremiah McLane, Glen Loper, Ethan Hazzard-Watkins, Peter Barnes, Lissa Schnecknburger, Dave Langford, Owen Marshall, Jessie Gagne-Hall and others.
These days, Eric is studying mandolin at Berklee College of Music in Boston, under the tutelage of world renowned musician John McGann. His schedule is rapidly filling up with all sorts of musical activities. He recently joined The Dave Rowe Trio, a band based out of Maine, and is already touring the country with them. Matching Orange is beginning to draw attention from outside the dance community, and can be seen performing at concert venues such as Club Passim and The Boston Celtic Music Festival. Eric can also be seen at many events related to BCMFest. He was part of the "Bard Squad" at this year's ICONs Festival.
Every Sunday night, Eric plays at The Burren in Somerville with Sean Staples, Eric Royer, Dan Kellar, Tim Gearan and Scott Corneille. In December, Eric will join Boston singer/songwriter Alastair Moock on stage as part of his project "Pastures of Plenty". So far the show includes Eric, Moock, Royer, Jennifer Kimball and Paul Kochanski.
Eric can be seen around town playing with the pop/rock band The Wild Sea at venues such as Toad, The Lizard Lounge and Bill's Bar. The band includes Ruth Peterson, Todd Russell, Frank Marrotta Jr., Matt Russell, Matt Tehaney and Phil Aiken.
Susan Songer is a contra dance musician, band leader, and instructor in the Portland, Oregon area. Sue has been playing piano and fiddle since 1992 for regular scheduled contra and English dances in Portland, Oregon including two ongoing, monthly dances that she founded (with others). As a contra pianist, she is known for her pulsing chord work with its fluid syncopation and irresistible lift. She plays with several contra dance bands including: Portland-based Joyride, Calico, the Alliterations (with Betsy Branch and Clyde Curley) and various configurations with David Kaynor. She is also a frequent piano player for other fiddlers from both coasts. She is also founder (in 1996) and director of the 75-member Portland Megaband, which plays at a very large, special contra dance in Portland once a year, and leads many open mic bands in Portland and elsewhere. Her recordings include "A Portland Play Along Selection" with Betsy Branch and Clyde Curley, and two of the Portland Megaband: "Live" and "A Beneficial Tradition".
Sue is a staff member at many dance weeks, weekends and special events such as:
Piano and fiddle tutor at Festival of American Fiddle Tunes and always assists with organizing participant music.
Instructor at Dance Musicians' Week at the John C. Campbell Folk School since 2010.
Provider of dance music outreach and instruction to smaller communities in Oregon as well as elsewhere in the States.
Susan Songer and Clyde Curley have produced a series of tune books called "The Portland Collection: Contra Dance Music in the Pacific Northwest". These have a companion series of CDs called The Portland Selection.
Her dance music involvement also includes service on various dance boards and committees:
Board of The Northwest Folklife Festival (250,000 attendees)
Board of The Portland Roadhouse, an all-day dance event featuring 8 different bands and callers from Washington and Oregon. This is part of Cascade Promenade, a multi-community, multi-day event encompassing dance communities along the I-5 corridor, of which she also has oversight.
Member of the Music Committee for Portland ECD. Served as ECD chair.
Served as organizer for and presenter at the CDSS West Coast Leadership Conference, 2006.
Served on the Portland Country Dance Community board from 1993–1997 and was chair from 1994–1997. Set up the membership data base and then managed it for 15 years.
Sue was a public school teacher (middle school social studies) and then a licensed psychologist with a private practice in Portland (MA in Family Studies, PhD in Counseling Psychology). She began contra and English dancing in 1986. She is married to Lanny Martin who is also a contra dance musician, and she has two adult daughters. She also enjoys sightseeing and educational travel, hiking and walking, reading, crossword puzzles, movies, and especially hanging out with friends and family (see her Facebook page).