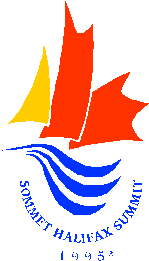 Halifax Summit
Giugno 15 - 17, 1995
Halifax, Nova Scotia, Canada


ITALIANO

| English | Français | Gaidhlig | Mi'kmaq | Deutsch | Russian | Japanese |
---
| "Participants" | "Events" | Map (English) |
---
Per informasione su il Halifax Summit, John Whidden.





"Host Country"
"This year it is Canada's turn (along with the province of Nova Scotia and the city of Halifax) to host representatives from the world's seven largest (G7) industrial economies in a conference to discuss current issues."
"Participating Countries"
Francia
Germania
Italia
Giappone
"United Kingdom"
Stati Uniti
"Other Participants"