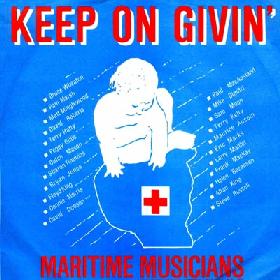 Title: Keep On Givin'
Released: 1987
Label: The Canadian Red Cross Society WRC5-5112
Notes: Not a full length LP but can be considered a compilation of performers! Many of the top Maritime musicians banded together to raise money for the Ethiopian crisis. Click on picture above for more information about this project.
Tracks:
1) Keep On Givin'
2) Keep on Givin'



Lineup:Bruce Wheaton (Guitar), Peter Jackson (Keyboards), Mike Leggatt (Keyboards), Mike Gaudet (Bass), Neil Robertson (Drums),

(plus) Pam Marsh, Matt Minglewood, David Roberts, Terry Hatty, Peggy Gillis, Dutch Mason, Sharon Timmins, Bryan Jones, Floyd King, Donnie Morris, David Dobson, Paul MacAusland, Mike Dimitri, Sam Moon, Terry Kelly, Maurice Aucoin, Eric Marks, Larry Maillet, Frank MacKay, Helen Bezanson, Allan King, Steve Russell