Windows Vista Setup
Here are the instructions for setting up a Microsoft Windows Vista computer to use a Chebucto Plus graphical access connection to the Internet. The Chebucto Plus setup CD is not compatible with Windows Vista so connections have to be set up manually.
Click on the pictures to see larger versions. Click anywhere on the large picture to return to this page.
1. Click on the Windows Vista Start button and select Connect To.
2. Select Set up a connection or network.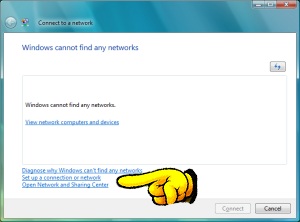 3. Select Set up a dial-up connection.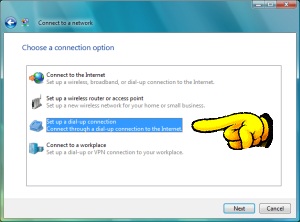 4. Put in the Chebucto Plus access phone number, 494-6744, your username and your Chebucto Plus password and call the connection: Chebucto Plus. You may want to check the box to remember your password.
When entering your username DO NOT put @chebucto.ns.ca in, only put in the username part (the part of your Chebucto email address BEFORE the "@" sign) and be careful not to put any blank spaces in either the username or password forms.
4a. Select Dialing Rules to put in the area code 902 and fill in the country and the area code you are now in. As of 23 August 2014, all local calls in Nova Scotia and PEI must use the area code to dial local numbers.
If you are on an Aliant telephone and have Call Waiting, you can disable this while online so it does not disrupt your connection by typing *70 where it says "If you dial a number to access an outside line, what is it?". This reportedly does not work with the Eastlink telephone service so do not enter *70 if you are on an Eastlink telephone line or your telephone service does not support this feature.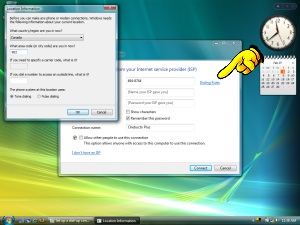 5. Press Connect and Windows Vista will try to connect to the Chebucto Plus service. You can skip this check if you like.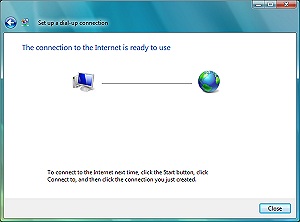 6. Press the Close button to finish the setup. To access the Chebucto Plus connection go to the Windows Vista Start button and press Connect To then select Chebucto Plus and press Connect.
6a. If you need to add the area code to the connection or alter connection settings, right click on the Chebucto Plus connection you have configured and select Properties. Put a checkmark in the "Use Dialing Rules" box to add the area code to the Chebucto Plus number if you need to use it to call Halifax, N.S.
Your Chebucto Plus connection is now set up.
Other settings
Default home page for web browsers:
http://plus.chebucto.ns.ca/
This page contains your session timer and many useful Chebucto Plus utilities. You can set this in Microsoft Internet Explorer 5 and above under Tools then Internet Options
Mail settings:
POP3 (Receive mail) server: pop.chebucto.ns.ca

IMAP (Receive mail) server: imap.chebucto.ns.ca

SMTP (Send mail) server: smtp.chebucto.ns.ca
Secure mail settings can be found here.

Your username for email is the same as for making the connection to the Internet, but your email password is different. The Chebucto Plus password will not get your email. Also, be sure that SSL encrypted logins to the POP3 and SMTP servers are turned off.

UseNet News Server: news.dal.ca

Chebucto Plus uses the Dalhousie University UseNet news server.

FTP host: chebucto.ns.ca

For transferring files to and from your Chebucto account with FTP programs use the same username and password you use to get your Chebucto email.
Notes
It is important that all Windows Vista users keep their copy of Windows Vista updated with the latest patches and updates from Microsoft's Windows Update site [requires Internet Explorer]: http://windowsupdate.microsoft.com/ .
Chebucto Community Net strongly recommends that all Chebucto Plus users get good Anti-Virus software and keep it updated regularly.
Chebucto Community Net maintains a list of recommended software. You can find this list here:
http://www.chebucto.ns.ca/news#software .
We also maintain an RSS newsfeed with the latest in software security updates for popular programs and Chebucto Community Net items of interest here:
http://www.chebucto.ns.ca/chebuctonews.xml
And there is a guide to using RSS newsfeeds here:
http://www.chebucto.ns.ca/rss/ .
All email and web addresses which use the machine name chebucto.ns.ca will also work with the slightly shorter machine name chebucto.ca. If you are using the CCN webmail or the older Chebucto text interface PINE mail to send out emails, be advised that your outgoing mail will use the chebucto.ns.ca machine name. Mailing lists or other services might not recognize a user who signed up as "@chebucto.ca" if the user then sends mail to them as "@chebucto.ns.ca".