LENT 2012 – WE INVITE YOU INTO A HOLY LENT

THE JOURNEY BEGINS WITH A COVENANT

Lent 1 - Genesis 9:8-17 God makes a covenant with Noah using a display of creation, the rainbow.
Our display of creation is a Hurricane Juan victim from our woods. We will covenant with this tree to nurture it into more than what it is now.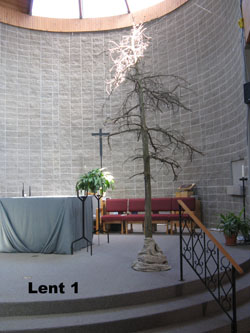 **What can this tree teach us? Is it dry and brittle, fragile to the touch? Or is it tough and resilient, withstanding time and adversity? Is it the ugliest tree we could find or beautiful and arresting like a Group of Seven painting?

**What does this tree speak to our soul?

**What is this tree's purpose? What is our purpose?

**How will it become more than what it is now?

**How can we be more than what we are 40 days from now?
Lent 2 – Mark 9: 2-9 Jesus is transfigured before Peter, James and John.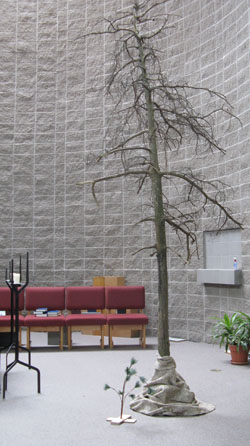 A small sprig of green pine stands before our tree. We are asked…

**What was our first thought upon seeing this tree last Sunday?

**How does this tree challenge us?

**Could this small sprig have come from this tree? Are they connected?

**How can our bent and broken tree be transfigured?

**How can we be transfigured?
Lent 3 - John 2:13-22 Jesus Cleanses the Temple

Jesus cleansed the temple of wrong-doings and an unhealthy environment so that the people of God could be more aware of His presence.

How does our tree manifest that environment? Plants need healthy soil around their roots to flourish. Hard, compacted soil smothers the roots and inhibits their growth.

What do our roots look like? Are they smothering in the dark?

Are we in a rut where nourishment cannot find us?

How do we till and fertilize the soil around our roots to open us up to God's presence?

Like tilled soil, do we have open space in our lives where God's presence can enter?
Lent 4 – John 3: 14-21 : God so loved the world that He gave His only Son - Mothering Sunday

Just as God sent Jesus to teach us and ultimately save us, so God gave the world mothers to nurture their children. As we celebrated Mothering Sunday, we lifted to God the good works of the Mother's Union as an example of care and nurture towards their families, their parish and the greater world beyond our walls.

How does this care and nurture relate to our tree?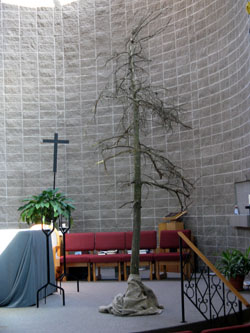 Just as we care and nurture ourselves and our families to become more than what they are, how can we help our tree become more than what it is today?

Our lifeless tree stands in an unfamiliar environment. Does our life look like this tree?

Is God calling us to come out of this lifeless state?

Just as we care for this tree, do we feel God's loving care of us?

Can we feel His comforting presence in our unfamiliar, lifeless environments?

What is God saying to you?
LENT 5 – John 12: 20-33 Jesus speaks about His death
Unless a grain of wheat falls into the earth and dies, it remains just a single grain; but if it dies it bears much fruit.

If a life lived for others is the one worth living, what seeds have we planted for the benefit of others? What nurturing have we offered to impact others' lives?

The death of a tree in the forest feeds and nurtures many organisms. What do we need to do with our tree to fulfill it's covenant? What do we need to do to fulfill God's promise in us?

Pruning encourages new growth. Do we need pruning?

Pruning can maintain a plant's structure and integrity. What does that say about us? What is God calling us to prune?

Do we need to weed out undesirable features or do we need to allow room for the healthy shoots to grow?
Where does God want us to grow? What is God calling us to do?
PALM SUNDAY – JOHN 12: 12-16 - CHRIST'S TRIUMPHAL ENTRY INTO JERUSALEM

Lent is over and we have joyfully entered Jerusalem with Jesus, waving our palm branches and proclaiming HOSANNA IN THE HIGHEST! Those early followers of Jesus who proclaimed him King may or may not have remembered the early prophecy that their king would arrive on a donkey's colt and they surely did not know what would happen next. We enter Jerusalem on Palm Sunday knowing the rest of the story. We know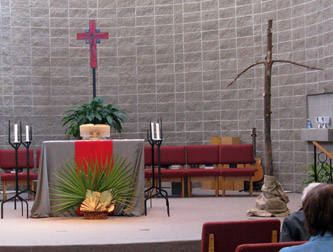 the dark and the light that is to come.

Our Lenten journey and Covenant with our tree has reflected those dark and light times. We have lived our stories with this tree, meditating how it could reflect our lives and teach us the wisdom God led us to discover. We have asked this tree to be part of our story.

But Oh! If this tree could talk, what stories would it tell? Was it here when children picked blueberries in the field where the church now stands? Did it watch the church being built 25 years ago? How will its story continue and where does our tree go from here?

At the beginning of Lent we made a covenant with this tree to become more than what it was. It is now a cross with arms reaching forward to embrace us. It will lead us through Holy Week and we will lay our burdens at its foot on Good Friday.

Stay tuned for what happens next!
Send your thoughts to standrewchurch@ns.aliantzinc.ca
We will compile a blog of your responses.